Updates and media posts.
July 5, 2017
"Route Found!" says their blog post. Williston high school students are planning a state wide run on the Cross Vermont Trail - to raise money for "U.S. Committee for Refugees and Immigrants of Vermont".
Read their whole story and follow progress at: runningforrefuge.com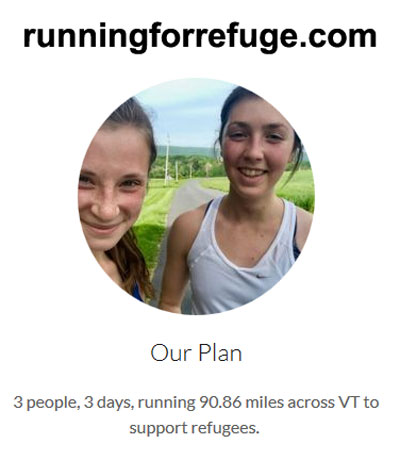 June 25, 2017
Today's stats: age range five years old to seventy nine, 75 riders, 57 of whom elected to enjoy a free maple creemee (presumably the remainder were full up on thai noodles, jerk chicken and blueberry pie; understandable), 1 of whom elected to decorate their helmet with a daisy chain.
Which is to say, a super pleasant day at the 2017 Central Vt Cycling Tour. Unbroken scenery, again, and cerulean blue skies intermixed with . . . let's call them clouds that added dramatic context right at the end of the day.
Quote of the day from Dot Helling who first ran the Paul Mailman 10 miler this morning, then came up and rode the Cycle Tour, and was still one of the first to finish, and says as she elects each item from the lunch buffet "I'm not sure if I've earned this much calories." [But I think I am sure she did.]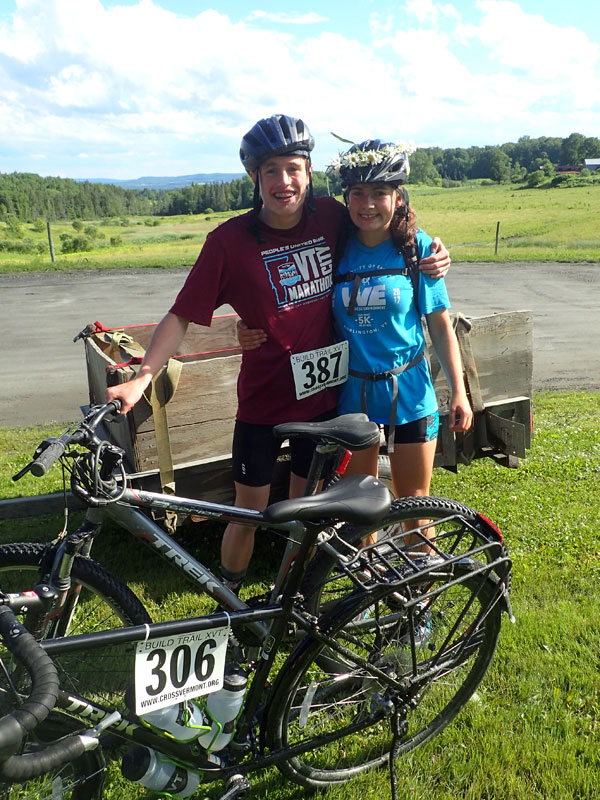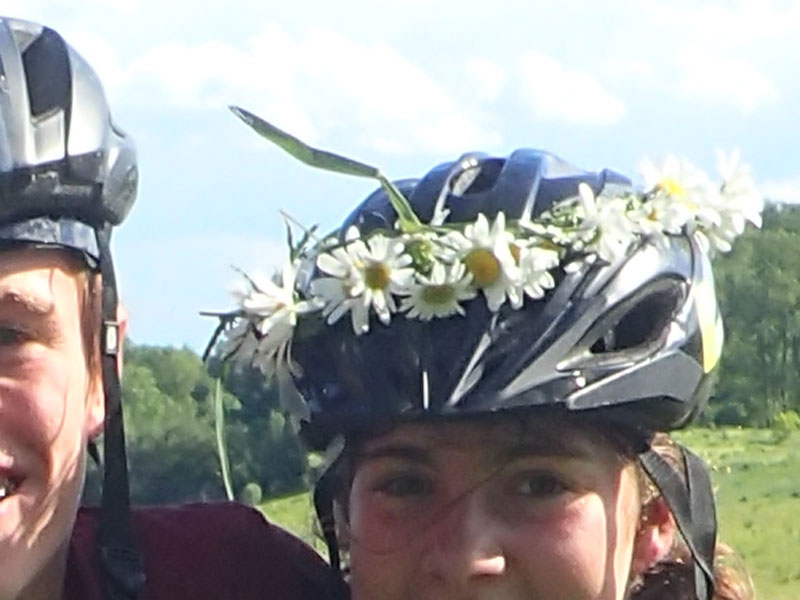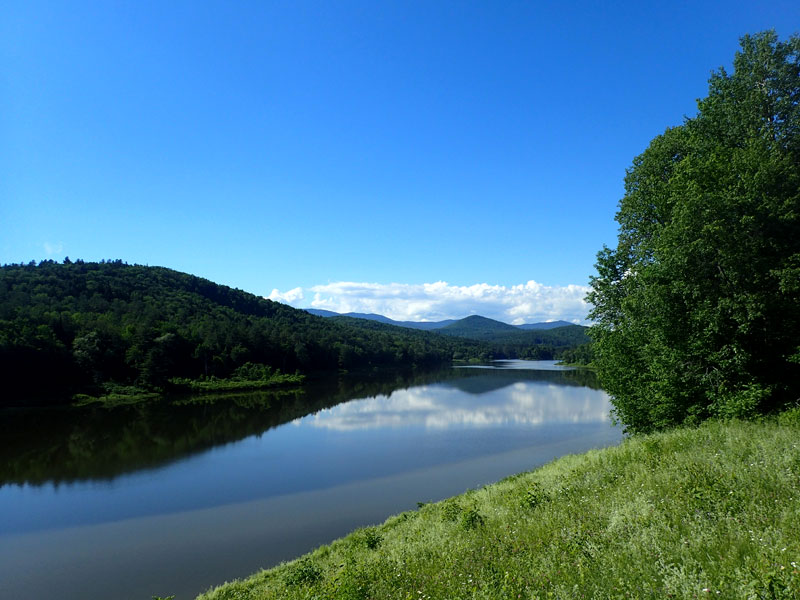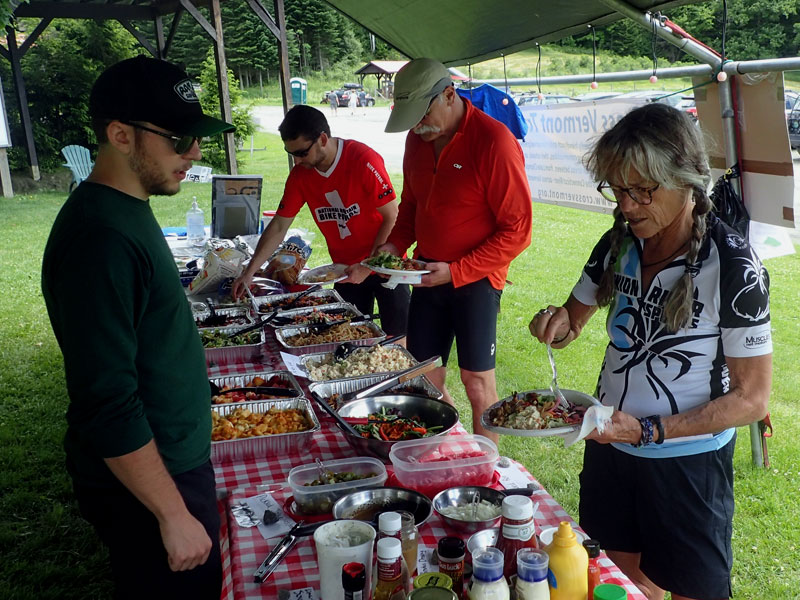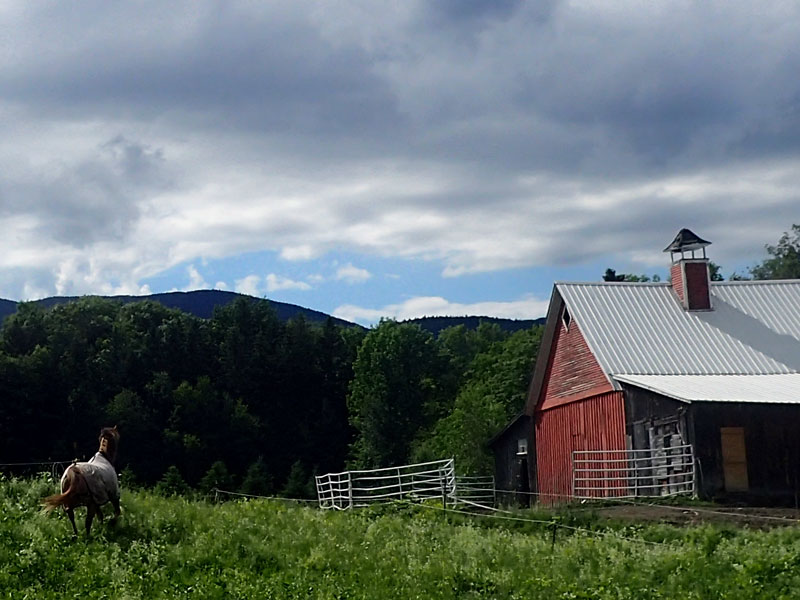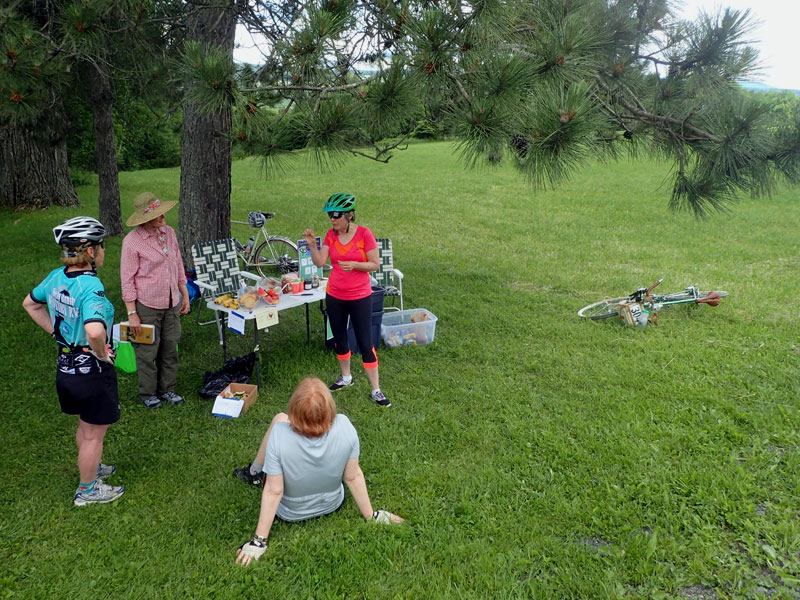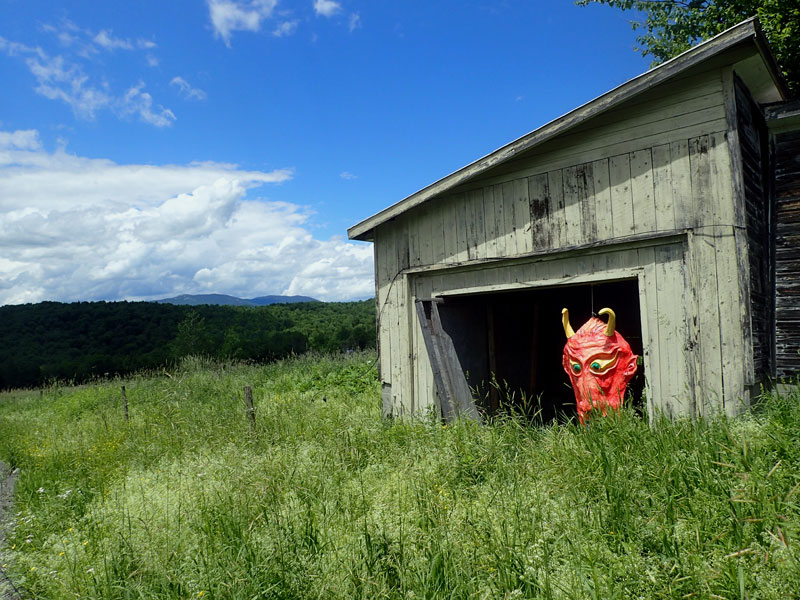 June 14, 2017
Just fixed the next worst muddy spot on the rail trail, in Groton southeast of Rickers Mill.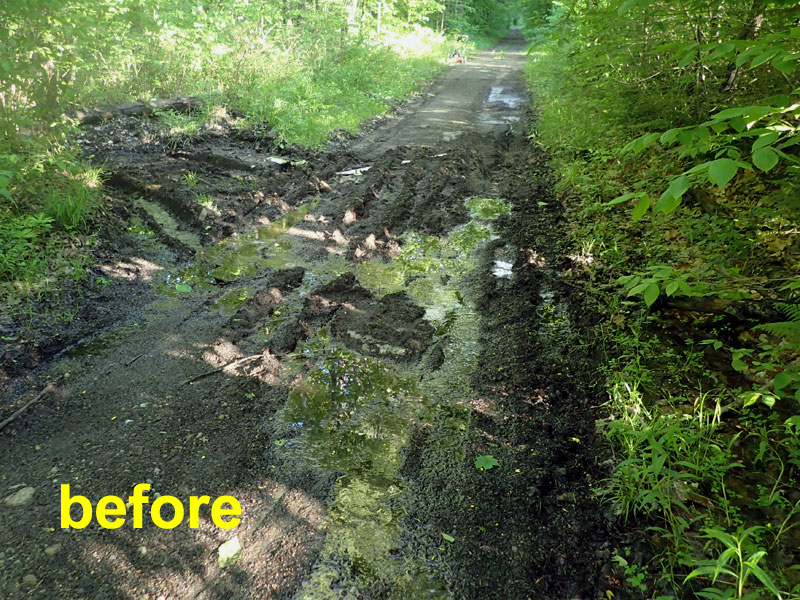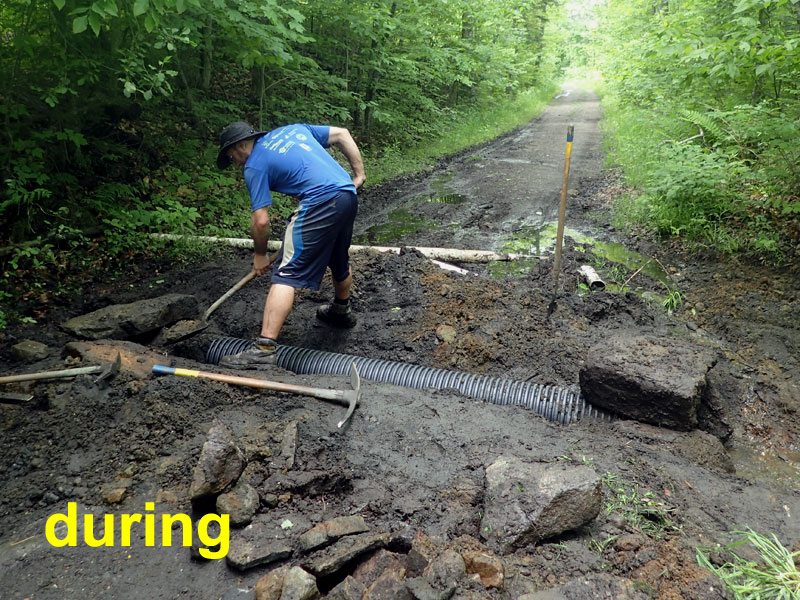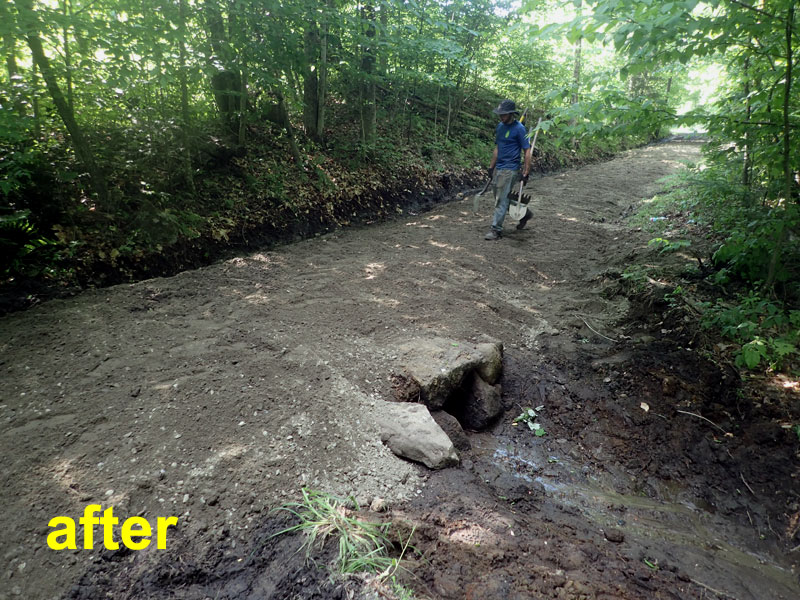 June 11, 2017
Thanks to volunteer group from Montpelier Unitarian Universalist Church (and to the ghost of Stevie Ray Vaughn, it seems) - spent a beautiful Saturday morning staining wooden bridges on the trail to help them last that much longer; sun came out at just the right time.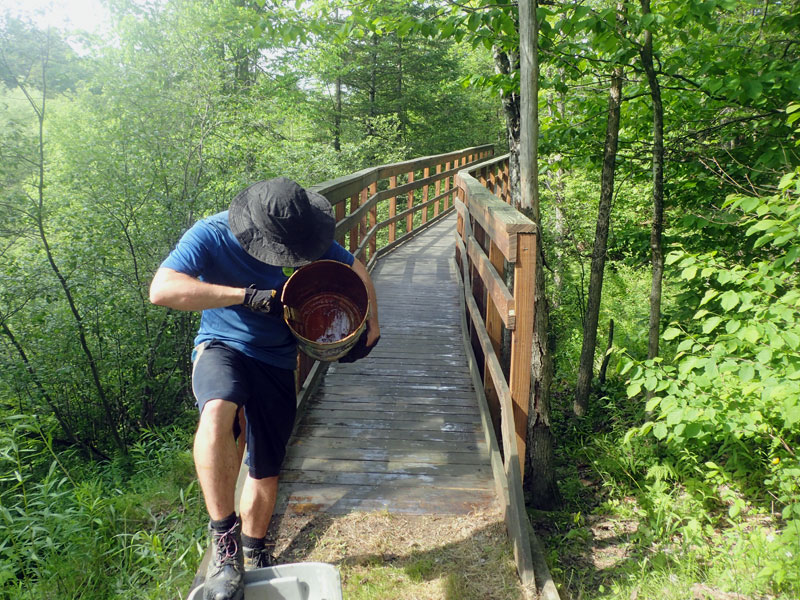 June 6, 2017
Cleaning up trails this past weekend, (almost) just in time for the crowds.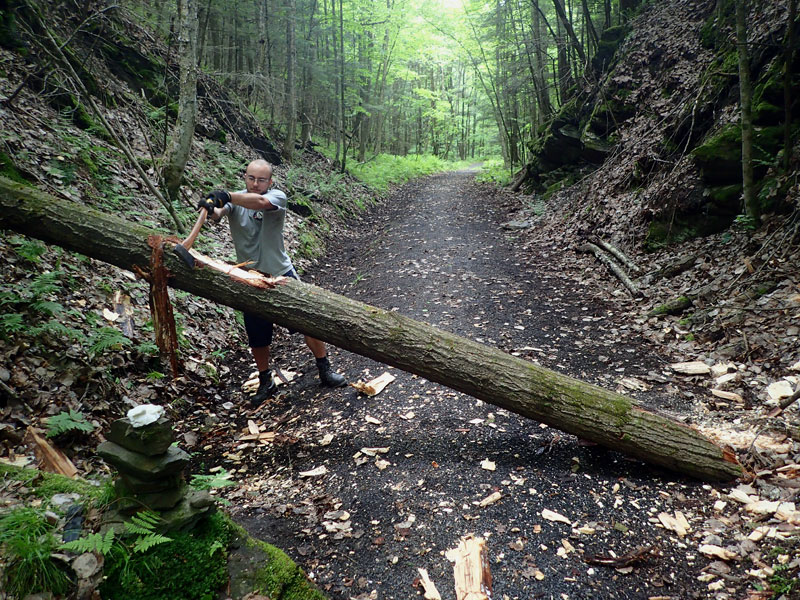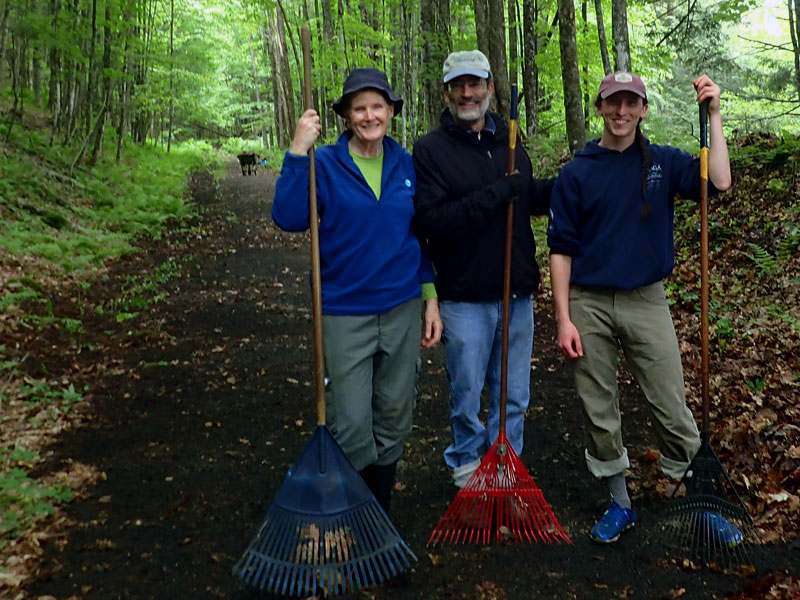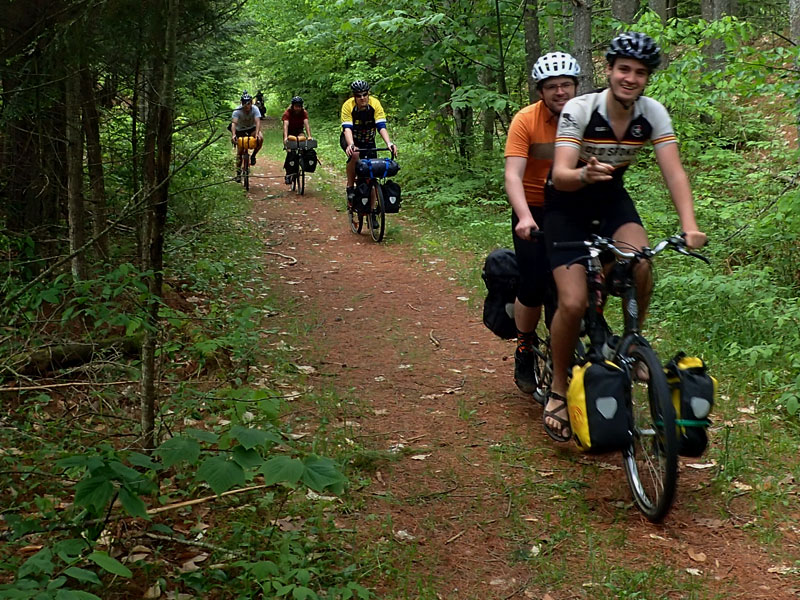 May 30, 2017
Finished grading, draining and resurfacing the steep part of Johnnie Brook Trail. Ready ready for summer season.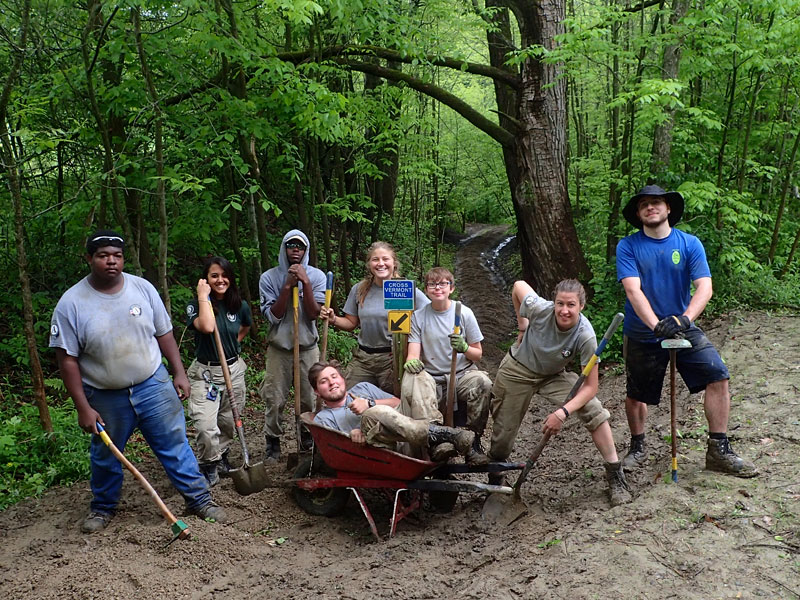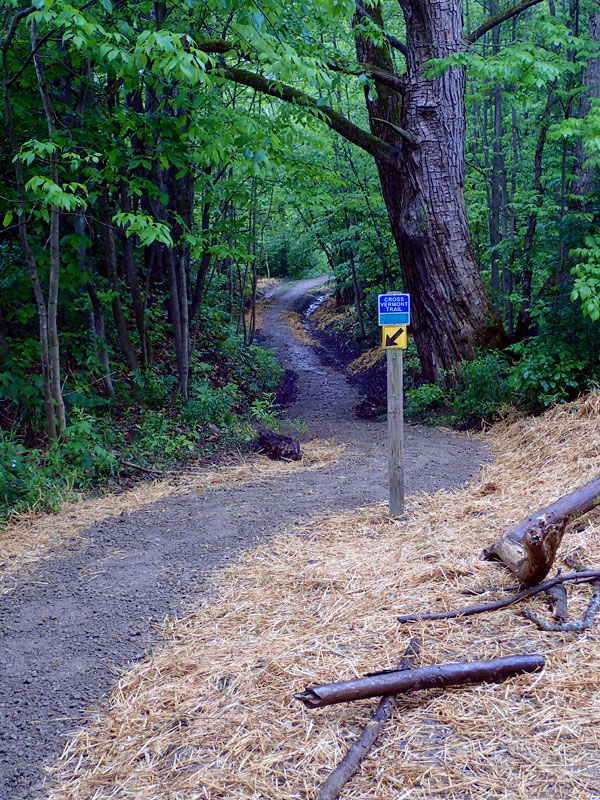 May 29, 2017
Soon Robins.
For past several years, we've been clearing invasives and planting natives - saying that the greenway corridors of our trails are a 'winnable spot' in the battle with invasives - theoretically this makes better animal habitat too, so it's nice to see a number of bird nests this year in shrubs we planted back at the start, as they have grown.
(Watch someone write in and tell me that Robins are invasive too. I refuse to believe . . . unless . . . are there Robins in Shakespeare? Maybe a different kind.)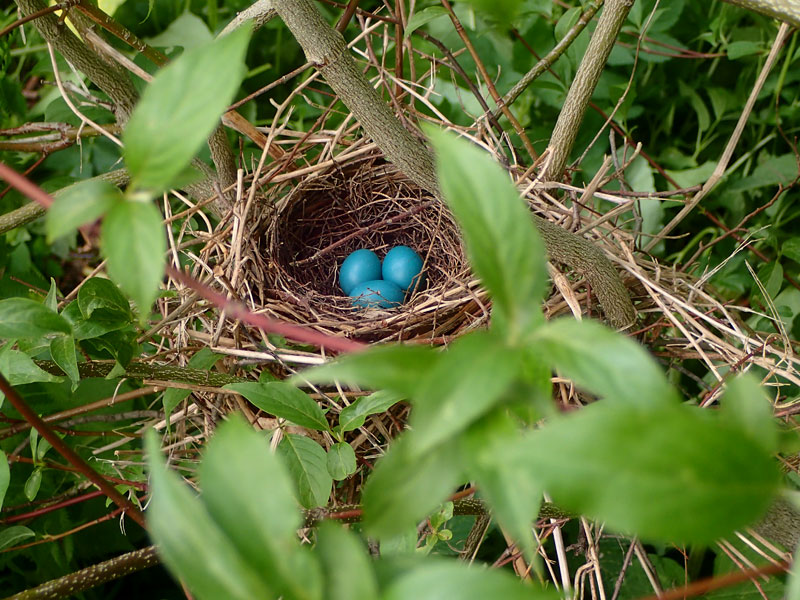 May 28, 2017
Doing some spring maintenance on the trail in Waterbury, behind state office - and, nice to see that the old Greenpaths sign is keeping current (relatively).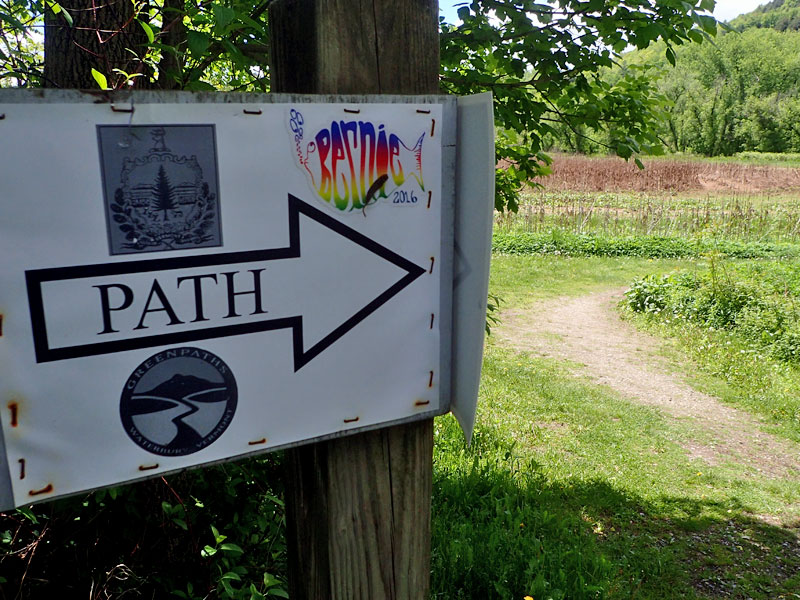 May 20, 2017
Our big week of Americorps NCCC crew is wrapping up with grading and drainage T-L-C for Johnnie Brook Trail in Richmond. (In preparation for resurfacing trail with gravel next week. Come on by Memorial Day if you want to help or see the progress, we'll be there with the crew.)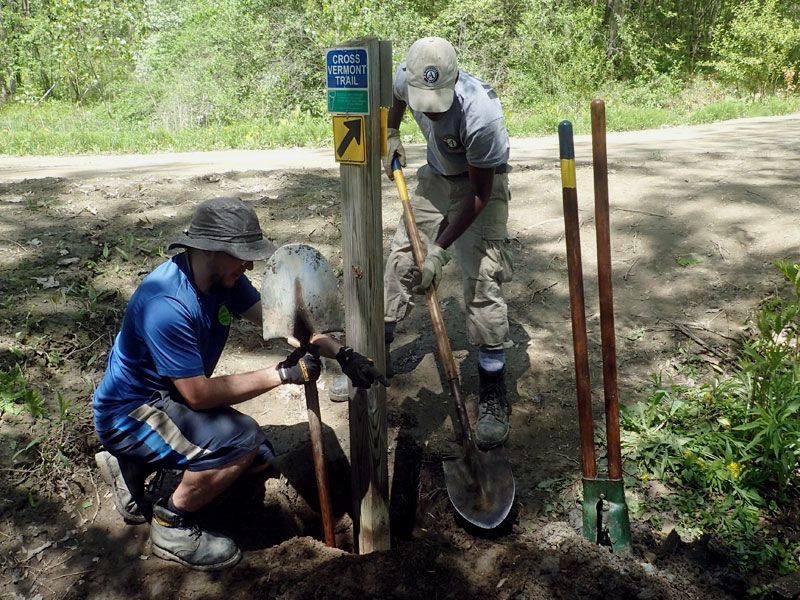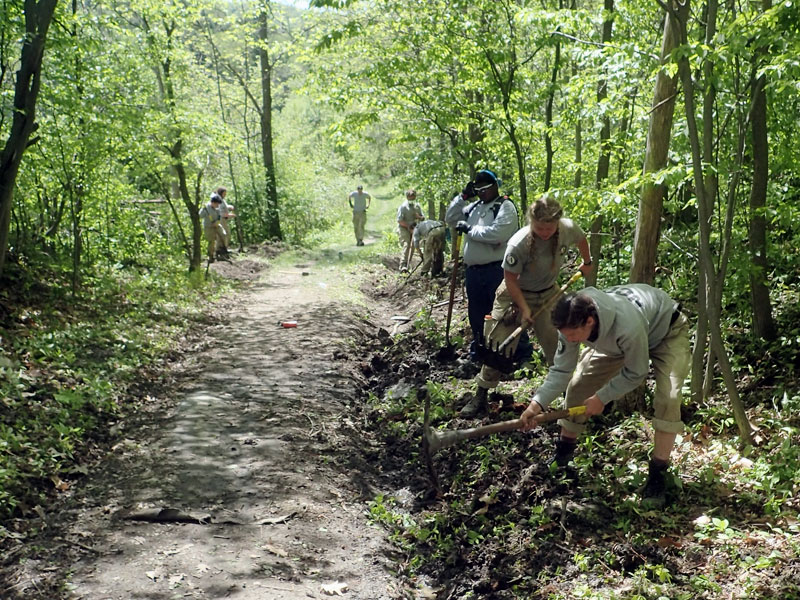 May 19, 2017
Americorps NCCC crew also journeyed out to East Montpelier Trail to put the finishing touches on the many years long project to control gullies eroding into Mallory Brook. Last step was a doozy, ain't it always the case.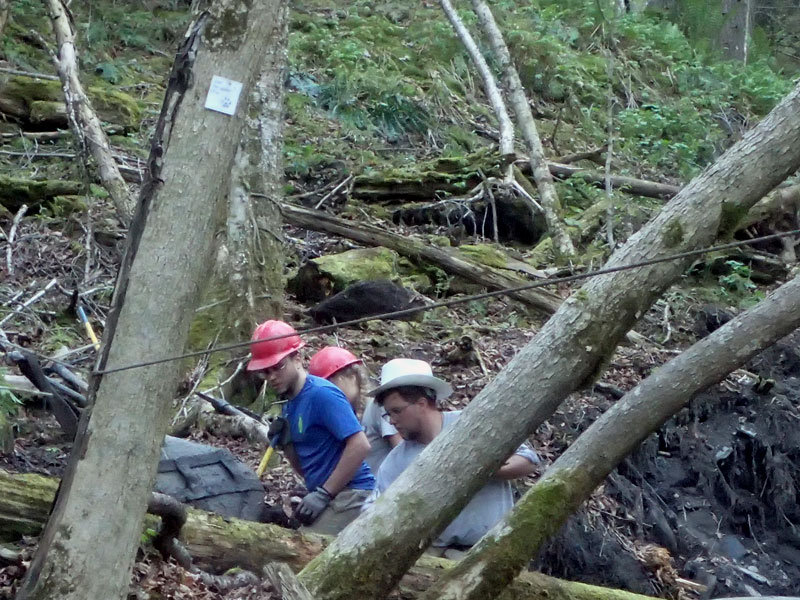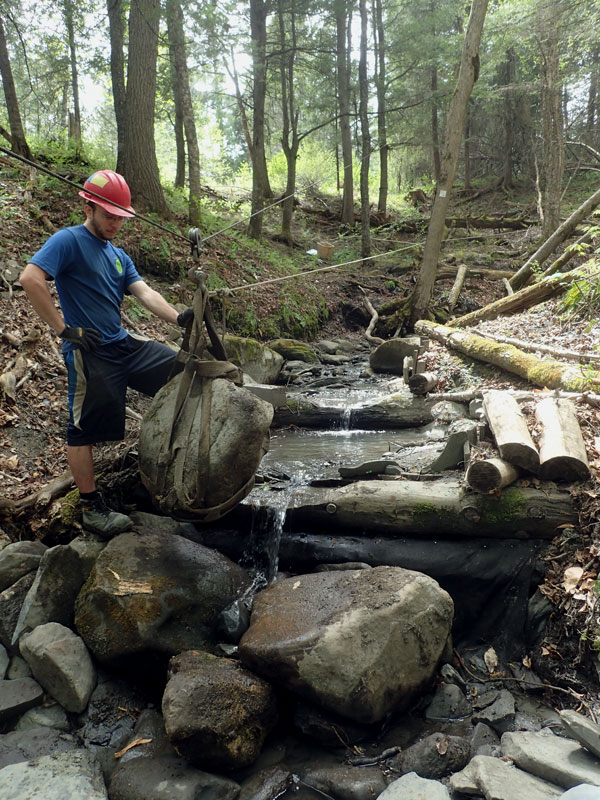 May 18, 2017
Americorps NCCC crew continues their week of big help for Cross Vt Trail, transplanting trees along the Montpelier Bike Path, along with the City Tree Board. We'll be leading a volunteer work party cutting back the knotweed around these trees next Saturday, if you would like to work out any aggression you might have (on some plants that can give you a fair fight, which makes it ok).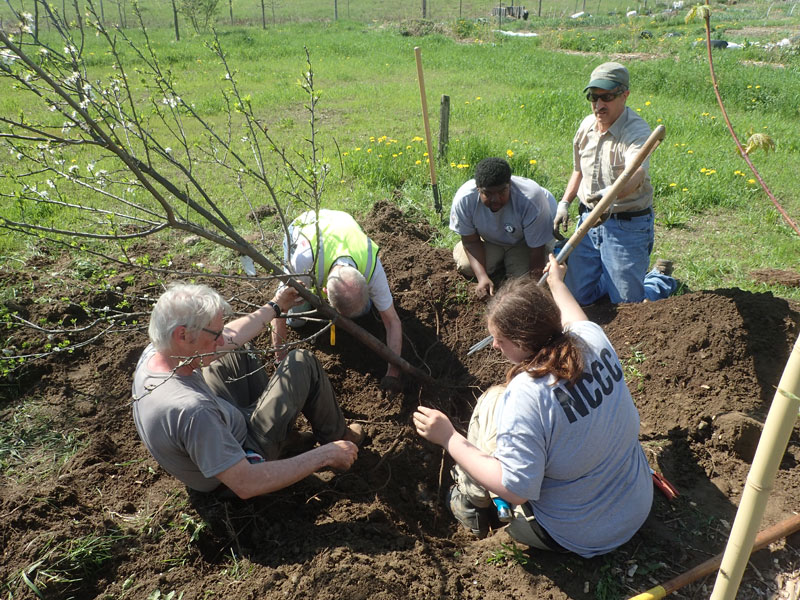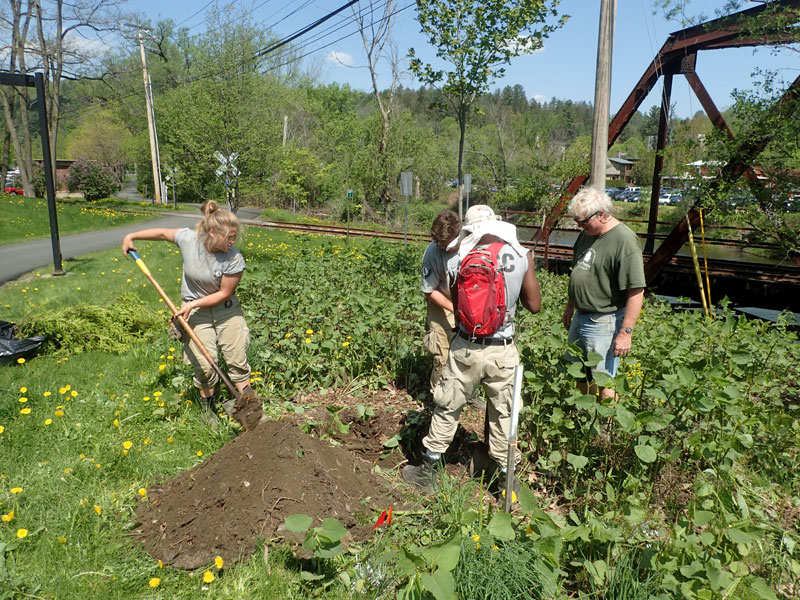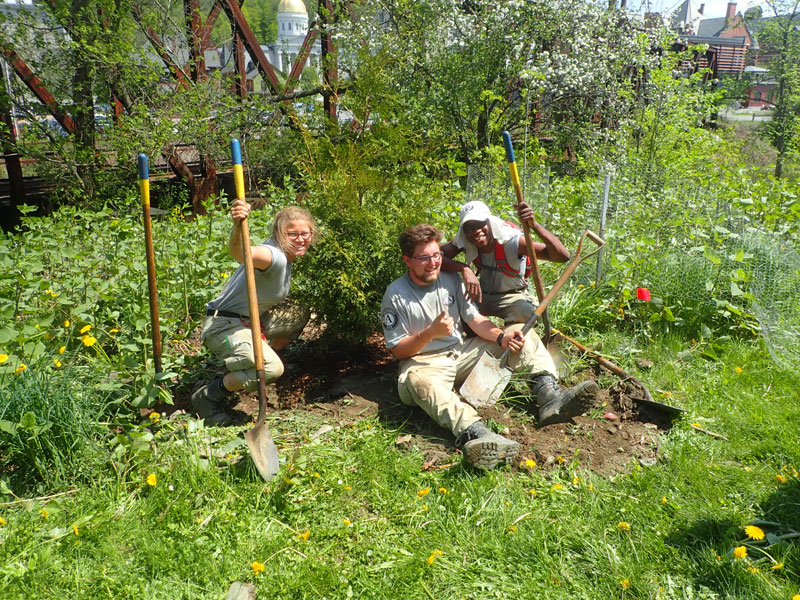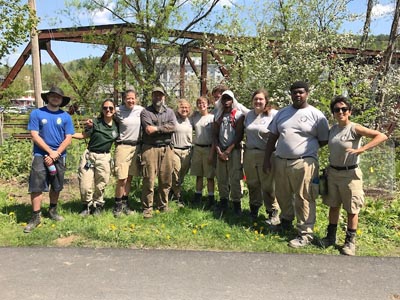 May 14, 2017
Caught in the act doing some trail planning along Rte 2 on Mother's Day. I called Mom first!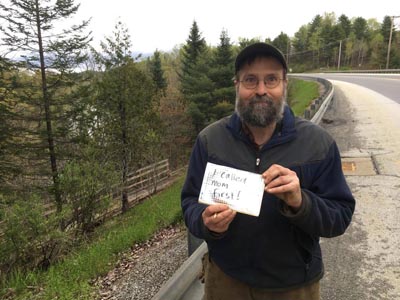 May 14, 2017
Americorps NCCC crew is back in town for month of May. They are helping out Montpelier City Parks and Cross Vermont Trail on many projects. Here we are tackling more invasives growing along trails/rivers. Geoff Beyer from Montp Parks has got a good system for this!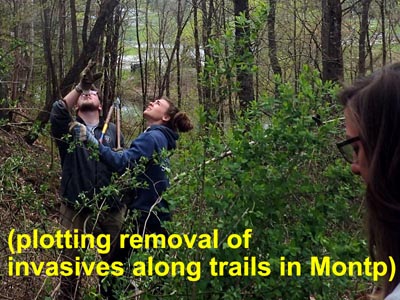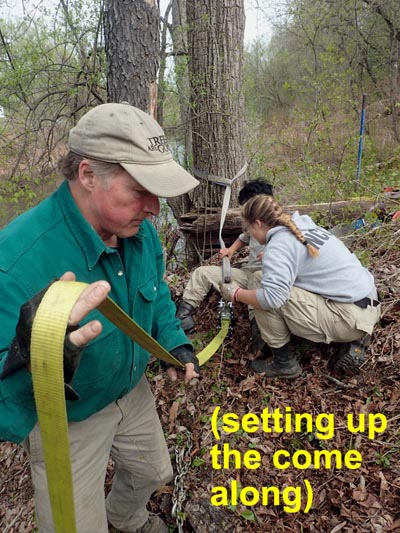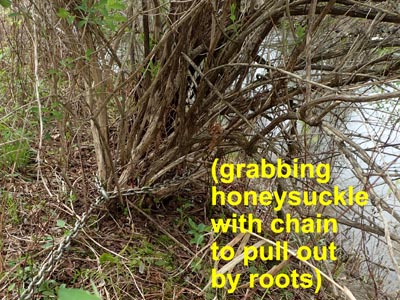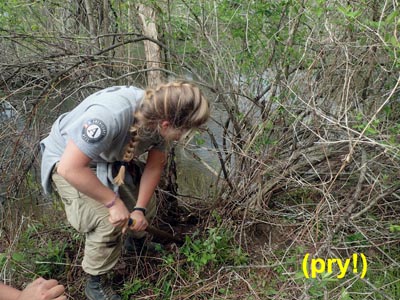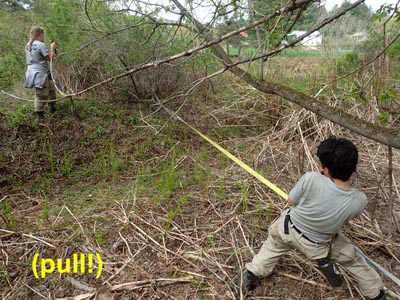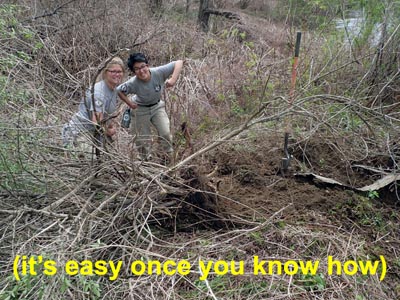 April 30, 2017
UPDATE: Marshall/Kimball Avenue reopened, stay tuned for discussion about long term fix.
(CVTA route, map 12.)
Cross Vermont Trail Association has long advocated for connecting the Williston and South Burlington bike paths - they both come close to the Marshall/Kimball Ave crossing of Muddy Brook, but neither quite make it over the brook. If the road needs significant repair in the future, that could be great time to build the path at the same time. We hear from both municipalities that they like the idea in concept - and so we are aiming to keep it on the front burner as plans for the road progress.
Read the 2 page upshot of many years of engineering studies about a bike path across Muddy Brook.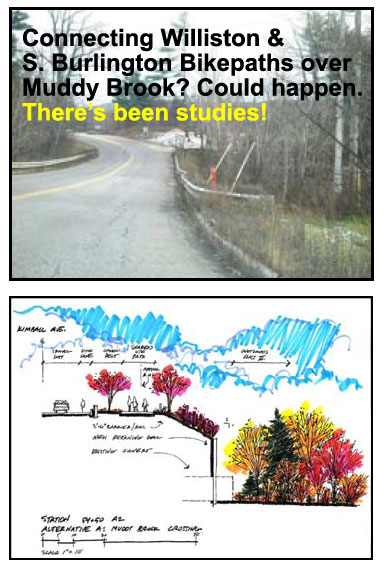 April 7, 2017
Section of Marshall/Kimball Avenue Closed.
(CVTA route, map 12.)
From the Town of Williston: "The culvert underneath a section of Marshall Avenue is failing and is affecting the structural integrity of the road. This involves the section of Marshall and Kimball Avenue that crosses the Muddy Brook between Williston and South Burlington. Crews are on the scene to assess the situation and to determine how best to repair the damage. Until it is repaired, traveling over the road is considered hazardous so the road will remain closed. Motorists are encouraged to find alternate routes and check the Town of Willistonís web page or Facebook page for future updates. It is likely that the road will be closed for an extended period of time."
Link to Town of Williston website.
March 13, 2017
Nice story this weekend by Vt Public Radios "Public Post" reporter Amy Noyes about the Cross Vt Trail's big project. Link to VPR's Public Post story.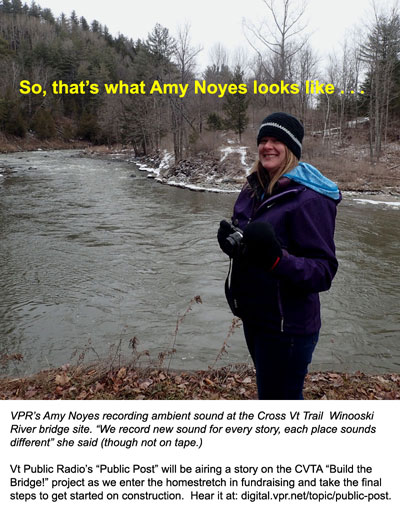 March 7, 2017
Town Meeting Day update - today, all four towns where we were on the ballot voted yes to support the Cross Vermont Trail and to help "Build the Bridge."
We are in the homestretch to finish fundraising and get the Cross Vermont Trail off of Rte 2 and onto a path in the woods from Montpelier to Plainfield, with connection to U32. Many thanks to all who are helping to spread the word!
February 27, 2017
Vote for the Cross Vermont Trail this Town Meeting Day.
Asking towns to join together with many other donors to help pay for the keystone piece of the Cross Vermont Trail in central Vermont.
We've been telling you about our big project - building 2.75 miles of new bike path, including a bridge over the Winooski River, to get the Cross Vermont Trail off of Route 2 in East Montpelier. This project greatly expands the trail network at U32, and connects the school with the growing region wide trail network, including the Montpelier bike path to the west and, to the east, the rail trail in Plainfield. It creates a safe, kid friendly way to bike to school, and provides convenient nearby access to natural areas along the river for everyone to enjoy.
Well here is some news about how we are taking a big step to finish fundraising and start construction. The City of Montpelier has made significant contributions to the project, and has offered to contribute an additional $1 per resident if the other benefiting towns also contribute as much. The benefitting towns are the members of the U32 school district, as well as Montpelier and Plainfield. If all these towns contribute, it will raise over $20,000, which will be further matched 4 to 1 by federal grants, bringing in another $80,000 to the project.
Overall, the total cost of the project is 1.6 million dollars, of which 1.3 million is committed from federal grants, and most of the remainder has been raised from local donations, from over 200 individuals, businesses and organizations. We need just $90,000 more to match the federal money and complete construction. Most of the money is needed for a few heavily engineered structures to get across the Winooski River and for a short section along side Route 2, where State Agency of Transportation requirements mean full scale design and construction by regular contractors. Elsewhere, the trail will be built by volunteers and Vermont Youth Conservation Corps crews.
This is a one time request for town funding. We are a small organization whose goal is to bring new resources into towns, rather than relying on any regular funding from towns. In time, we believe nearly all of the statewide trail network will be completed in a moderately scaled, incremental way - using common sense, hand tools, and volunteers - securing any funding that may be needed from competitive grants and donations from individual members. However, we currently face a challenge to complete this keystone piece of the trail by making an investment on a much larger scale.
This Town Meeting Day, we are on the ballot in East Montpelier, Plainfield, Calais and Worcester. (We are gathering signatures to get on Middlesex ballot in 2018, and Montpelier and Berlin have already committed to make contributions.) Thanks for your vote, and for helping to spread the word!
Read more at the big project page.
Or download a pdf of the project summary.
February 8, 2017
The Richmond eagle is back. Stefan Hard from Times-Argus got the still: link to Times-Argus article.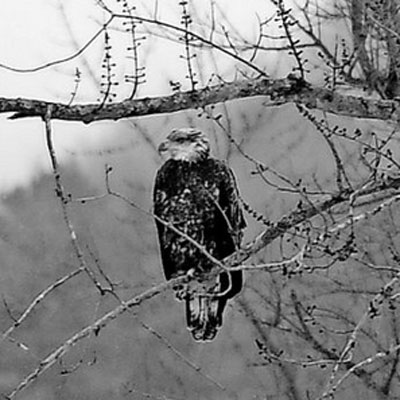 February 1, 2017
Clearing trails with YouthBuild today.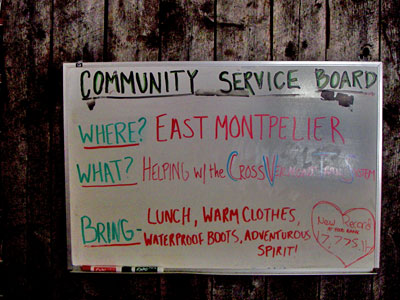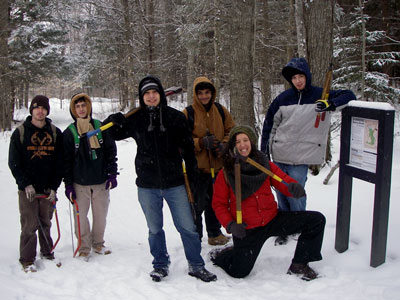 December 30, 2016
Happy Winter and New Years Greetings!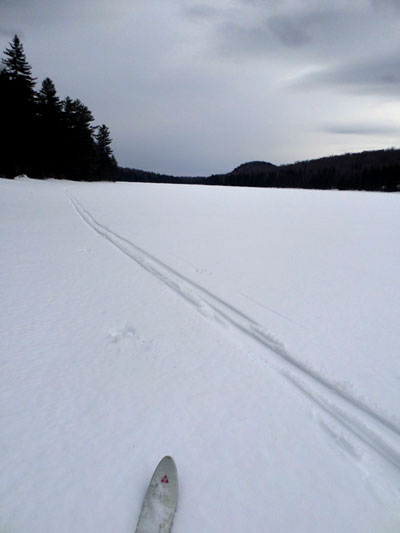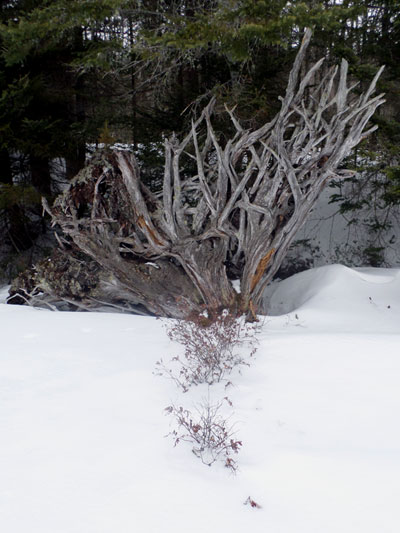 November 15, 2016
Piecing together the patchwork quilt - partnering with Habitat for Humanity to conserve trail corridor - updated.
Work on the Habitat house is nearing completion. Helped out this past weekend with some roofing. The new family should be living there by next Spring. And, not too much after that, letting their kids bike to school on the new Cross Vermont Trail!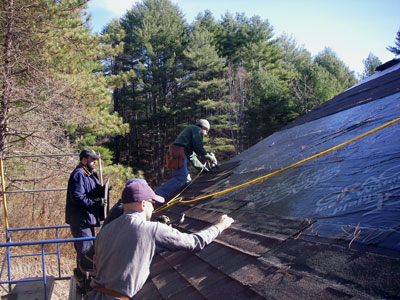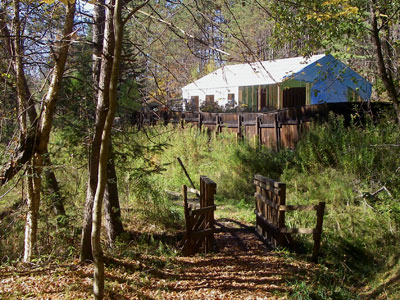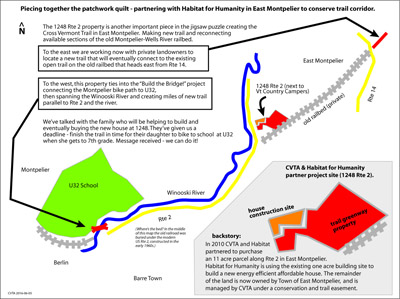 September 28, 2016
Great day at this year's Fall Foliage Ride. Click here for panoramic photo of everybody heading for the start of the trail.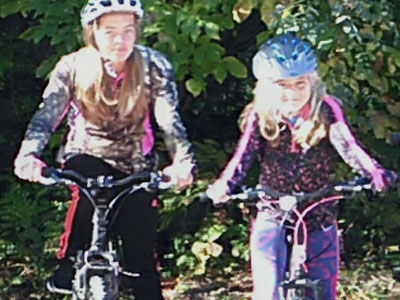 September 28, 2016
An unsolicited testimonial from Richmond Trails. Someone is a pretty good router!
(Photo Gallery of the S.B. students at work.)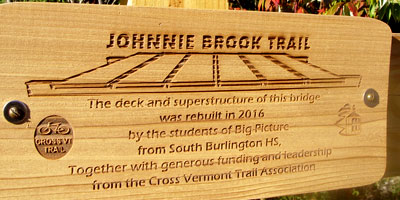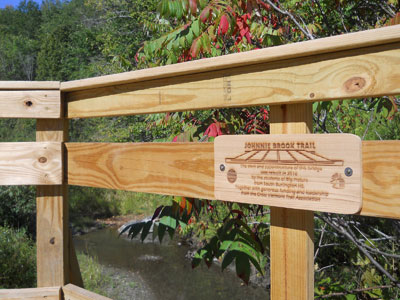 September 10, 2016
Good group this morning at bike ride preamble to the East Montpelier Rally for the Village day.
Life Lesson Learned: when mechanical failure means you're stuck in high gear, just keep going forward if forward is downhill (and send your dad around in the car to pick you up at the next road crossing so you don't have to bike back uphill).
It was nice to introduce a new group of people to this little gem of a trail off of Rte 14 - and of course to fill their heads full of our dreams to finish connecting it east and west to Montpelier and Plainfield, and someday down to the village on Rte 2 (avoiding the blind curves on Rte 14).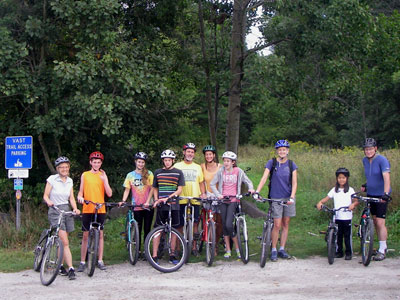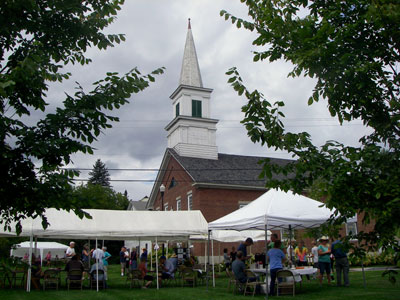 September 9, 2016
Got a chance to help in an emergency this week - putting a patch and brace on the bridge over Mallory Brook along the East Montpelier Trail.
This beautiful hand made log bridge is one of those structures that "makes a place". But rough logs can't last forever, so the E Montp Trails committee will be working on crafting the next generation of the bridge. Give a call if you want to release your inner Eric Sloane.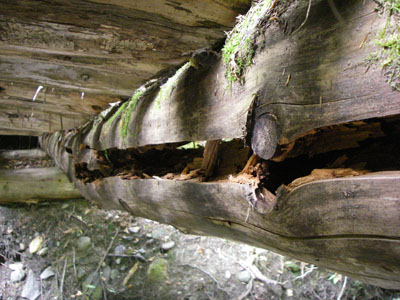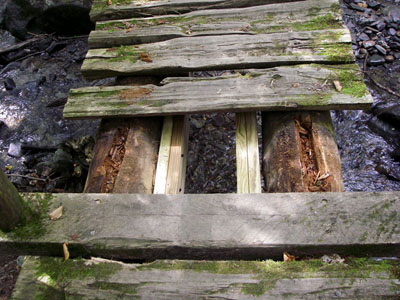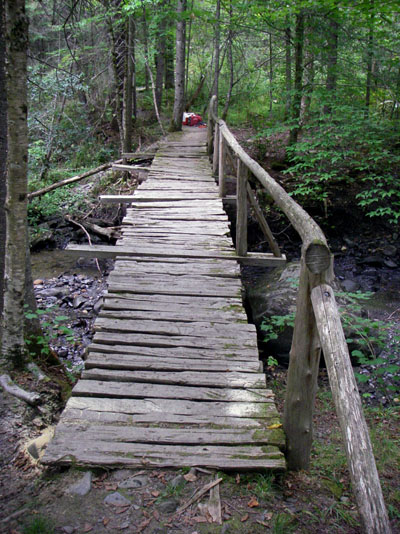 September 1, 2016
That's a wrap on Cross Vt Trail's August volunteer trail crew. Many thanks to all the folks who gave a week or two (or three! that's you Gus) camping out in Groton State Forest and overhauling another long section of the Telephone Line Trail [forming a big new multi-use loop with the railbed].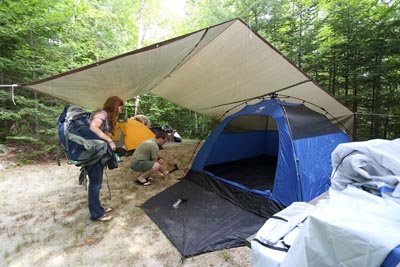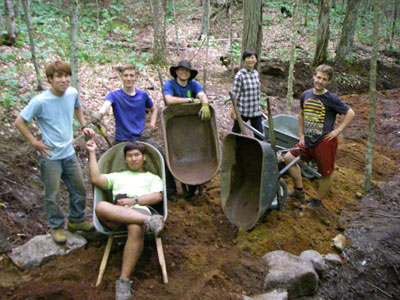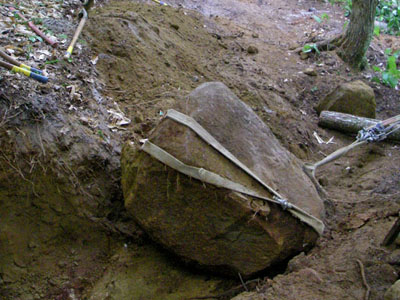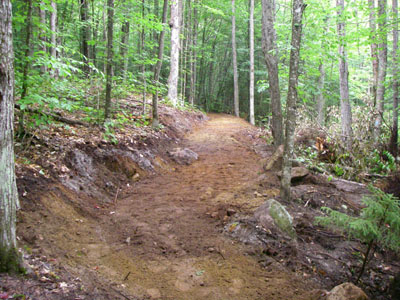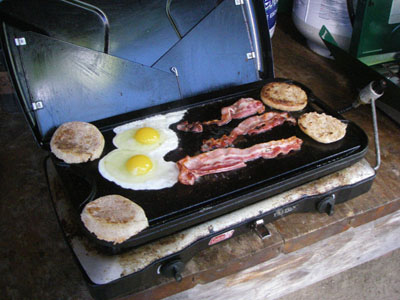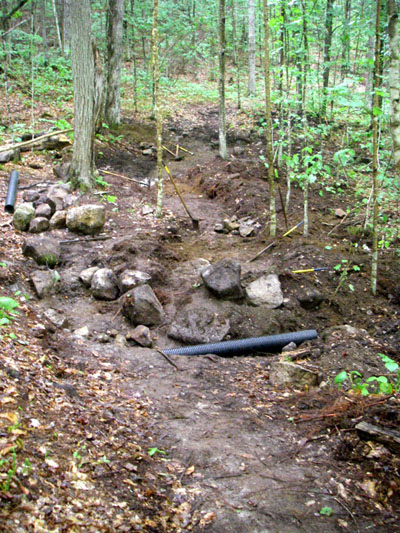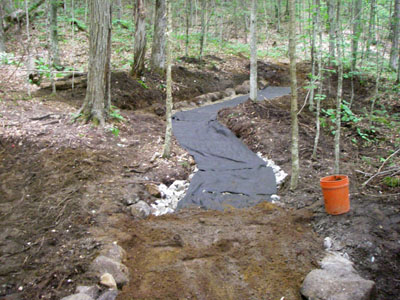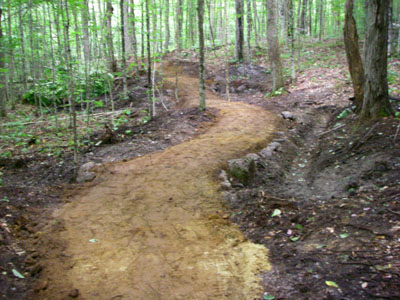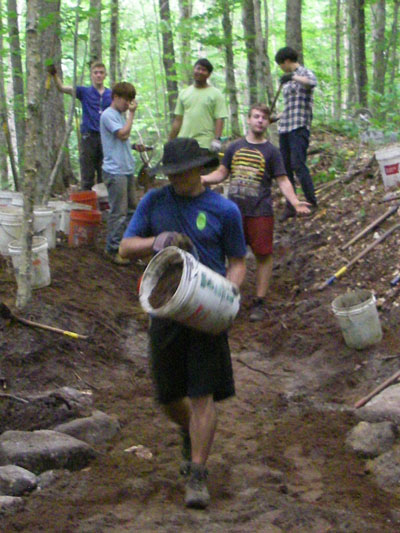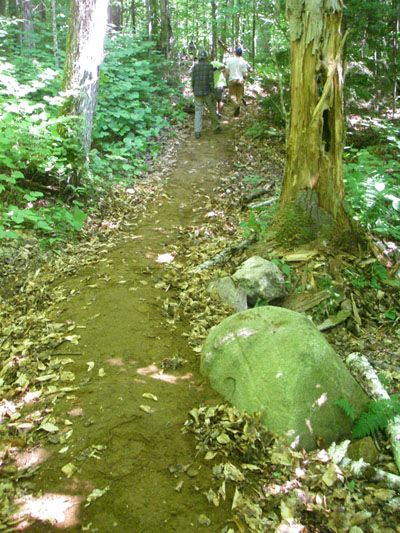 August 4, 2016
Our summer volunteer trail crew is underway. We'll be working through August. Give a shout if to find out where we'll be if there's a day you'd like to drop in.
Here's the crew continuing our multi-year effort to finish building the Telephone Line Trail in Groton State Forest, providing a significant new loop with the rail bed and providing connection with spur trails to wilderness ponds and rocky mountain summits - but not too difficult, great family hikes or bike rides.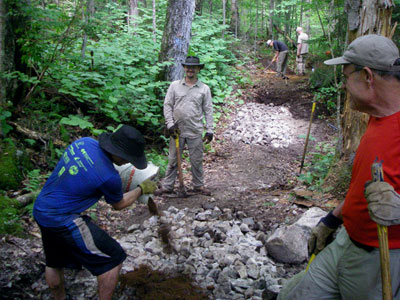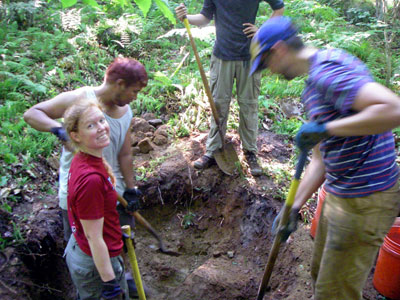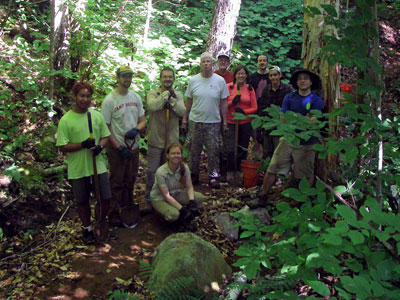 August 4, 2016
New section of the East Montpelier Trail is starting to take shape, off of Cherry Tree Hill Rd trailhead. The blazes are up and the trail is cleared. We'll be doing finish work into the fall, and updating the map on the trailhead signs. Look for it!