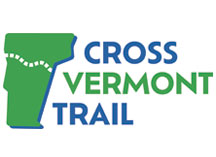 Getting the Cross Vermont Trail
off the shoulder of Rte 2
and onto a path in the woods.
In East Montpelier, it's been a long time dream and finally the pieces are all coming together. The project will mean miles of new trail at a keystone junction of the growing regional path network. There's a lot of work still to do, and it'll be expensive, including the cost of a new 200 foot bike/ped bridge over the Winooski River. But with a big effort now, the end is in sight. It's going to be a great trail!
Fundraising is entering the home stretch.
If it were just a matter of elbow grease, we'd be out there right now making it happen. But, for once, a Cross Vermont Trail project will be done the expensive way. 1.6 million dollars if you can believe it. Most of the money will go to materials and specialized contractors. But a good bit will hire crews from the Vermont Youth Conservaton Corps. Hiring local young people not only gets the trail built, it also builds the next generation of people who are excited about trails and being active outside.
To date, we've raised almost 1.3 million dollars in Federal money (from several grants) and nearly $200,000 in local money - and we're in the home stretch to finish fundraising, with your help! We'd like to hear your ideas about how we can get across the finish line and get this project built. Give us a call or make a donation today.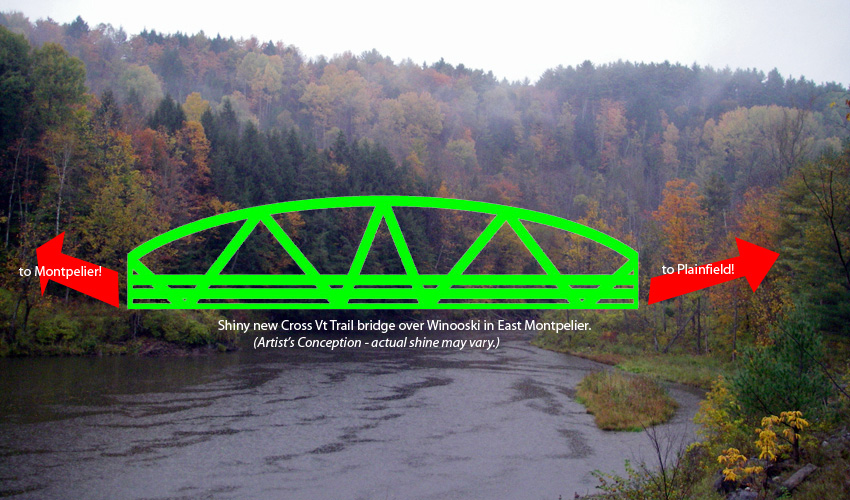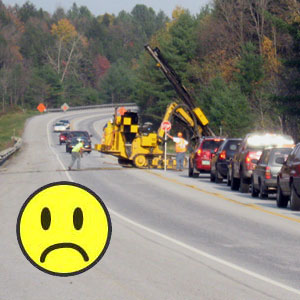 The Problem.
Route 2 in East Montpelier is a high speed (depending on traffic), busy road and truck route. The shoulders are wide, but often used by cars and trucks as turning or passing lanes. The state wide Cross Vermont Trail utilizes scenic roads often, to connect together existing sections of trail. But this road segment here has long been identified as the worst on our route, and so we are tackling the biggest problem, now.
The Solution.
Build a new, accessible trail, on conserved land in the woods and along the river, away from the road as far as possible. It's a big job. Especially since it includes heavily engineered structures - like the Winooski River bridge. And it's not just an engineering challenge. The trail design also involves the input of numerous land owners, as well as being environmentally sensitive and sustainable. The end result will be a permanent, conserved greenway corridor that families will enjoy for generations to come.
Part of a larger, ongoing effort in East Montpelier, Plainfield and Marshfield.
This keystone project is part of CVTA's larger effort to have a complete, off road route from Montpelier to Groton. We are talking now with landowners about the best places to put new trail, and hope to have many new projects to tell you about in the coming few years. For context, you can see the current alignment of the Cross Vermont Trail through this area on Maps 4, 5 and 6 of our trail guide. (Spoiler alert - it's mostly on the shoulder of Rte 2.) These projects will be a lot of work, too - but much less expensive, frankly, as they will be built incrementally with volunteers.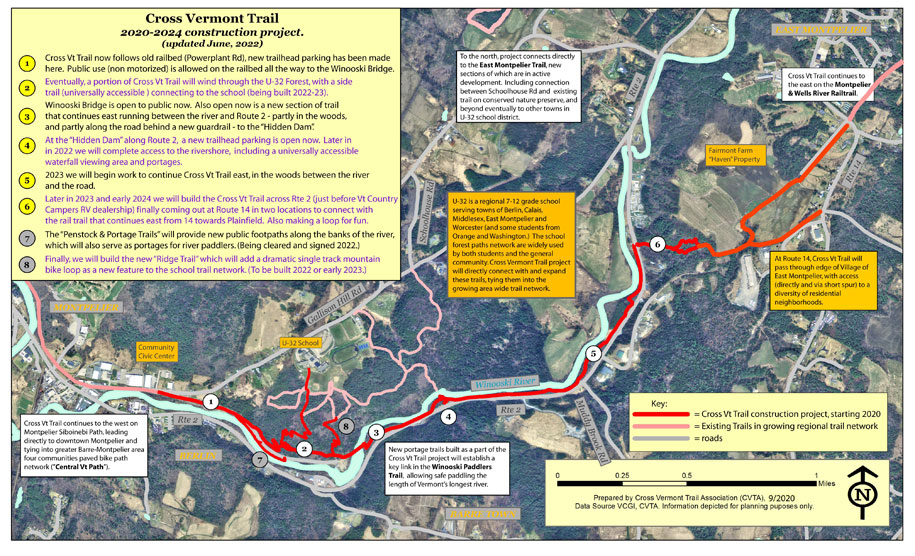 We are lucky that occasionally people choose to make a significant investment in the future of the Cross Vermont Trail by making a major gift. We are happy to talk together with supporters to make the process easy. Multi year pledges, gifts in the form of stock, and other considerations - let us know what might make the most sense for you.
If you would like, major gifts can be commemorated on the trail - on a bench at a scenic vista, with a plaque on a major structure. Your donation can help make real an important part of the trail, which can be dedicated to the memory of someone important to you. Let us know if this is something you'd be interested in talking more about.