back to guidebook home page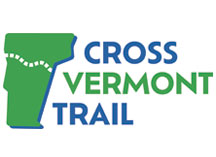 Cross Vermont Trail Maps
Explore trails, parks and communities across Vermont, following the Wells River and the Winooski River. Cross Vermont Trail is a project to build a new trail spanning the state from the Connecticut River to Lake Champlain.
Each map shows open sections of trail, and highlights roads that can be used to link them together to make longer trips. The route is shown in the context of an area map to help you orient to the trail location. A "cue sheet" accompanies each map with brief turn by turn directions (both east to west and west to east).
The statewide route is broken up into twelve maps. You can view the maps individually, below.
Or you can download the printable maps and cue sheets all at once here.

(PDF 3MB)
Temporary Route Notices ~ storm damage, road construction, you name it. Check here for updates on temporary changes or impacts to plan around along the Cross Vermont Trail route. Use this information in addition to the information in our maps and cue sheets.
Been out on the trail lately? Let us know what you saw. Would you like more of the route to be off road? You can help build more trail!
Note: In some places, Google Maps indicates trails and old woods roads that may not actually exist in the real world. These are shown as pale white lines. The correct Cross Vermont Trail route is always shown as a bright, happy, RED line. That's the one to trust. Thanks and enjoy!