Storm impact ONGOING status and updates.
Wells River Village through to South Ryegate
Open, no significant storm impact.
7/23/2023:
The section of rail trail in Wells River (between Blue Mt Union and Boltonville) is not impacted by the storm. There are some impacts to the Blue Mt side trail closer to the river, which will be cleaned up later this summer.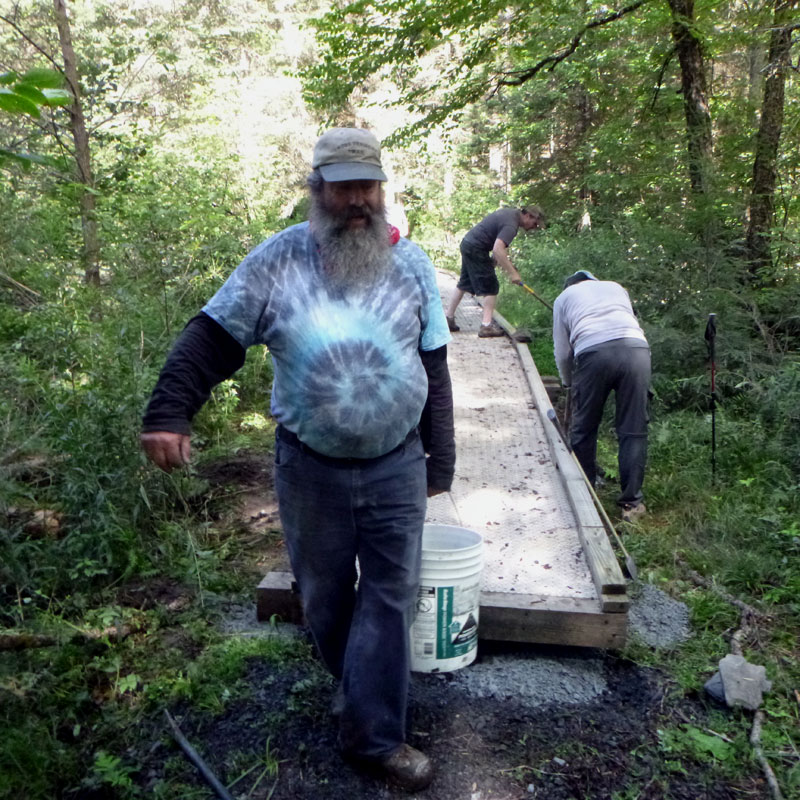 The on-road sections along Route 302 coming out of Wells River, and then again over to South Ryegate, then on Creamery Road and Church Street through the village there, are open as normal. In the west of Ryegate, the route returns to the old railbed which is now a town road (Brown Drive) and this too is currently open as normal.
8/1/2023:
CVTA volunteers have leveled and reset the "floated away but not for far" boardwalk on the Blue Mt School trail.
The rail trail through Town of Groton; Pine Mountain to Rickers Mill
Open, some rough spots, use regular caution.
7/23/2023:
The railbed in the Town of Groton, from Pine Mountain Wildlife Refuge trailhead all the way through to the trailhead at the south end of the State Forest at Rickers Mill, is open pretty much as normal.
There was a lot water coming through during the storm, and there are some rough patches on the trail. The worst of these will be repaired this summer. Looking ahead, the Town is currently planning a major project to resurface and regrade much of trail next summer.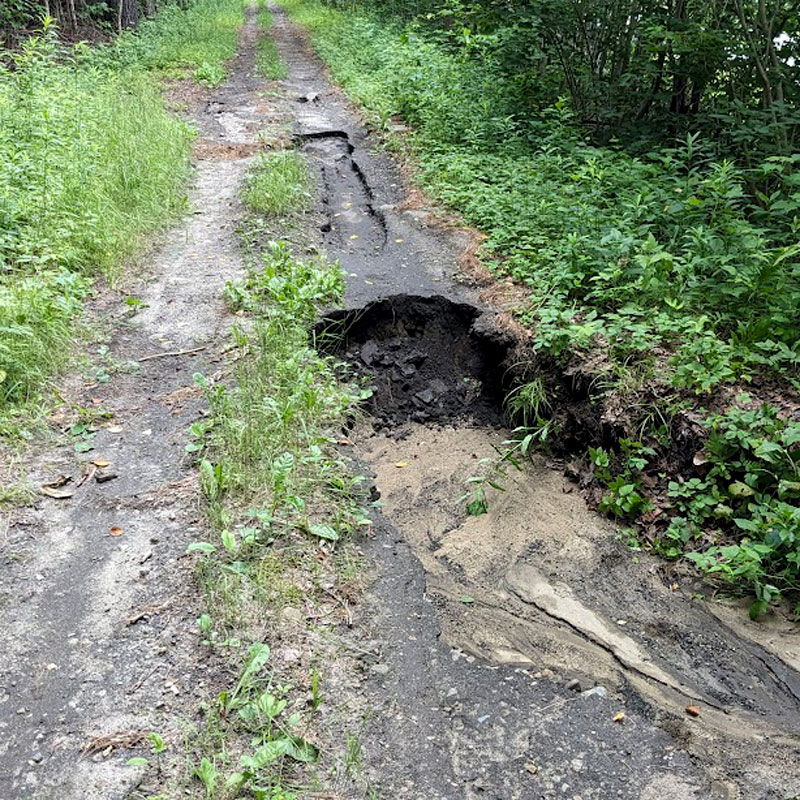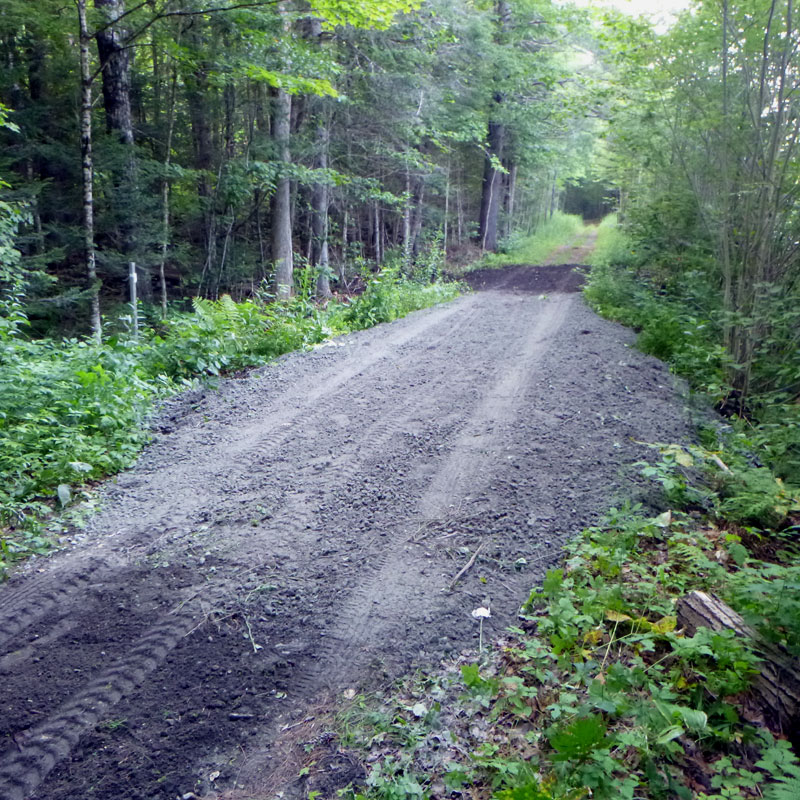 8/9/2023:
The washout just south of Rickers Mill has been repaired. This was the one significant bad storm spot in town - the trail between Rickers Mill and Pine Mt.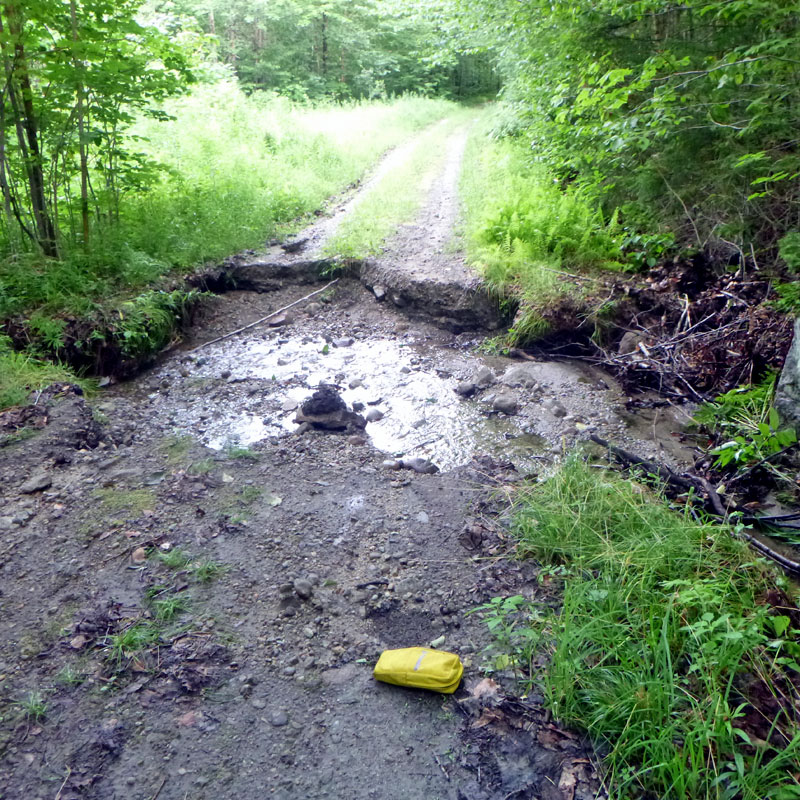 Groton State Forest from Rickers Mill to Route 232 (near Kettle Pond)
Significant storm damage, use caution, check for current information.
7/23/2023:
This is the rail trail in the State Forest heading northwest from the trailhead at Rickers Mill (the southern edge of the State Forest) and then through Ricker Pond campground and alongside Lake Groton to the junction with Route 232 (just north of Kettle Pond).
There are 15 washouts of various sizes on this section of trail. Many of them would require dismounting a bike and walking across. Footing is unstable, there may be water on the trail.
11/16/2023:
The State Forest is now planning for repair of this section during summer of 2024.
Groton State Forest from Route 232 to Marshfield Pond (just past Lanesboro).
Open by December 15, 2023, several significant washouts.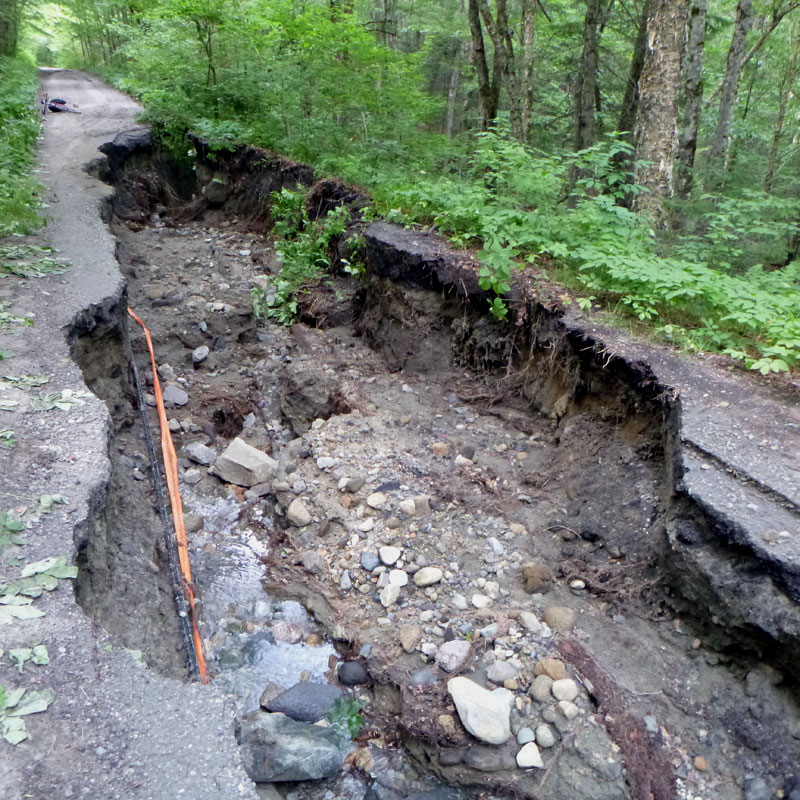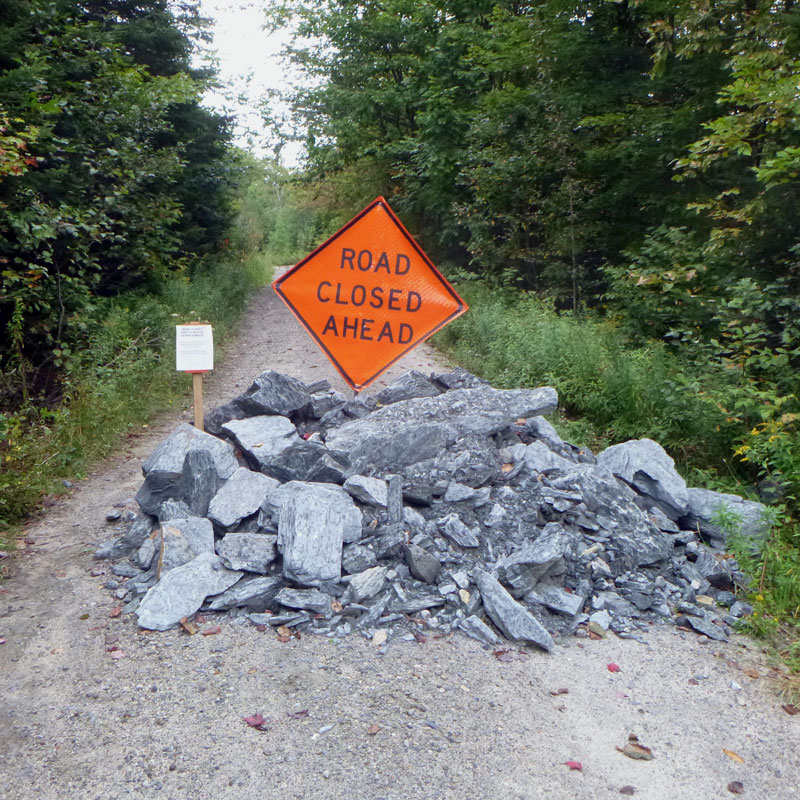 7/23/2023:
This is the rail trail from Route 232 crossing in the State Forest, then through Lanesboro and onto Town of Marshfield section of the railbed past Marshfield Pond and Bailey Pond to the town trailhead parking lot at Bemis Farm Rd, just up the hill from Marshfield Village.
There are several significant washouts on this section, and it is advised to stay away from the areas impacted by these washouts. The good news is that other than the large washouts, much of the bed looks OK, though a total of 10 areas will need some amount of repair. The Town of Marshfield and CVTA were in the process of planning an upgrade to the surfacing of the trail between Bailey Pond and Bemis Farm Rd. This work is delayed now, but we hope to be able to return to it later it this year or in 2024 for sure.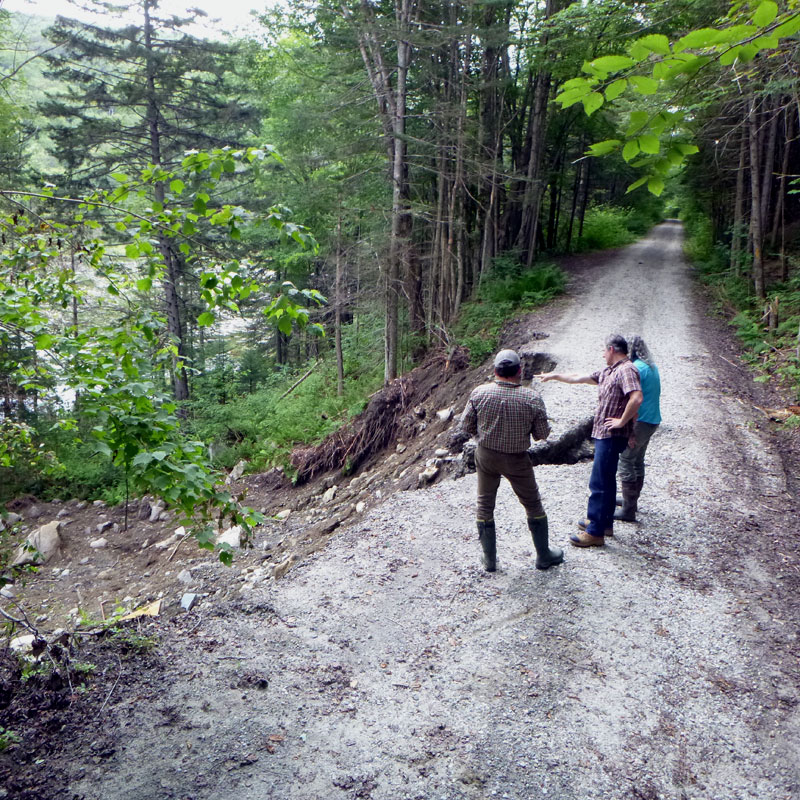 8/3/2023:
The State Forest folks are planning for a larger fix along this section. Some of the work will require more than just "filling in the hole" - with an eye towards addressing the root issues that made the bed prone to collapsing in the storm. It may take a bit to get all that designed, permitted and then contracted out. Meanwhile, this section of the railbed is definitely closed.
11/16/2023:
A contractor has been hired and the work is expected to be done by December 15, 2023.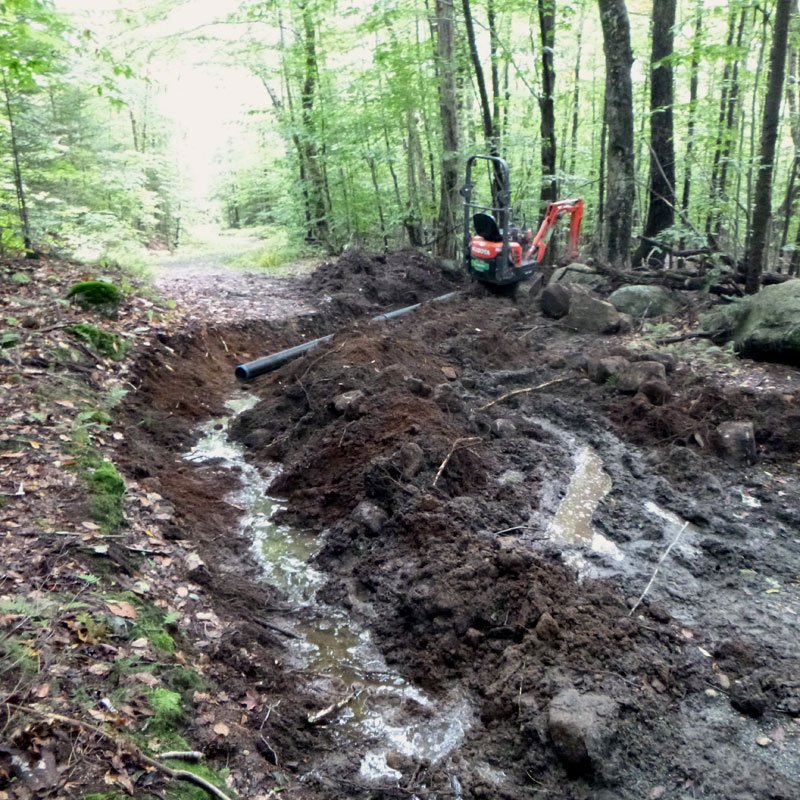 9/11/2023:
Meanwhile, CVTA has continued our long standing partnership with Groton State Forest to help maintain the broader multi use trail network throughout the Forest, of which the Cross Vermont Trail is a central piece. On the Rail Trail Connector Trail (an off road connection between New Discovery campground and the rail trail) we reconstructed a washout and added a new culvert, as well as redigging numerous waterbars that had filled in. This trail was originally converted to four season use from only snowmobile by CVTA's volunteer trail crew, but this time cheated and did it with the Kubota.
Rail trail in Marshfield from the ponds over to trailhead at Bemis Farm Road.
Open, extensive repairs completed.
9/14/2023:
This section of the rail trail is slowly getting patched up, especially alongside Marshfield Pond and Bailey Pond. Still unrepaired though is the biggest impact which is between Bailey Pond and Bemis Farm Rd. CVTA is working with the Town of Marshfield and neighboring landowners to figure out a long term repair and improvement of this section.
11/16/2023:
The Town of Marshfield has hired a contractor to complete the needed repairs to the railbed. As of mid November the work is done.
Cross Vermont on-road route from Marshfield Village to John Fowler Road.
Open, be aware there are is a lot of road reconstruction happening.
7/23/2023:
The on road route from Bemis Farm Rd, down Depot St to Marshfield Village, along Route 2 to Plainfield Village and then on to Country Club Rd up to where the rail trail resumes, is open but be aware that the roads are all being worked on and reconstructed.
By the way, CVTA is actively interested in working with more landowners along the old railbed that parallels Route 2 here. We can be a partner to help repair storm damage on the railbed now and in the future. We are happy to talk more now, call if interested.
9/13/2023:
Even though it is not officially part of the Cross Vermont Trail route, in the spirit of working with interested landowners to help care for and save the railbed, CVTA has patched a slumping section of the railbed on Town owned property, at the back side of the Martin Covered Bridge Park.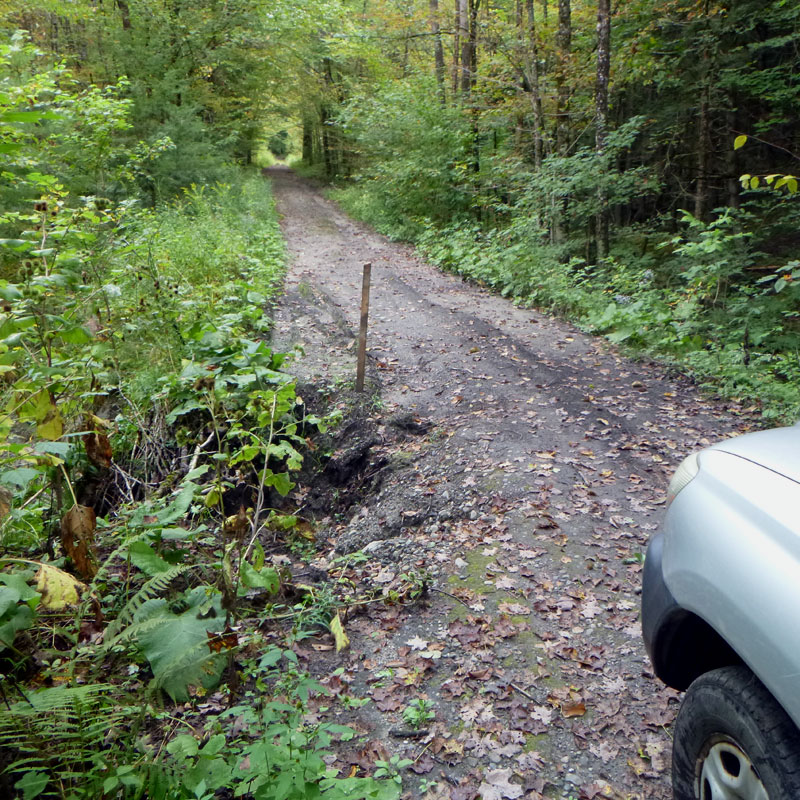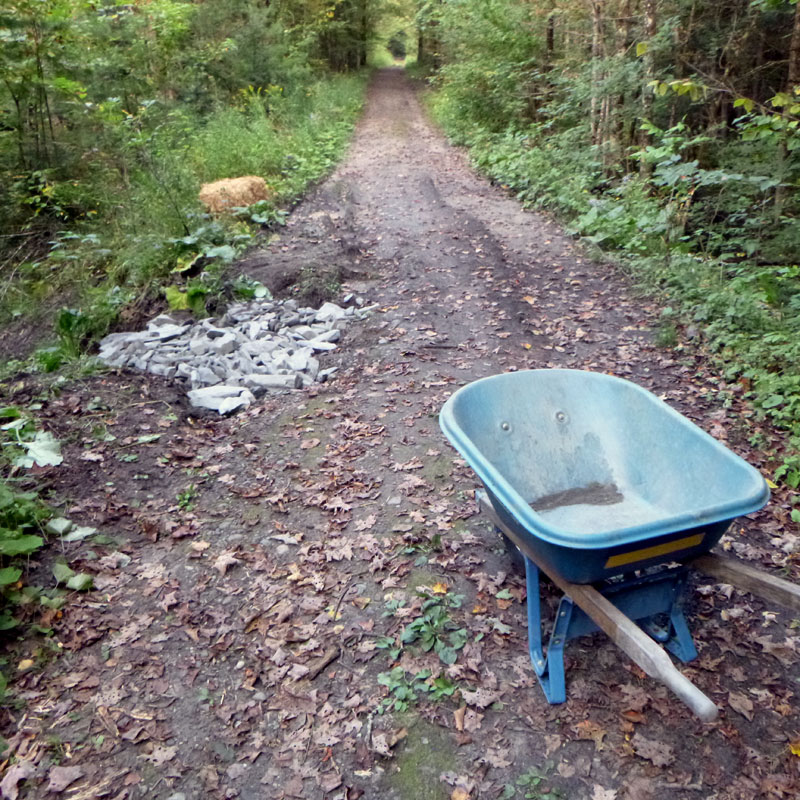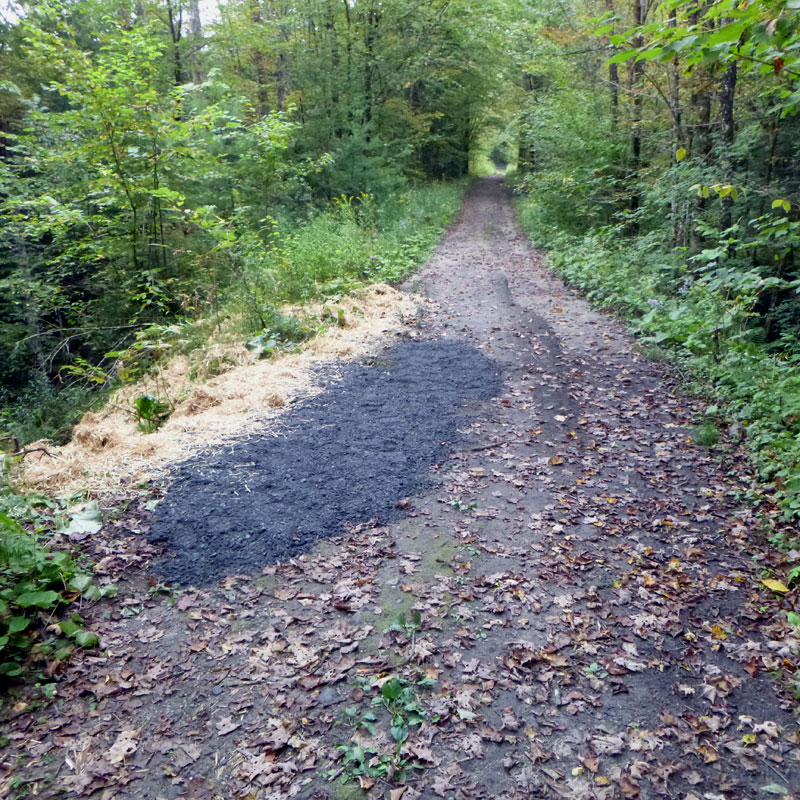 Cross Vermont Trail on railbed from John Fowler Road to Plainfield.
New! We are excited to announce one step forward. This is a newly designated official section of the Cross Vermont Trail on the old railbed.
9/13/2023:
The railbed between John Fowler Road in Marshfield and the Plainfield Park and Ride in Plainfield Village is now officially open as the newest section of the Cross Vermont Trail. Yes, people have "traditionally" used the railbed here as a trail for many years, but now we have real permission from the landowners - a private parcel and also two parcels owned the Town of Plainfield. Please keep in mind that the private parcel is open to public use on condition that trail users Stay On The Trail, do not trespass into the fields and forest to the sides of the trail where you see the "Posted" signs.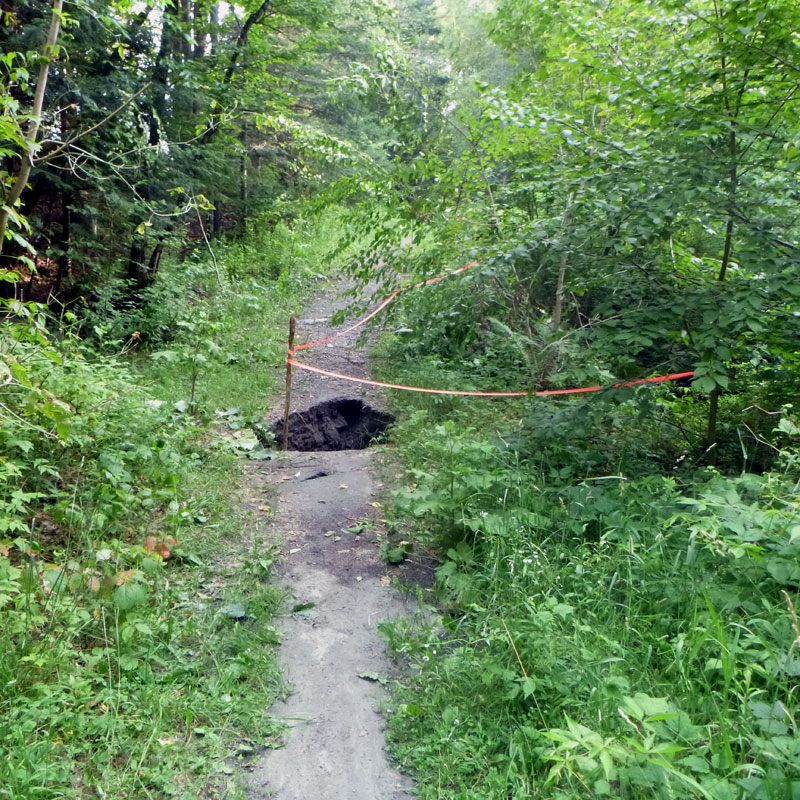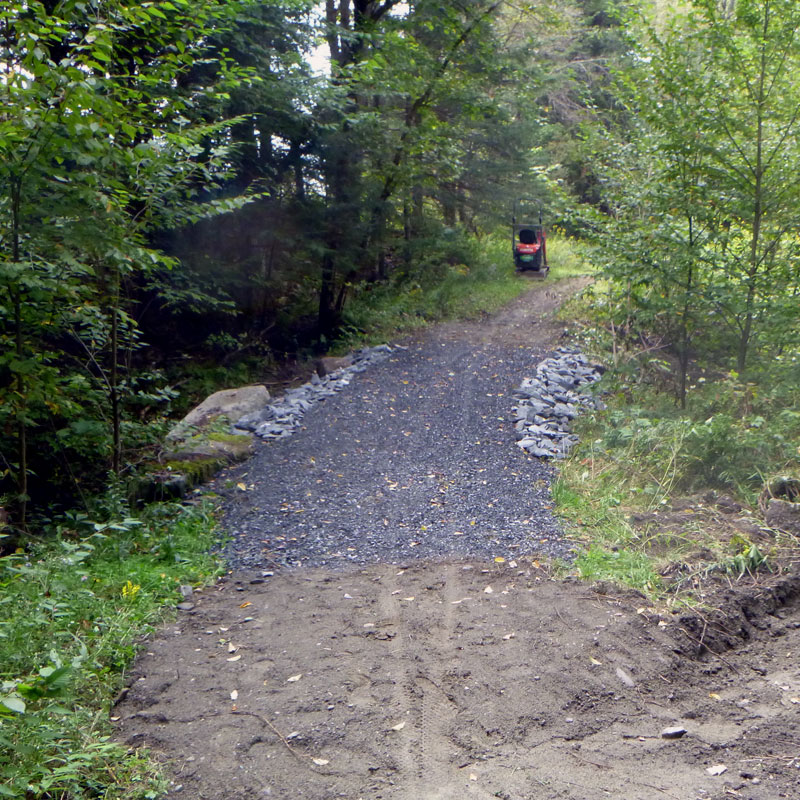 We were hoping to open this section officially earlier this summer. But of course there was storm damage, now repaired.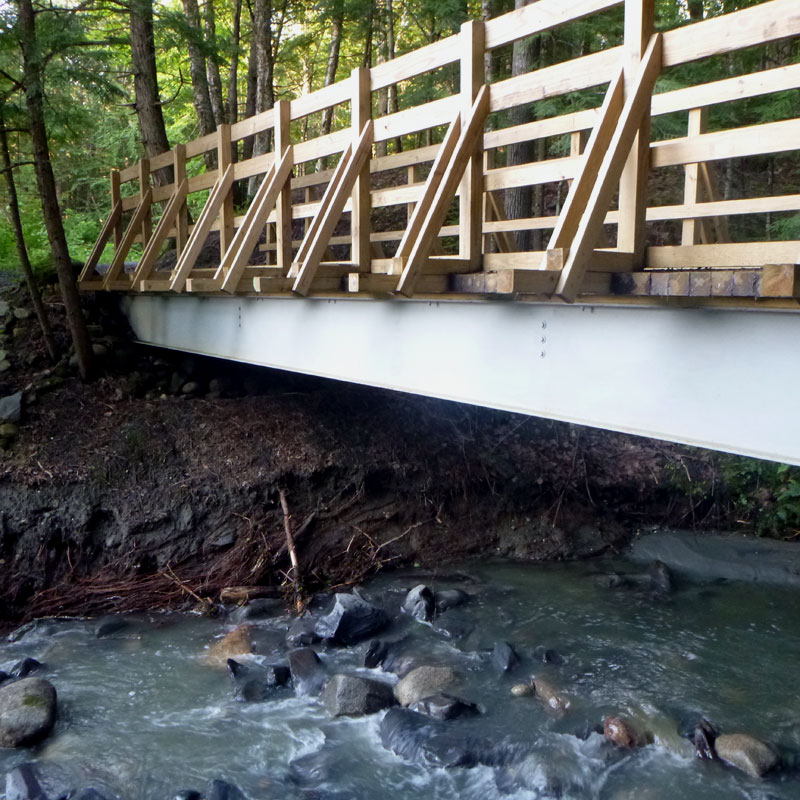 The rail trail from Country Club Rd in Plainfield to Route 14 in East Montpelier
Open as normal, storm clean up is done.
7/23/2023:
This section of trail is OK. There is some clean up needed, and some redigging of ditches. However the trail is open. This was the section so heavily reconstructed after the 2011 storms. It is gratifying to see the work we have done here since 2011 accomodated this new storm successfully.
8/29/2023:
We have finished storm clean up of numerous small wash outs and emergent mud holes.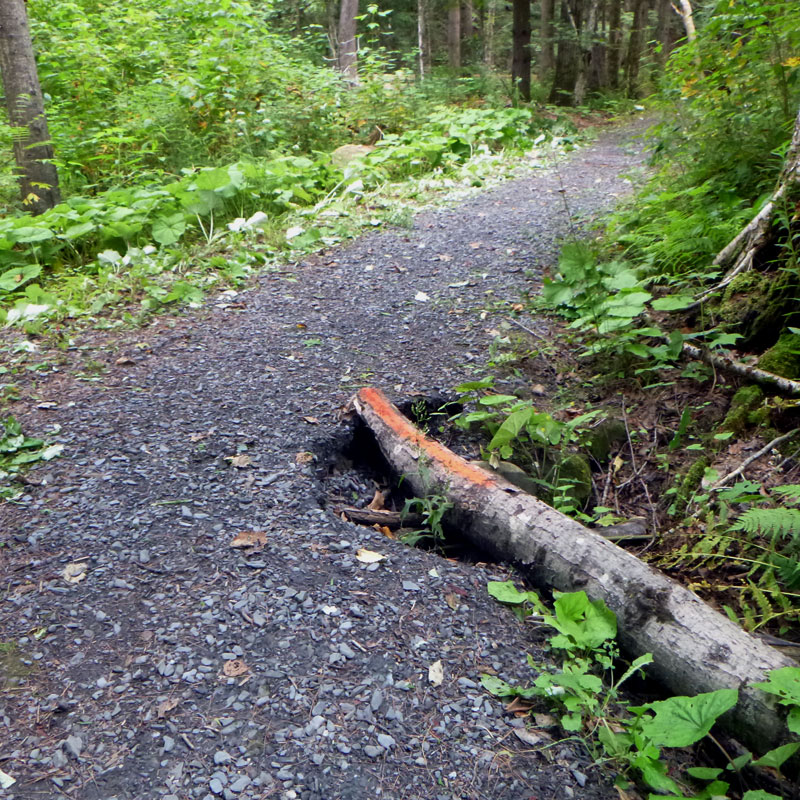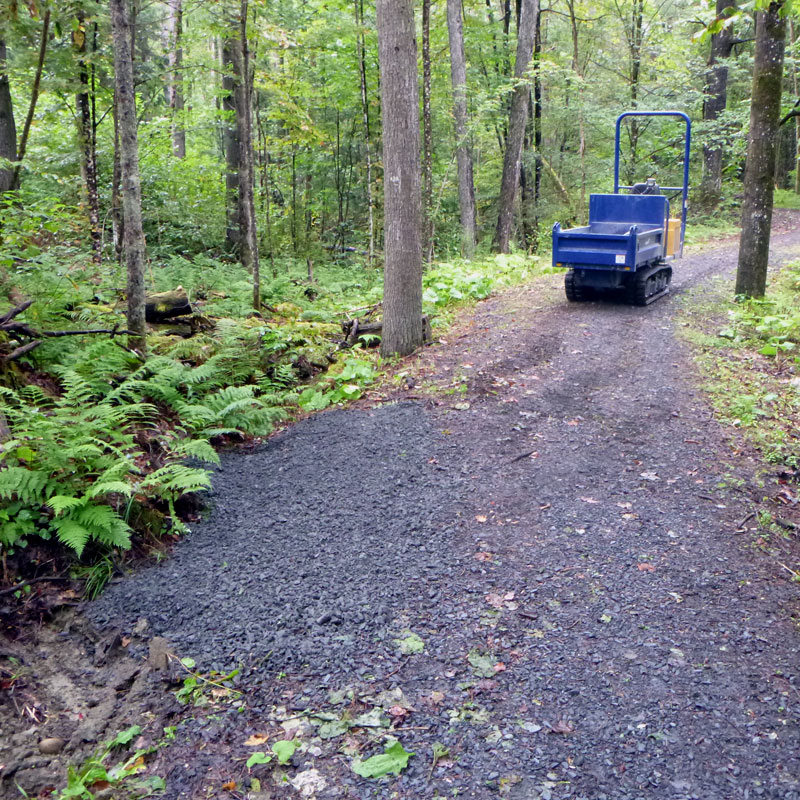 On-road: from Route 14 trailhead, north to Route 2, then west towards Montpelier to new trailhead at Hidden Dam.
Open, use normal caution on these busy roads.
7/23/2023:
Routes 14 and 2 in East Montpelier are open basically as normal. The bigger story here of course is that CVTA is working now to build a new trail in the woods and get our route off of these roads. That work is slightly delayed by the time needed to respond to this storm. However, we will be back at it later this year and in 2024 for sure.
The Winooski Bridge project, from Route 2 trailhead at Hidden Dam west over new trail bridge and out the railbed (Powerplant Rd) to trailhead at Gallison Hill Rd.
Open, except periodic closures for ongoing work on shoulder of Route 2.
Look for periodic closures to portion of trail alongside Route 2 as VTrans carries out extensive repair to road shoulder.
7/23/2023:
Serious damage to the base of the slopes supporting Route 2 and the Powerplant Rd (old railbed). These impacts are larger than just the trail, and will be repaired by VTrans and by the hydro dam company respectively. In the meantime, the trail is CLOSED. Please keep clear of this area while the needed large scale repairs are being planned and completed.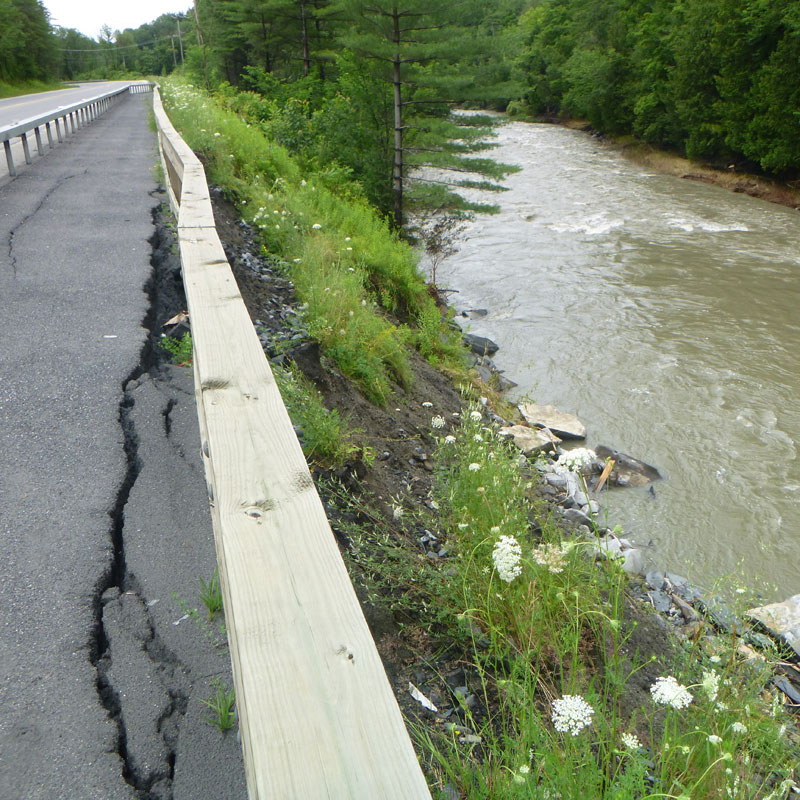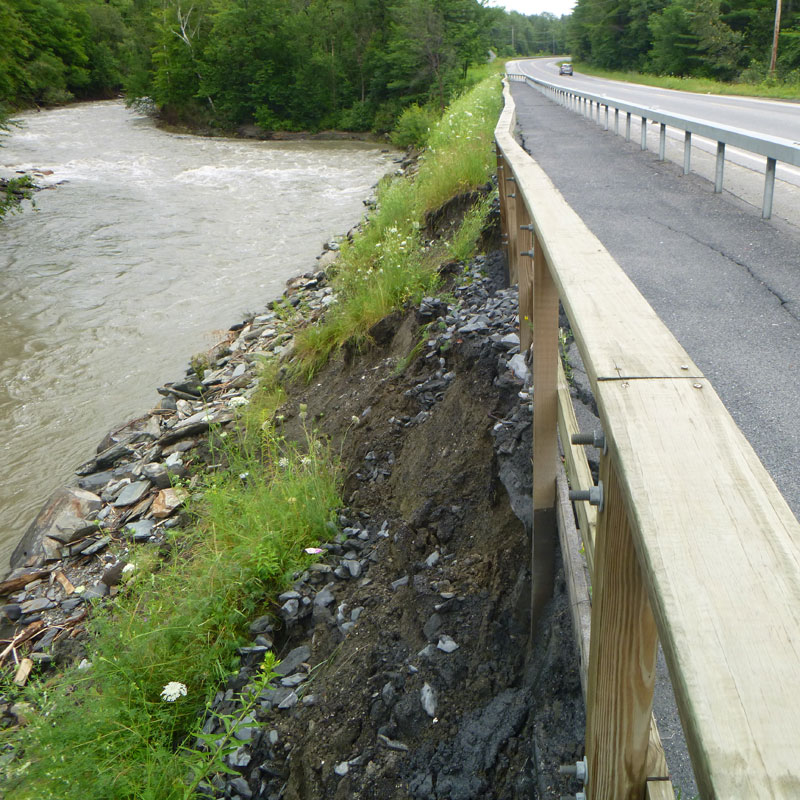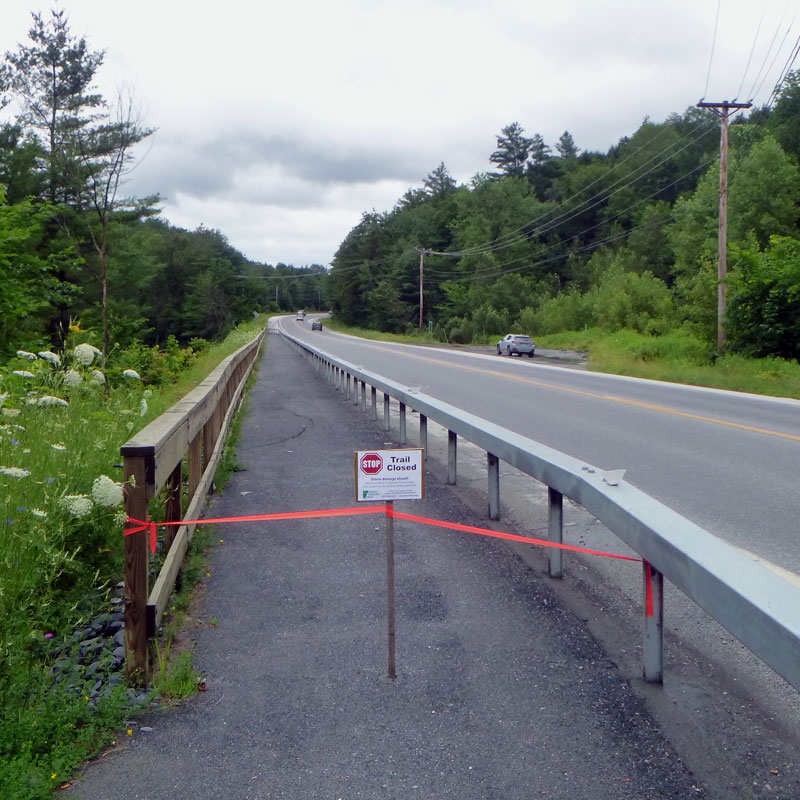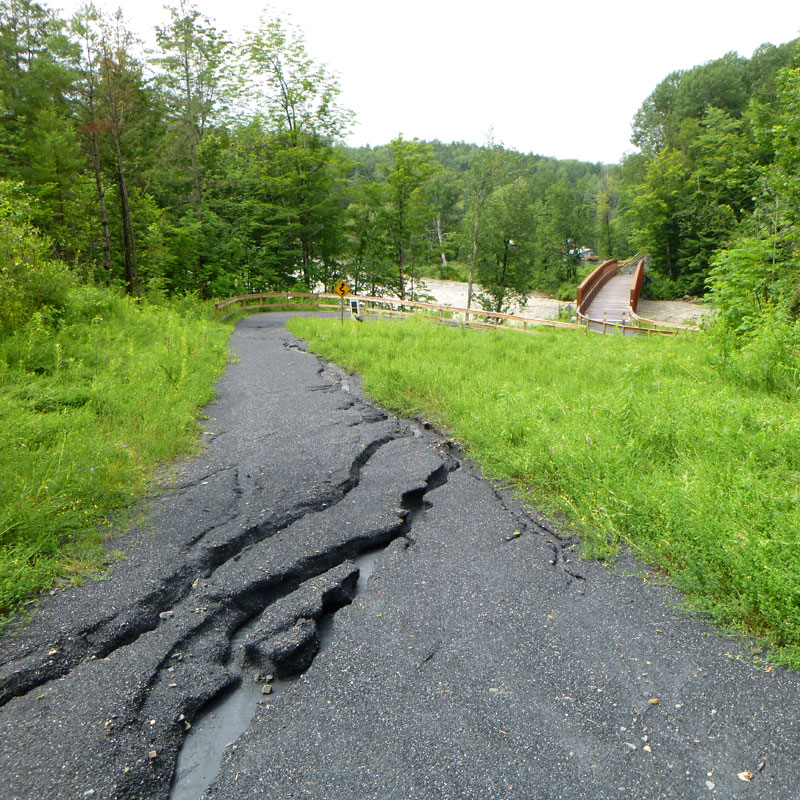 The good news is that all the trail work CVTA has been doing the past couple years, which is still ongoing, is basically OK. We will have to redo some of the surface gravel and grade it out smooth again, and some other clean up. Because of this need to respond to storm damage, forward progress on our big project will be delayed a couple of months. However, once we are caught up again from storm impacts, then will be able to resume proceeding on new work to get the full trail open.
11/16/2023:
The trail section in East Montpelier that threads the needle with the Winooski close by on one side and Route 2 on the other was sorely undercut by the July Flood. This is the section behind the guardrail, between the bike path bridge and the trailhead at the Hidden Dam. After the flood the trail, and the whole road shoulder, started slumping. Vt Agency of Transportation is embarking on the large repair needed here. Initial work will be done late November, to stabilize the site before winter. Then next summer there will be additional work done to complete the permanent fix. While VTrans is on site actually working, the trail will be closed of course. However, the good news is that between the work periods, trail is expected to be open. Watch for signs (and giant yellow machines in your way) alerting when the project is active.
The trail along the oldrailbed near the hyrdopower dam (aka Powerplant Road) was also undercut during the July storm. The power company has closed a short section of the railbed near the undercut bank, and built a new road a little farther from the river as a bypass. This work is complete and open again for use as a trail shared with the power company.
Go to the Winooski Bridge project page for ongoing updates about this site.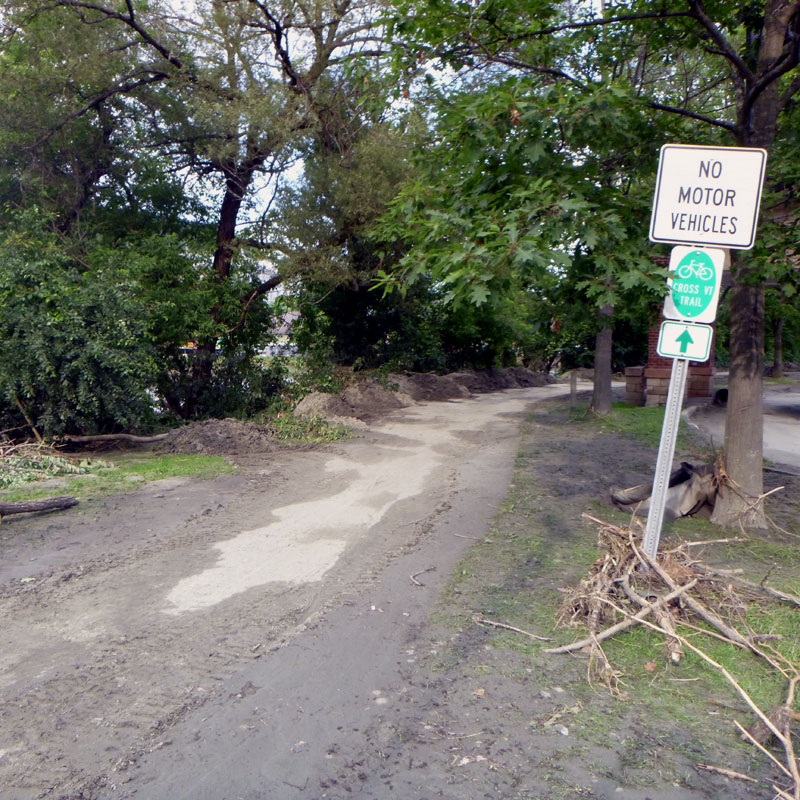 Montpelier Bike Path
Open as normal.
7/23/2023:
The Montpelier Bike Path from Gallison Hill Road out to Bailey Avenue by Montpelier High School was definitely underwater. The City has already started on clean up, plowing off silt and debris from the path. Be aware of course that Montpelier generally was very hard hit by the storm, and there will be storm impacts all around the path for some time to come.
8/29/2023:
The City of Montpelier has cleaned up all the silt and debris and the bike path is open as normal.
On road: Rte 2, 3 Mile Bridge Road, River Rd in Moretown, Rte 100B to Lovers Lane Bridge over Mad River.
May be open or closed depending on ongoing road repair.
7/23/2023:
All of this area was flooded and there are various impacts to roads. Check with State or Municipalities for current information on road closures.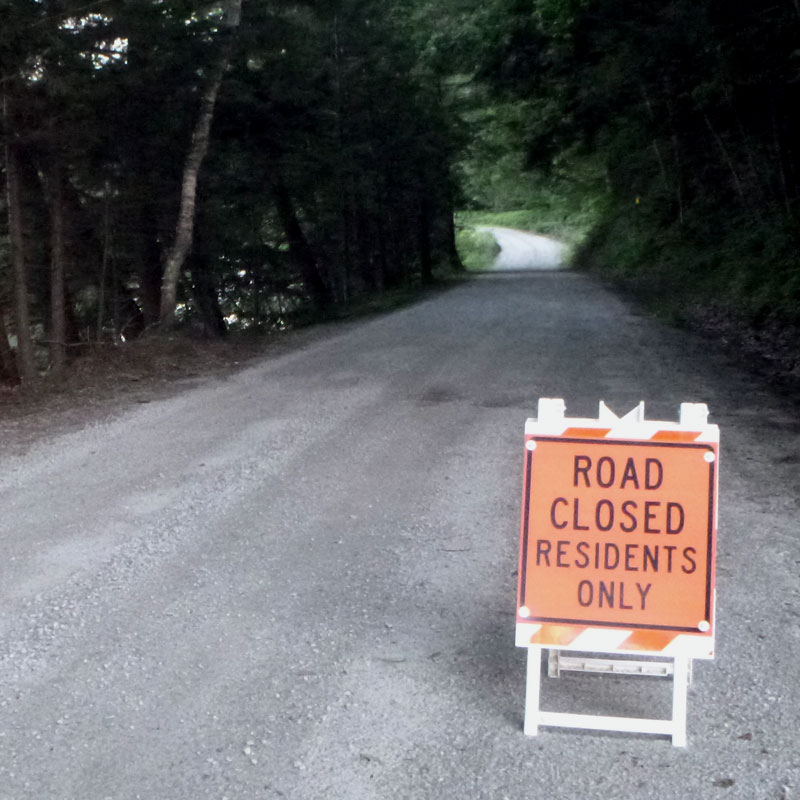 Lovers Lane historic bridge over Mad River in Moretown, and connection between 100B and Route 2
May be open or closed depending on ongoing road repair.
7/23/2023:
A portion of the Lovers Lane Road was impacted. Check with municipality for current information on road closure.
The good news is that the historic bridge over the Mad River is OK. In the long run, though, this old bridge will need another round of care and maintenance to keep it going for bike/ped use. CVTA is hoping to help make this happen in the not too distant future.
On-road: Route 2 in Moretown to Waterbury.
May be open or closed depending on ongoing road repair.
7/23/2023:
Route 2 from Lovers Lane, along the Winooski River in Moretown and into Waterbury Village and the Waterbury State Office Complex, is basically open as normal.
The green path along Winooski River behind Waterbury State Office Complex and through Hope Cemetery to Winooski St. in Waterbury.
Generally open, rough in spots. Two locations are flagged as hazardous, walk around them.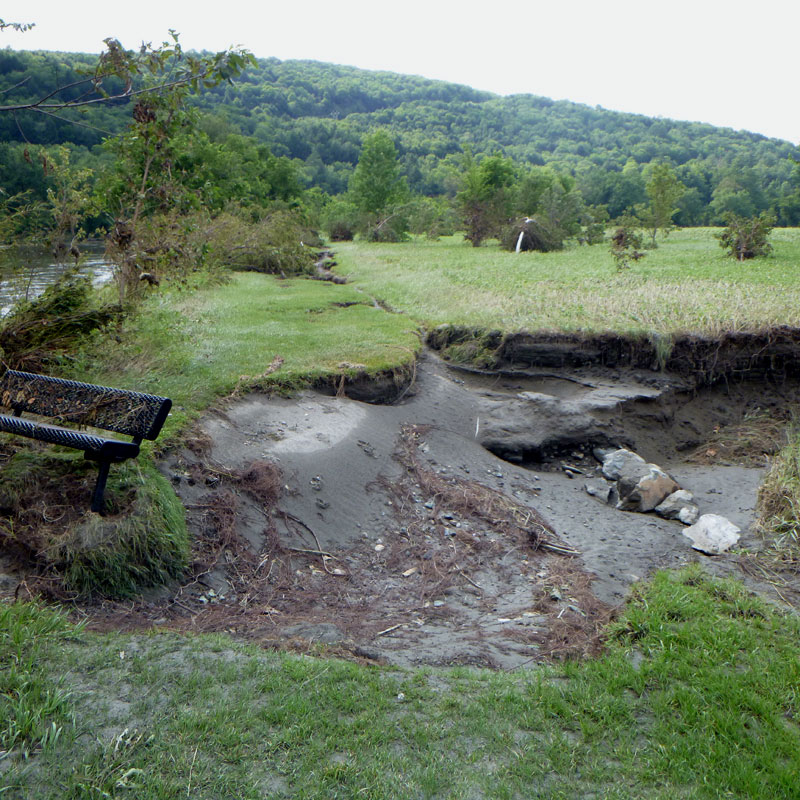 7/23/2023:
The trail is in the flood plain and was inundated of course. There are a few spots where the treadway has been gouged out leaving a patchwork of holes and piles of sand. The State facility managers have asked that folks keep clear of these areas for the time being. Otherwise, the trail is generally ok, it is intended to be inundated periodically and then be good to go with some minimal clean up. We'll let you know when that clean up has happened.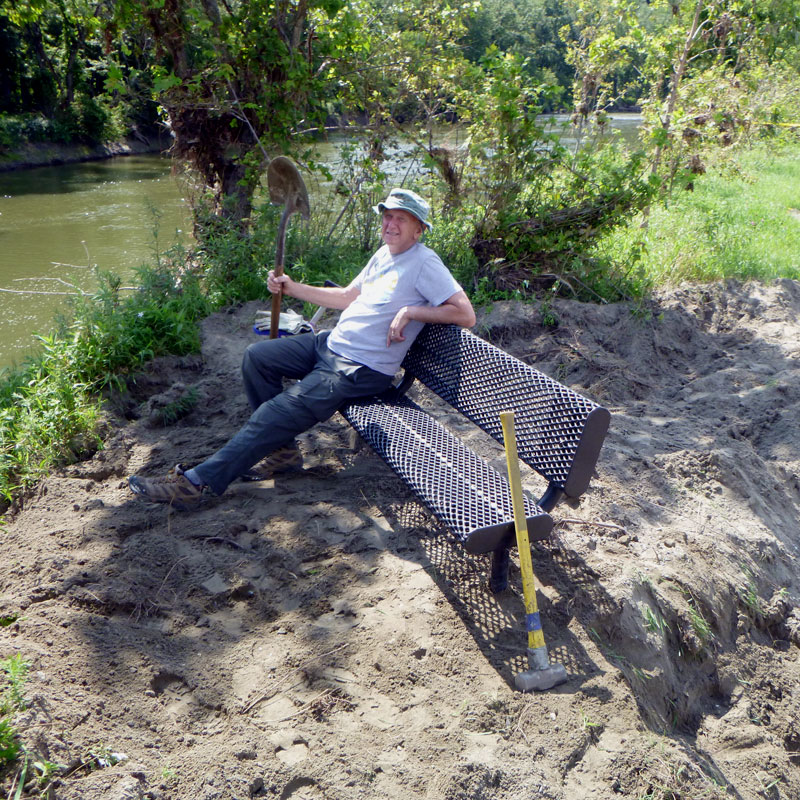 8/2/2023:
CVTA volunteers helped clean up the remainder of flood debris and eclectic accumulations of trash and cleared brush and branches etc blocking the trail. Also we straightened the bench (very satisfying)! Meanwhile, the two big holes and all the piles of sand will be cleaned up by the State BGS folks - they are on the case, stay tuned.
9/8/2023:
The State has hired a contractor to do the remaining trail clean up, and other jobs around the State Office Complex. Now just waiting for them to get us on their schedule and come do the work, should be relatively soon.
On-road:Winooski Street in Waterbury and then west on various versions of River Road in Duxbury, Bolton and Richmond, then to Cochran Rd and Huntington Rd.
May be open or closed depending on ongoing road repair.
7/23/2023:
Storm impacts are present all through this area. Check with local municipalities for current information about ongoing road closures or repairs.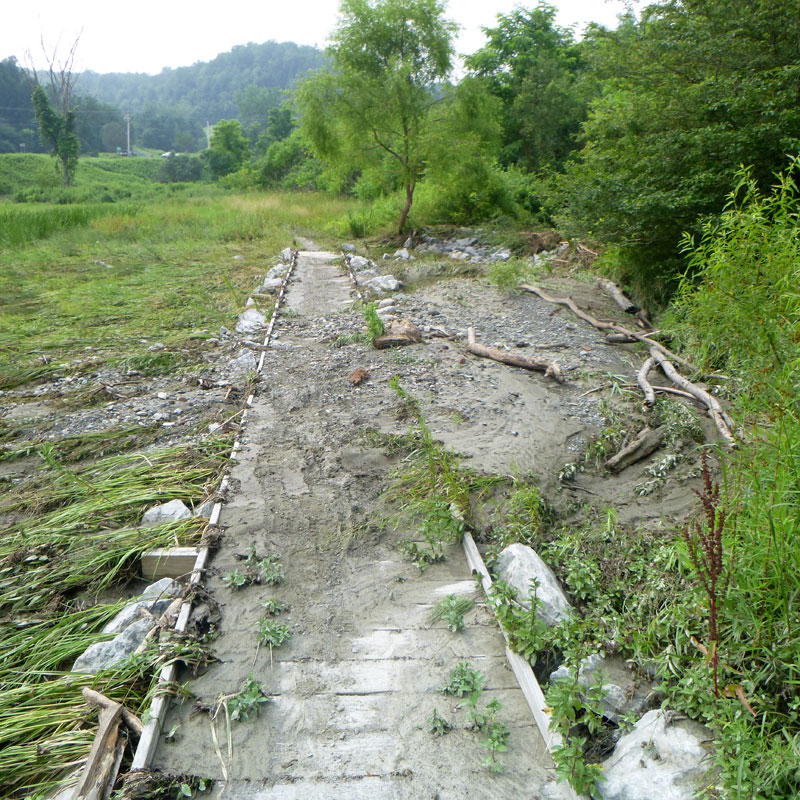 Johnnie Brook Trail in Richmond.
Open, clean up is done.
7/23/2023:
The Johnnie Brook Trail has been flooded at least twice since July 10. The good news is that the basic set up the trail seems to be working as designed - flood waters move through and when receded the trail, including the sections of boardwalk, emerges OK.
That said, currently there are uneven patches of treadway, slippery mud, and deposits of gravel and driftwood on the trail. Clean up is ongoing.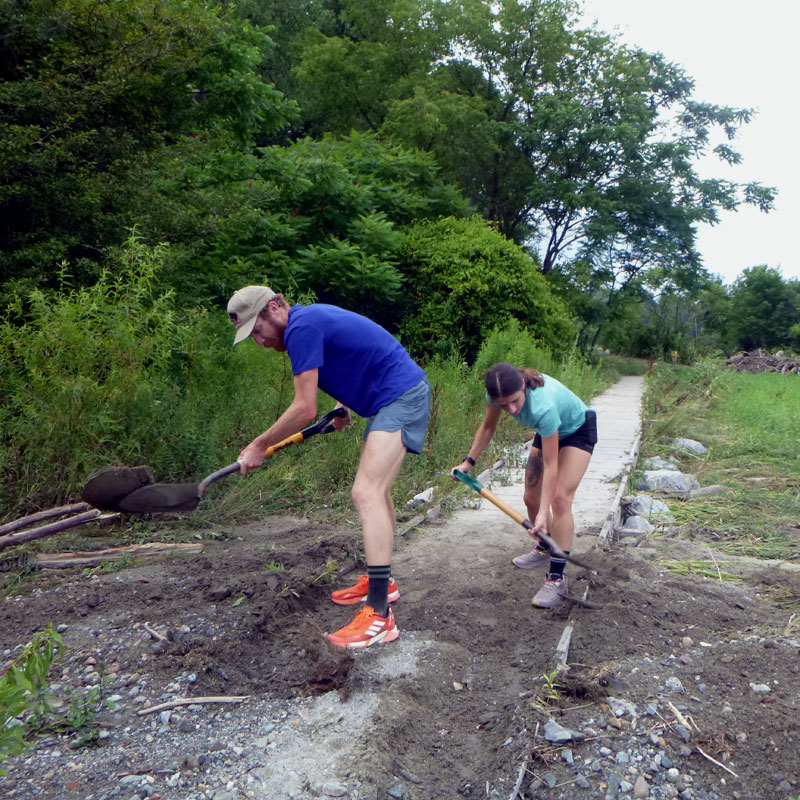 7/28/2023:
Johnnie Brook Trail is cleaned up and open as normal. Thanks to a big turn out from the Richmond trails community!
On-road: Johnnie Brook Rd, then west on Rte 2 to Governor Chittenden Rd in Williston and start of the Williston Bike Path.
Open as normal.
7/23/2023:
These westernmost "little dirt road" sections of the Cross Vermont route heading into Williston seem to have come through the storm OK.
The Williston, South Burlington and Burlington Bike Paths, out to Lake Champlain.
Open as normal.
7/23/2023:
Caveat - I haven't actually checked these out recently. The storm was a little less of an issue in these towns, local trail users have reported in.
Looking to the future, CVTA is interested to work with Chittenden County partners to explore for the best long term route for the Cross Vermont Trail from Richmond to the Lake. Ideally a route more likely to wash out than current route. Just kidding. Seriously, our goal is to help support greenway path projects in Burlington area, especially along the general corridor of the Winooski River.