Updates and media posts.
July 29, 2021
Dramatic aerial filming of the Winooski Bridge install - first cut of the footage shot by Montpelier photographer Jay Ericson.
July 28, 2021
One more "triumph post". Here we are rounding up our excitement about the installation of the Winooski Bridge last Friday, and then looking ahead to what's next.
What a day! The Winooski Bridge really was identified as our first priority project 25 years ago, during the very initial surveys of what could be a Cross Vermont Trail route. And several of the people doing that initial survey, sitting through those first planning meetings, with their minutes printed out dot matrix - Rose, Nona, Mike - they got to be there in person on Friday seeing it become real! That felt good to see, as good as seeing the bridge itself.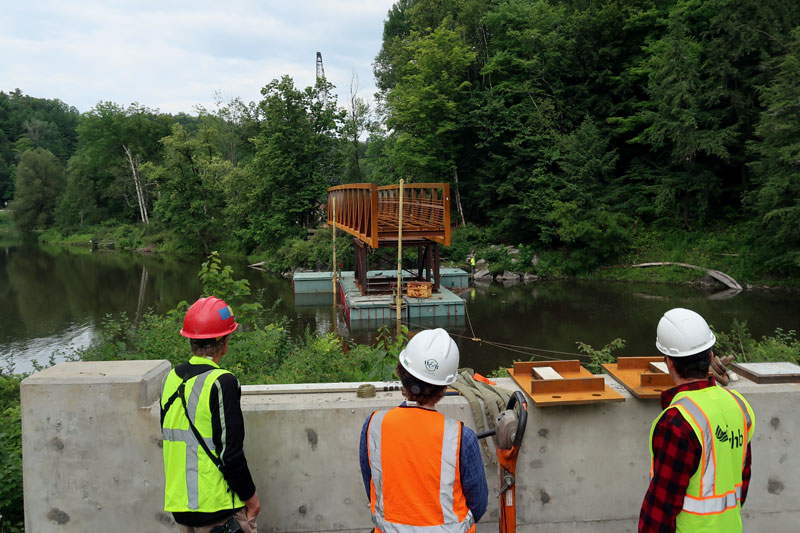 But the bridge itself was a crazy thing to see. We were lucky to have numerous good photographers on hand to help celebrate. Check out John Lazenby's full portfolio, posted up at: his blog. I especially like that even with all the mega equipment on site, in the end they put a hand wrench on the bolts and winched the installation barge across the water with a respectably weathered John Deere skidder.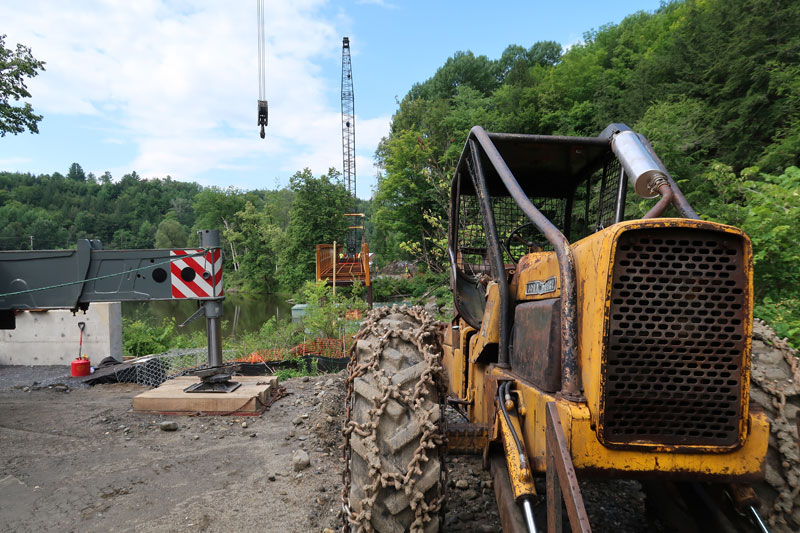 So what's next?
The bridge is still an active construction site, and is not open to the public yet. Watch for announcement of a formal ribbon cutting and grand opening this fall.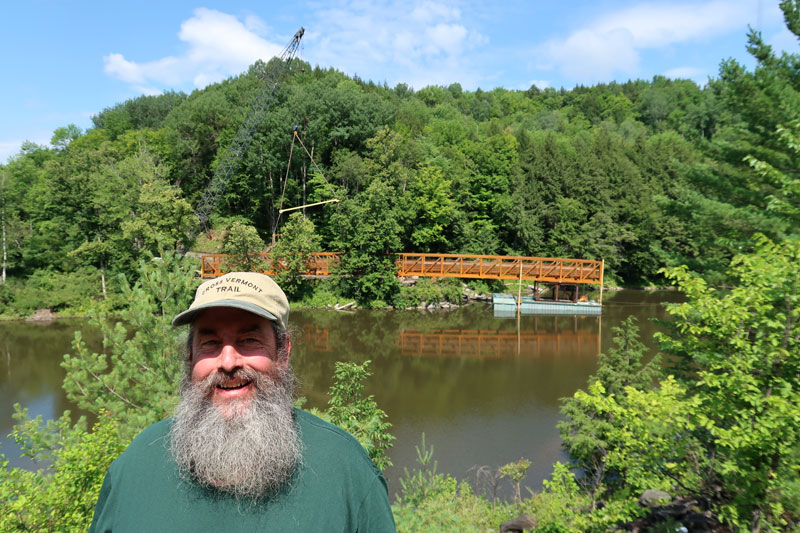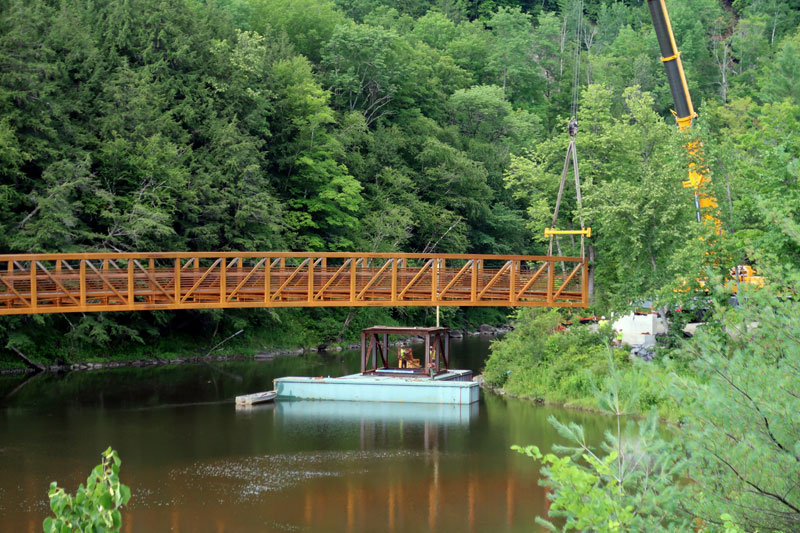 An actual walk/bike route from Gallison Hill Road through the bridge and then upstream to a new trailhead parking lot on Rte 2 may be ready in time to open later this fall as well. (Or if not, then early next summer for sure.) Construction is underway - you'll be seeing lots more contractor work being done along the road shoulder in the coming months. Meanwhile CVTA is making now the part in the woods, away from the road shoulder.
Next summer we will finish a set of new trails in the U-32 School Forest, linking to the school, and to the East Montpelier Trail network beyond. We'll also finish up numerous river access spurs for boating, fishing, and just enjoying the water.
Finally, starting 2022 and working through 2023 we'll build the remainder of the Cross Vermont Trail, from the new trailhead parking lot on Rte 2, upstream in the woods beside the river for about a mile, crossing Rte 2 near "Vt Country Campers" RV dealership, and heading cross country to join the existing trailhead up at Rte 14.
The Winooski Bridge was the hardest part. We're excited to have done the hardest part first, and are looking forward to getting to do the rest of the work and getting the trail open!
Maps, project updates, and how you can help.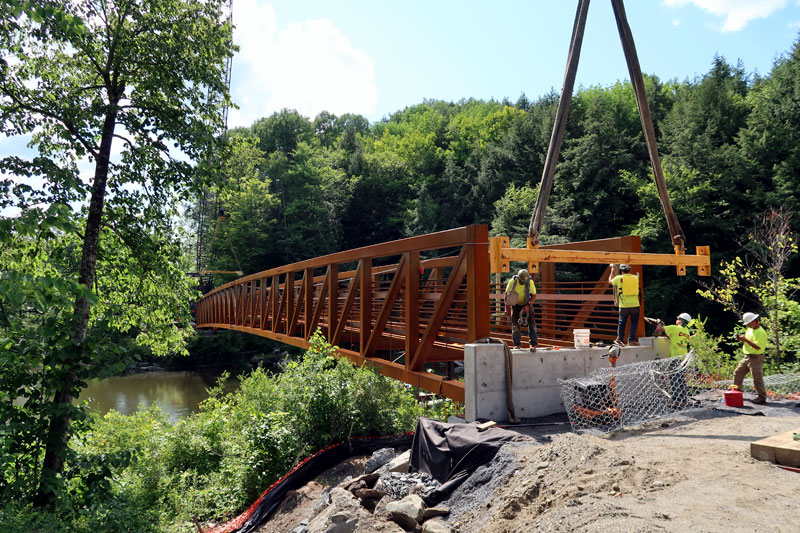 July 27, 2021
Good press this week witnessing the Winooski Bridge install, plus understanding the bigger vision. Check out: VTDigger; Local 22/44 TV News; and naturally the Montpelier Bridge!
July 23, 2021
And the bridge is across the Winooski! Stay tuned for more updates, and later in the Fall we'll have a ribbon cutting when it's actually open for people to use the bridge. But for now, just savoring the amazing launch across the water.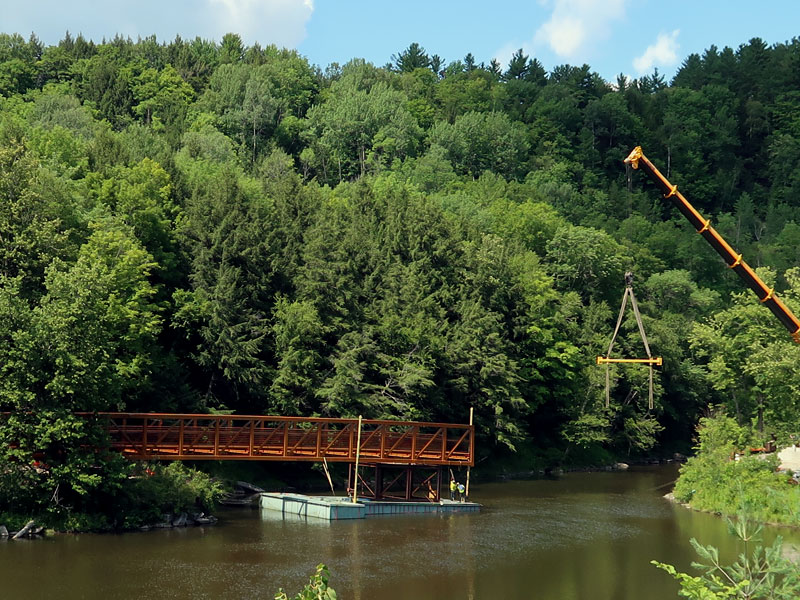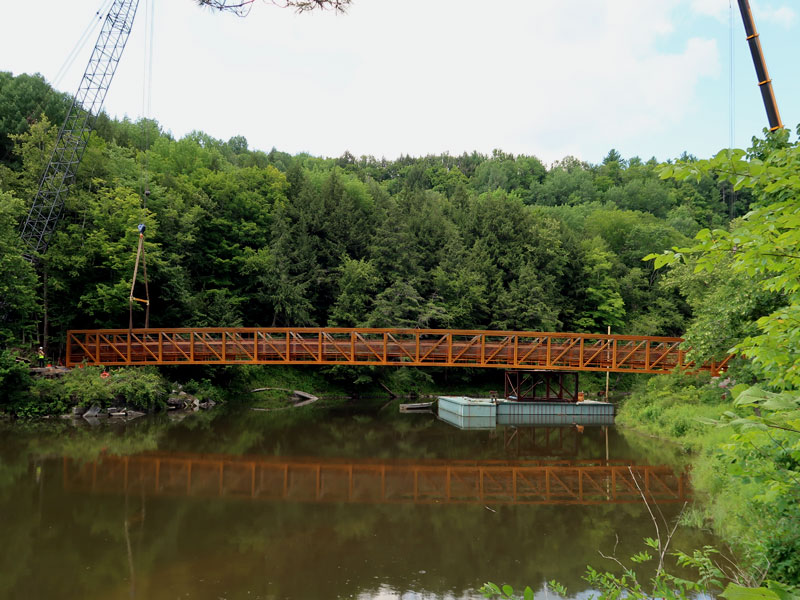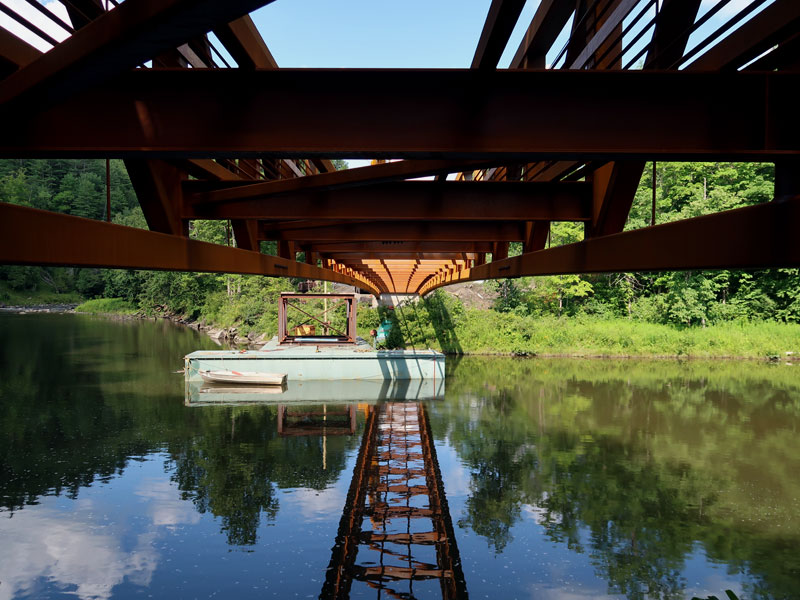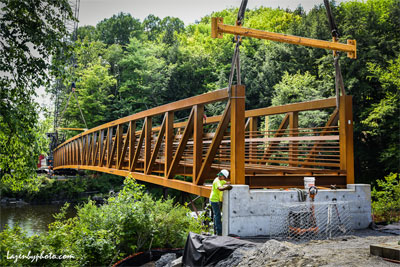 July 20, 2021
Another local trail stalwart, John Lazenby, shares these photos of the Winooski Bridge - resting like a sled dog in the traces before a race.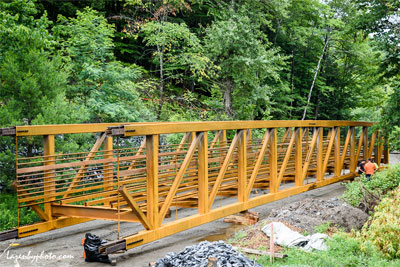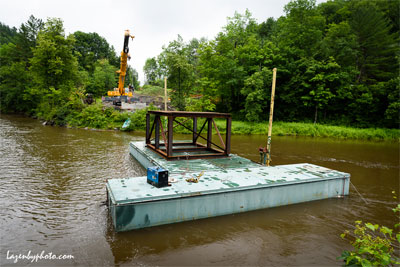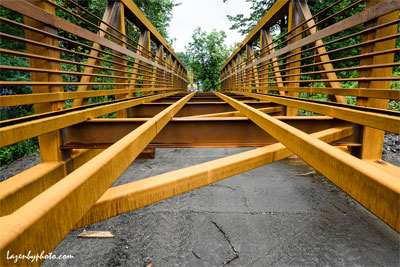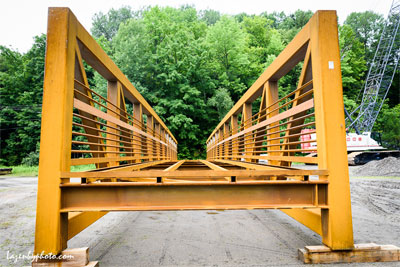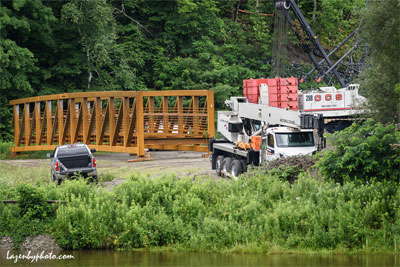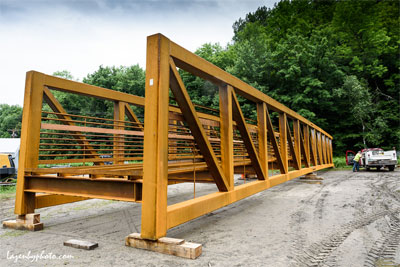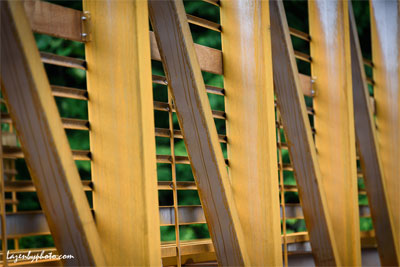 July 19, 2021
Winooski Bridge - second crane is in position, and the temporary barge is in the river. On the big day, the bridge will be lifted over the river held by a crane on each side, and balanced on the barge while the final bolting happens to fix it in place. However - cannot do this when the water is high, so waiting at least a few more days for the river to drop and the weather to clear.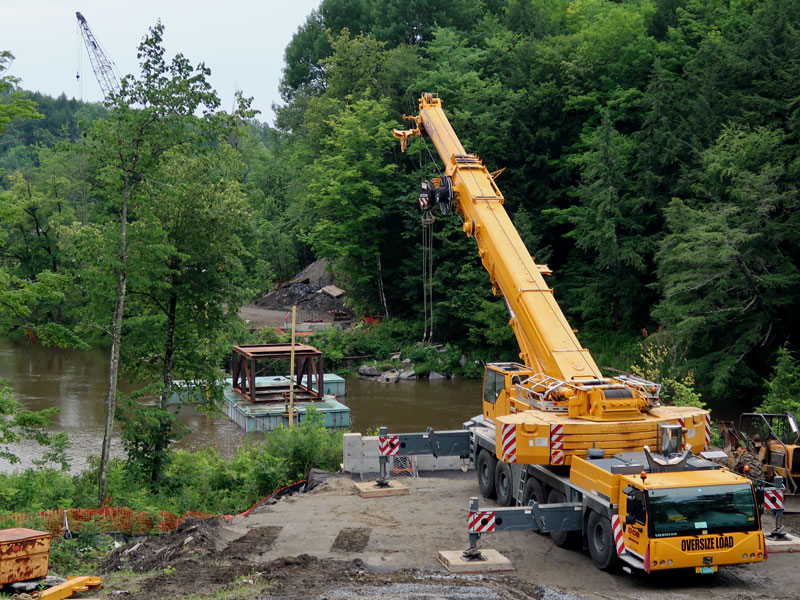 July 16, 2021
Winooski Bridge is coming together. Turns out 200 foot long trail bridges show up the same as lego sets, all in pieces but with everything sorted into labeled bags and trays, and with very clear schematic instructions. Today the pieces started getting bolted together, making it "like the picture on the box" - in preparation for installation next week.
Meanwhile, long time East Montpelier trail stalwart Nona Estrin has formally greeted the bridge and sung it a welcome song.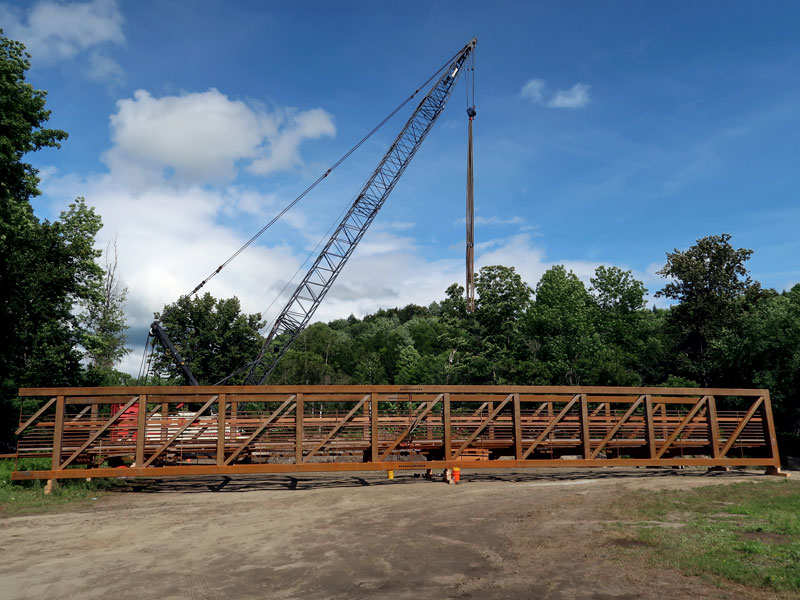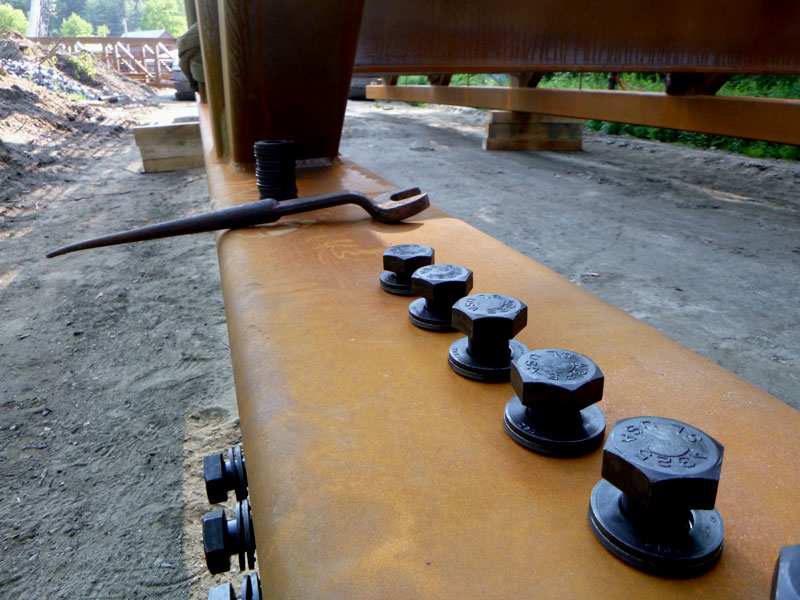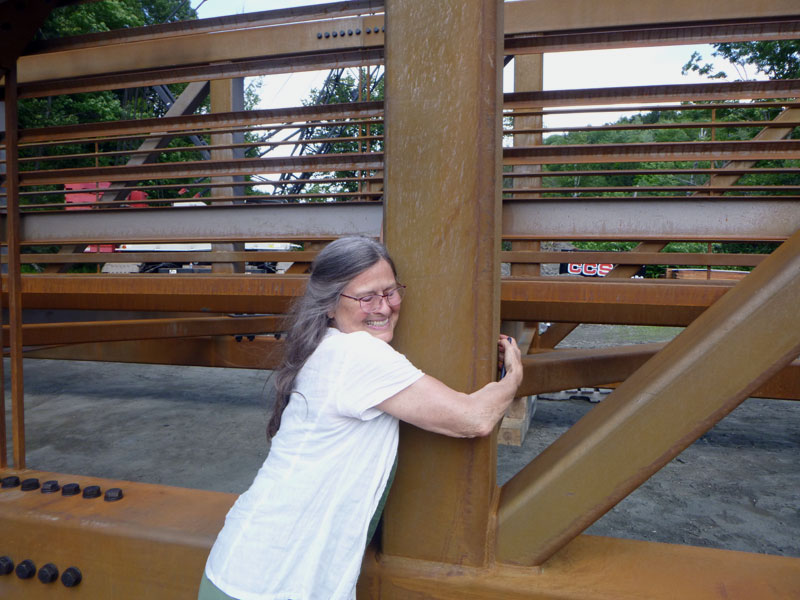 July 14, 2021
The Winooski Bridge has arrived!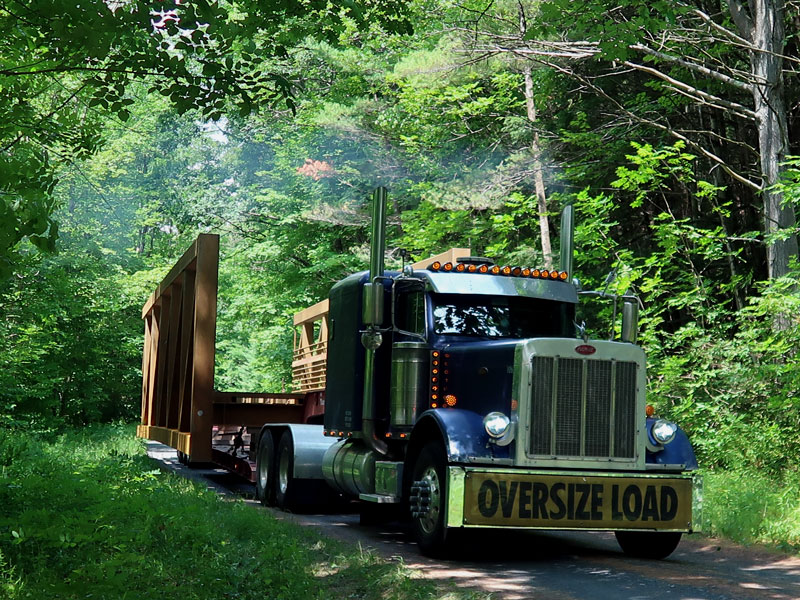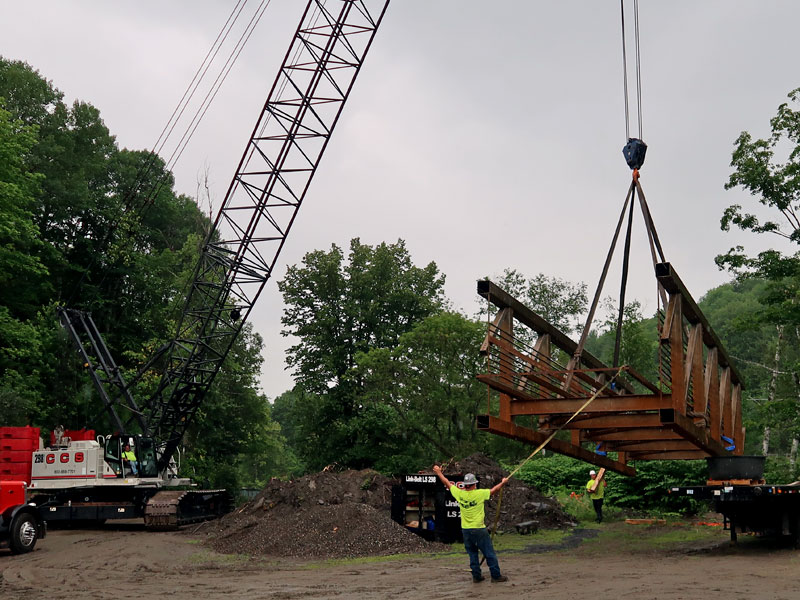 July 13, 2021
Breaking news. The Cross Vt Trail Winooski Bridge has departed the fabrication plant in Minnesota and is trucking it's way to Vermont as we speak! Installation crew is poised. The way is made.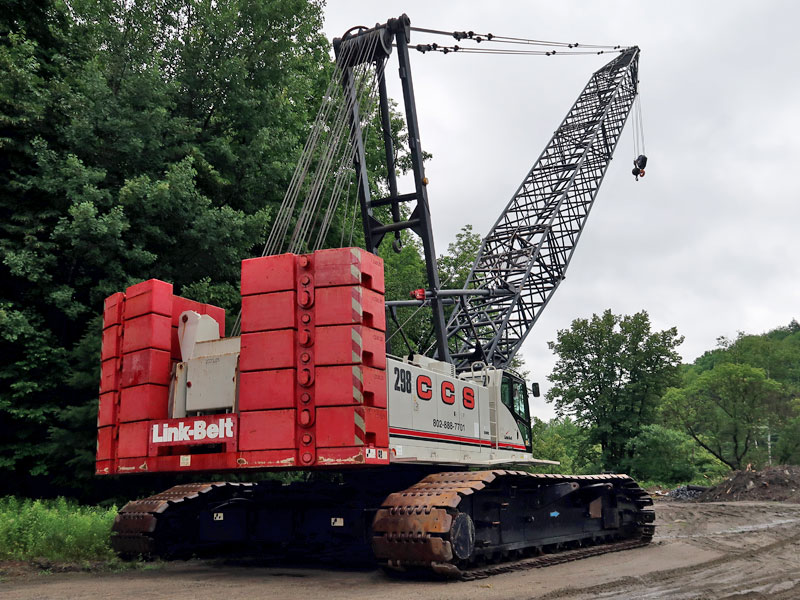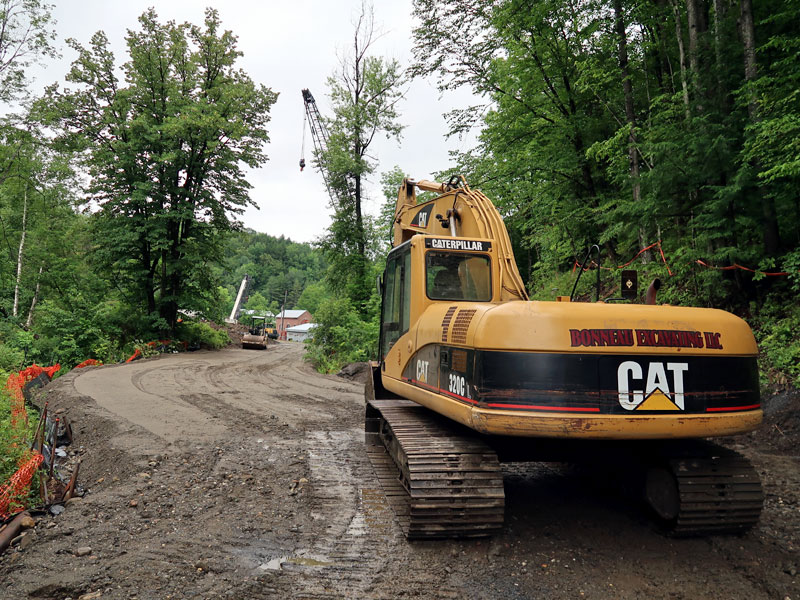 July 11, 2021
Fixed! Open. The new trail around the Big Washout on the railbed east of Route 14, in East Montpelier is complete. Read all about it.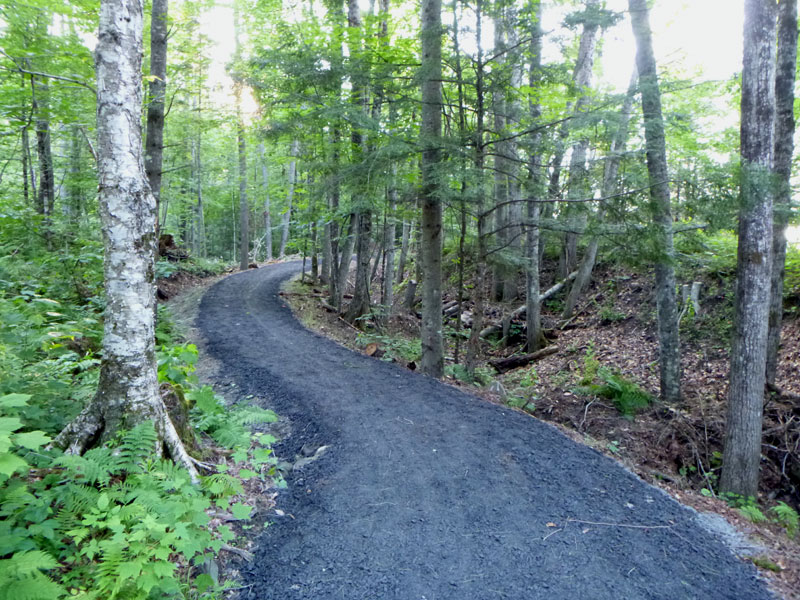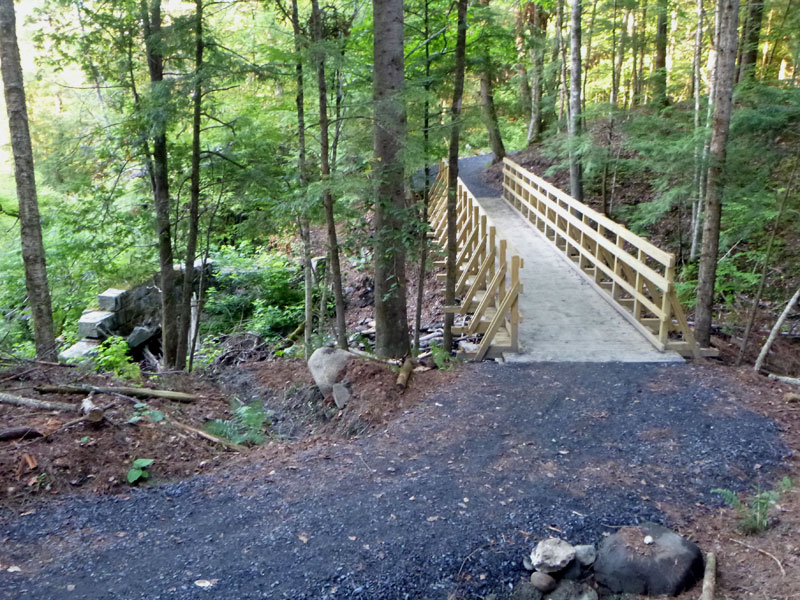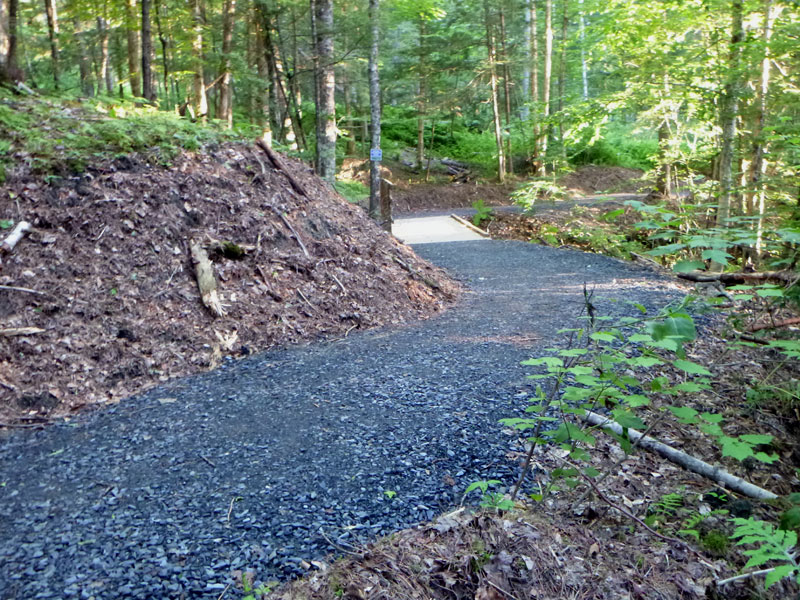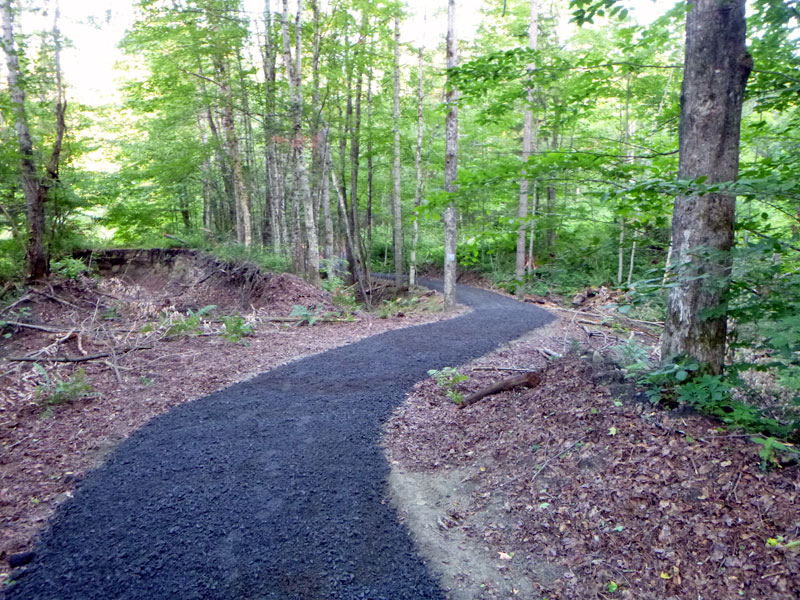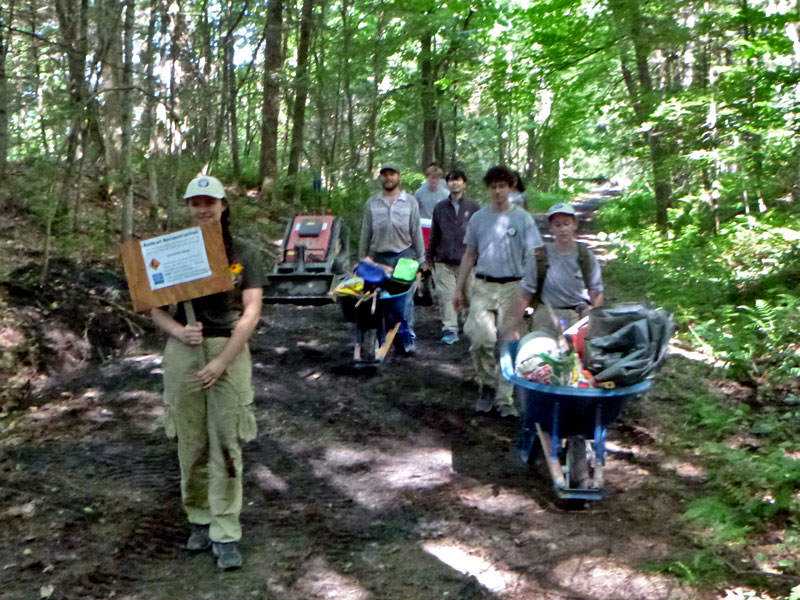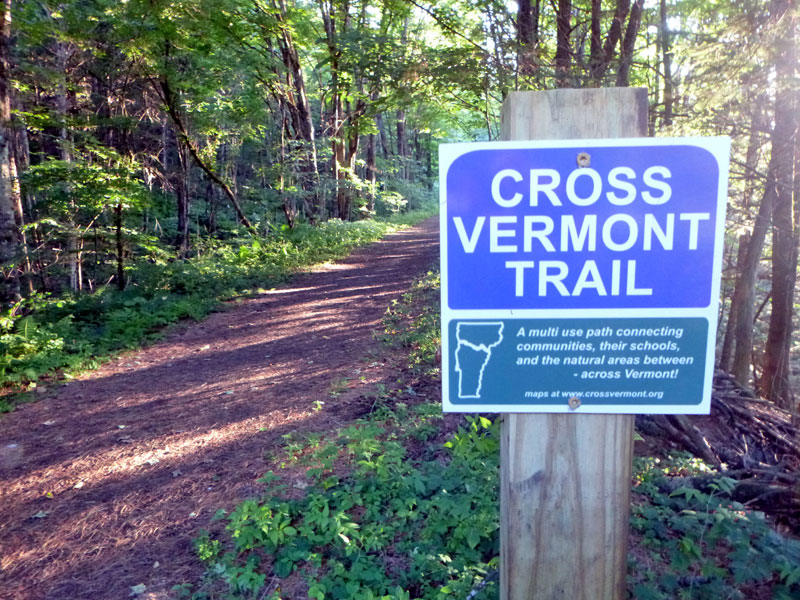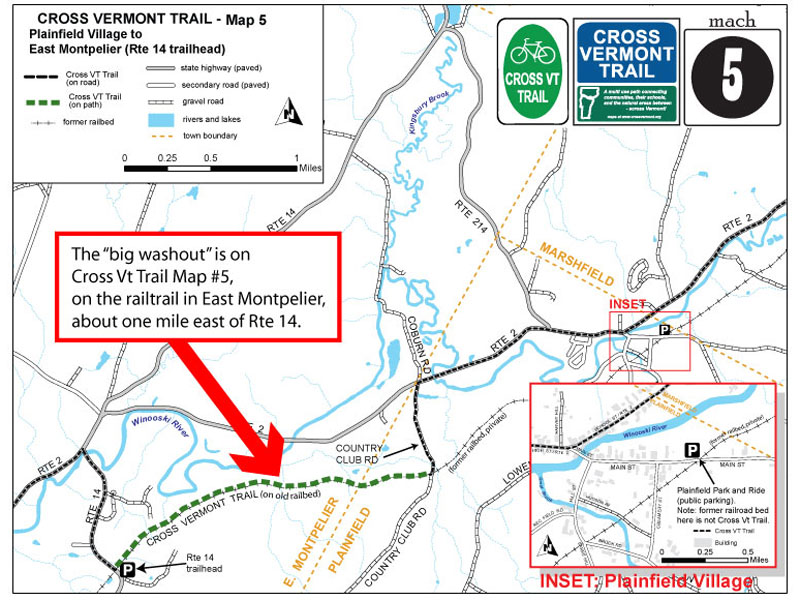 July 5, 2021
Starting to look like a trail at the Winooski Bridge site. The abutments are still forming up, but the crane fleet is assembling. Current schedule is for the bridge itself to arrive early/mid August.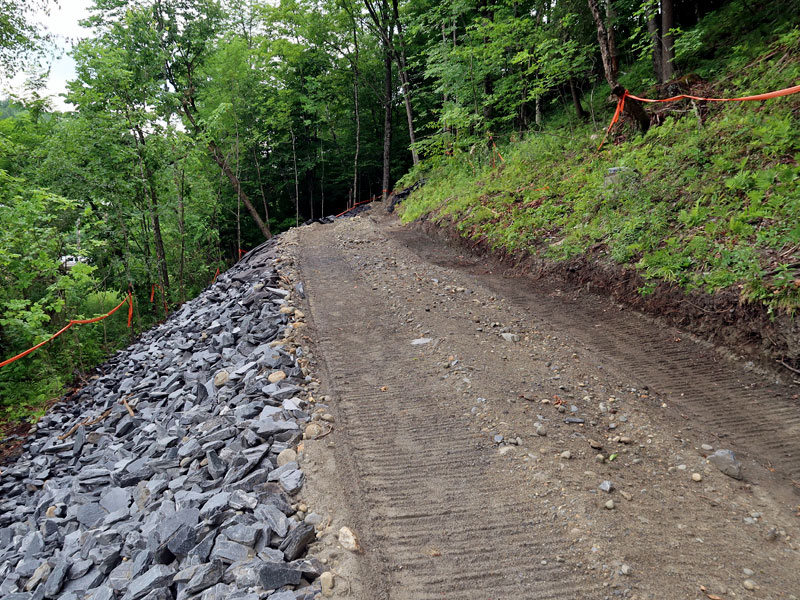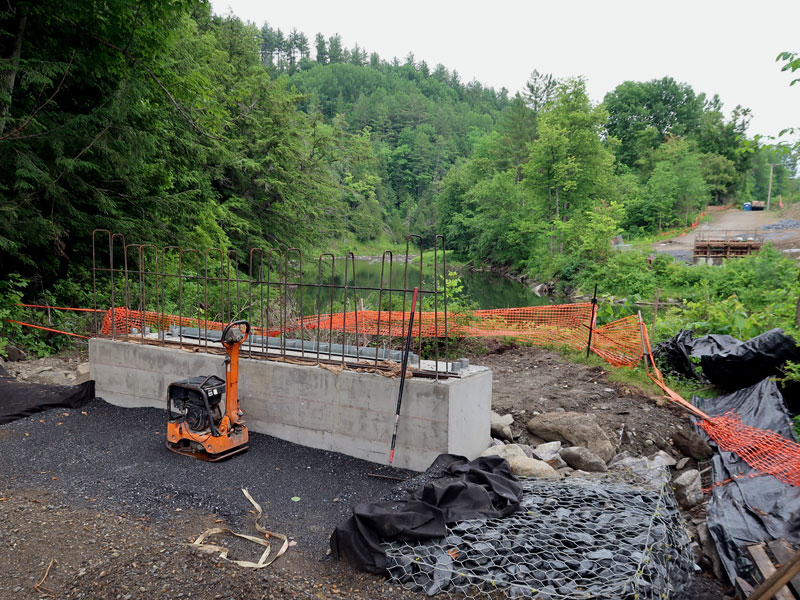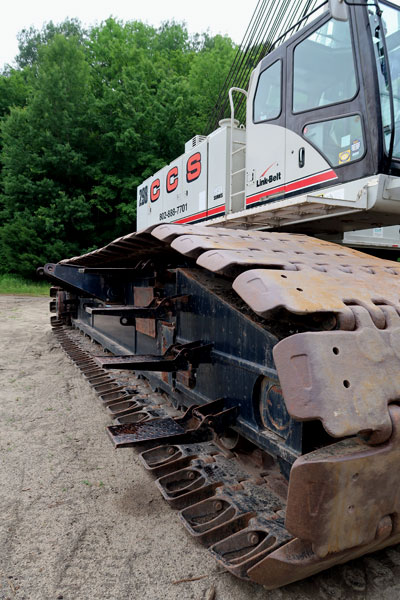 June 28, 2021
Great day at this year's Central Vermont Cycle Tour. 177 registered riders, and at least that many different adventures - from the 6 year old twins doing their first on road biking to the guy targeting the fastest known time of the 59 mile course. (The old number was 3:47:17 in 2012, I just looked it up; if you're out there 2021 fast guy, send in your new number.)
And over $11,000 raised to help build more Cross Vermont Trail, amazing, thanks everyone!
Thanks also for logistics support from Onion River Outdoors and from Morse Farm Maple Sugarworks, and for financial sponsorship from National Life and Community National Bank.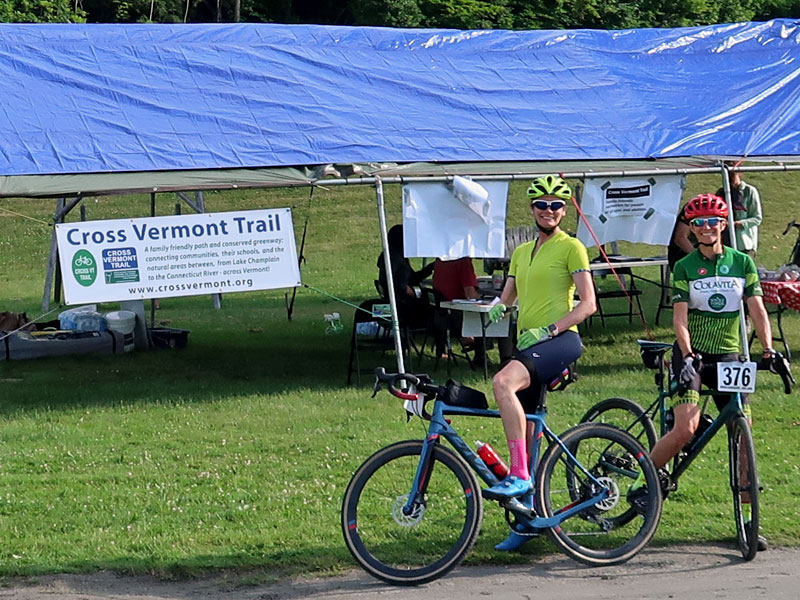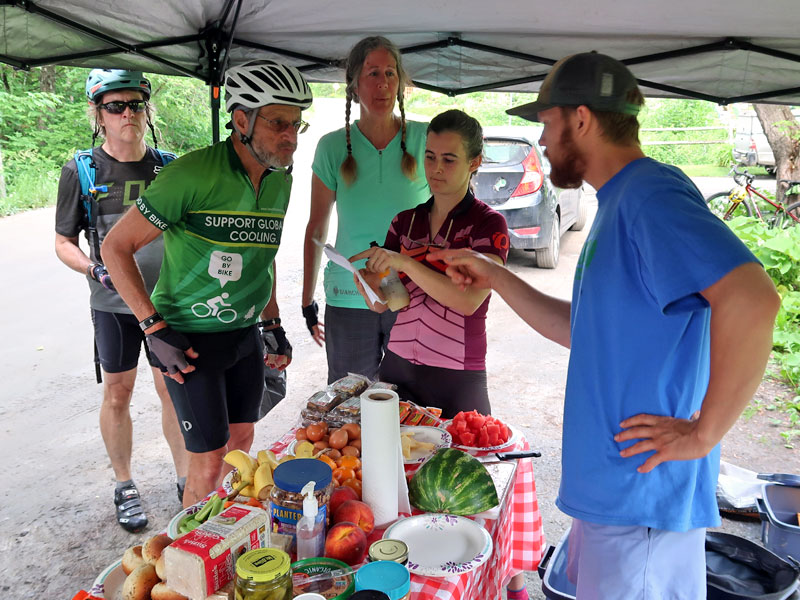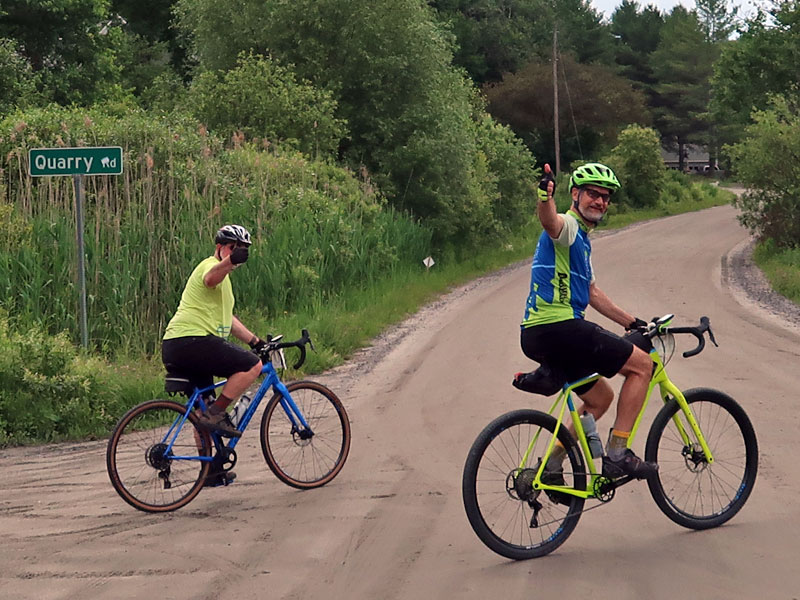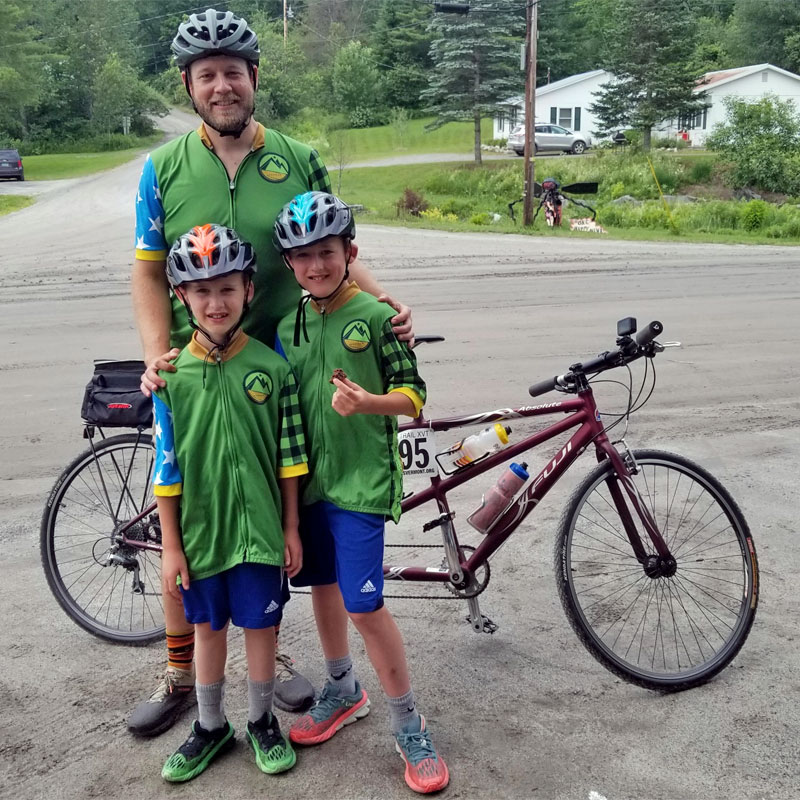 June 20, 2021
Exactly one week from now you could be greeted by a fresh Red Hen sandwich as you roll back into Morse Farm after completing the Central Vt Cycle Tour - 15, 30 or 60 miles of scenic back roads, one of the original gravel grinders.
Registrations are actually filling up, it's possible we'll hit our limit (which would be amazing). But there are still spots open now for sure, and you can preregister at bikereg.com
Thanks to Red Hen for helping us put together hearty local food but in a pandemic sensitive way that avoids folks having to crowd around the old style potluck table.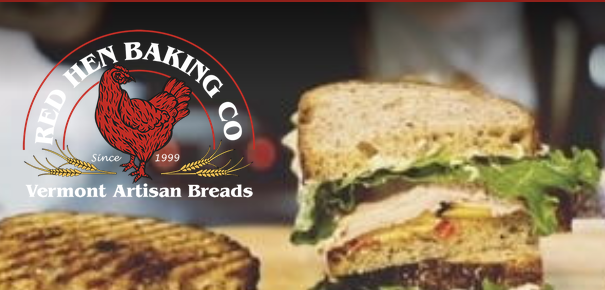 June 20, 2021
Measuring final grade of the bypass around the big washout on the railtrail in East Montpelier. It's all open and useable now, we've been salvaging the old railbed fill to level up the new trail, and the old fill is looking pretty good as is. However, we are still going ahead to surface with crushed stone (belts and suspenders) and will be completely done in the next week or two - exactly 10 years (plus one month) after the big storm in May 2011. Whew!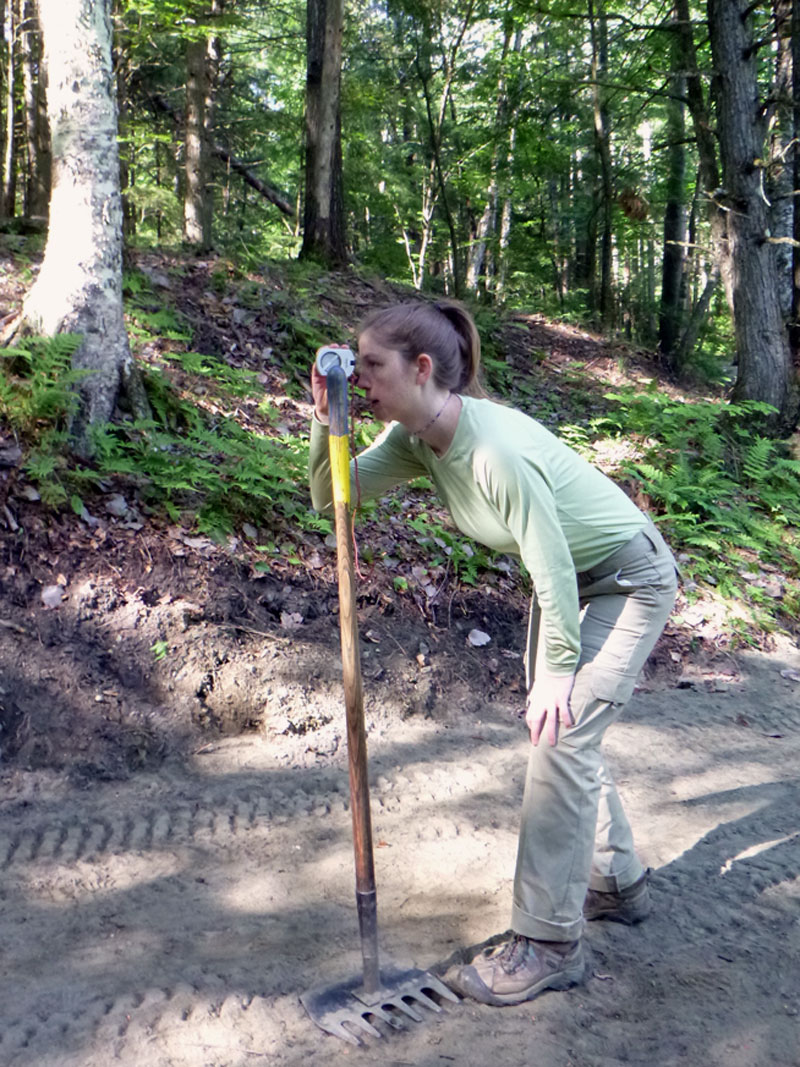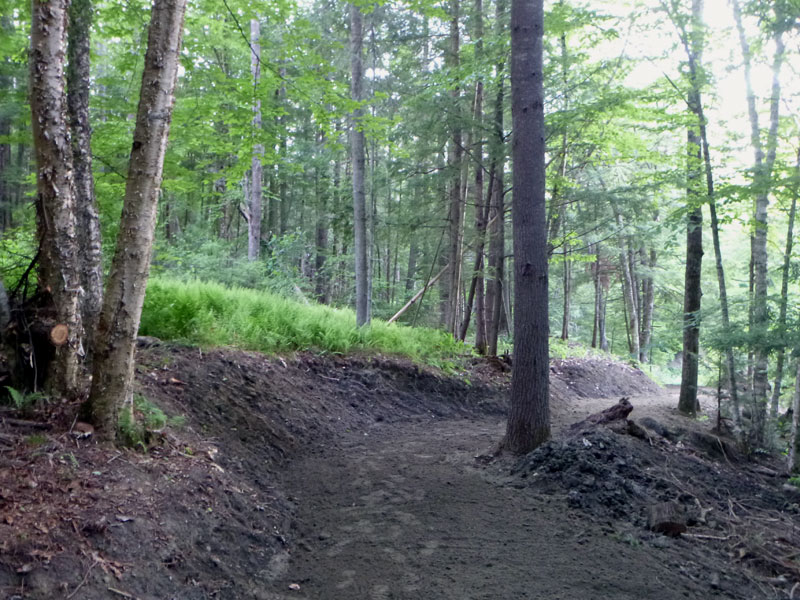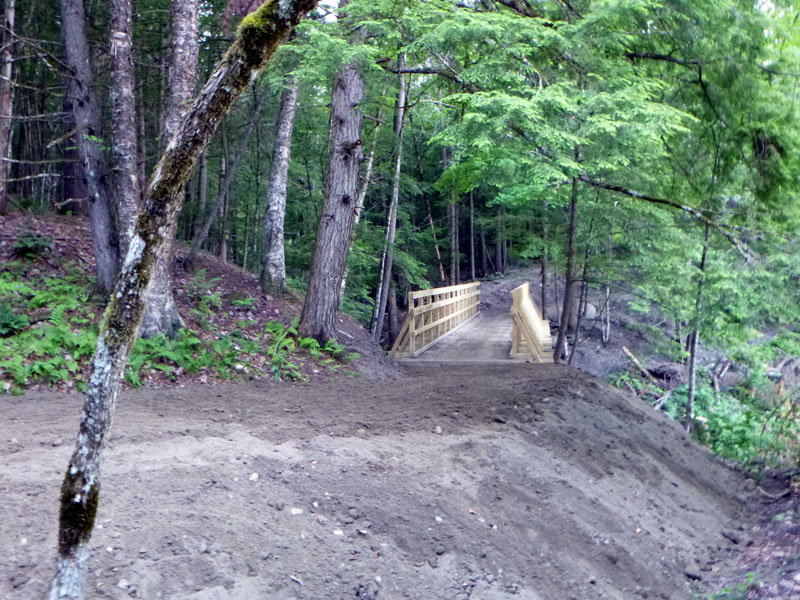 June 13, 2021
The new bypass trail around the Big Washout in East Montpelier is close to done. We have pulled all the stumps, cleared the boulders and roughed in the remainder of the grade east of the new bridge. Next up, smooth out the finish grade, clean the site and place the surface gravel.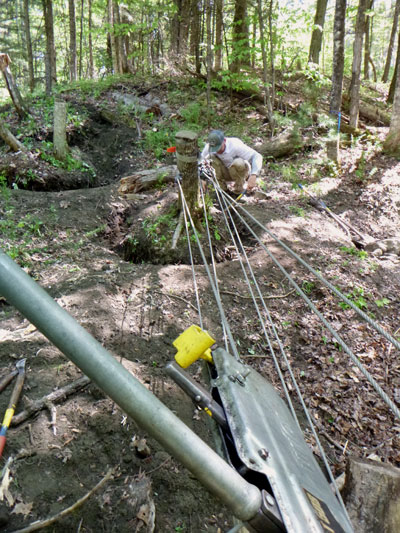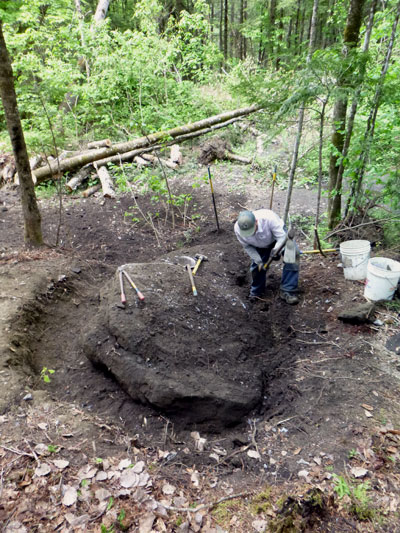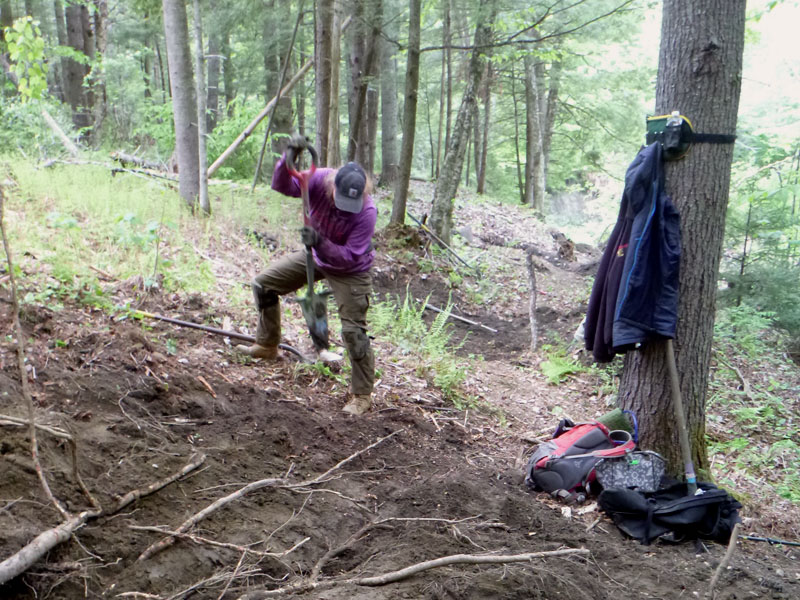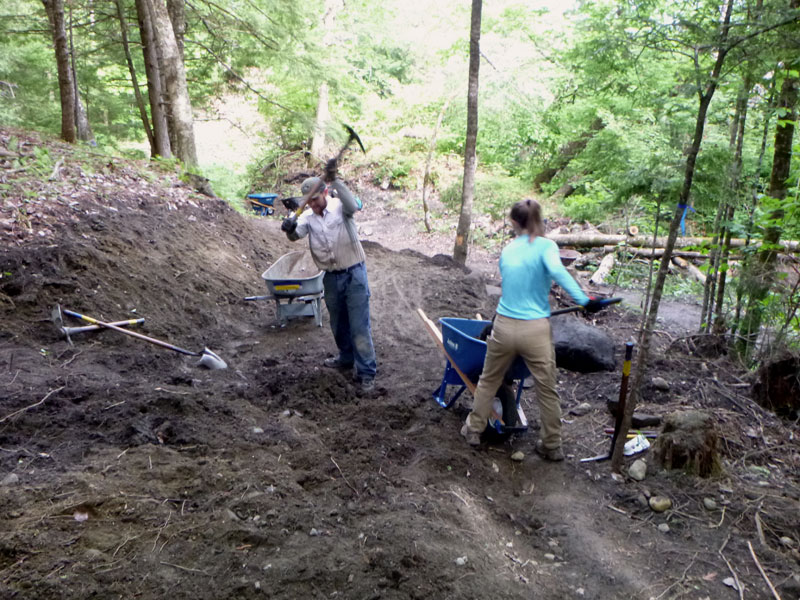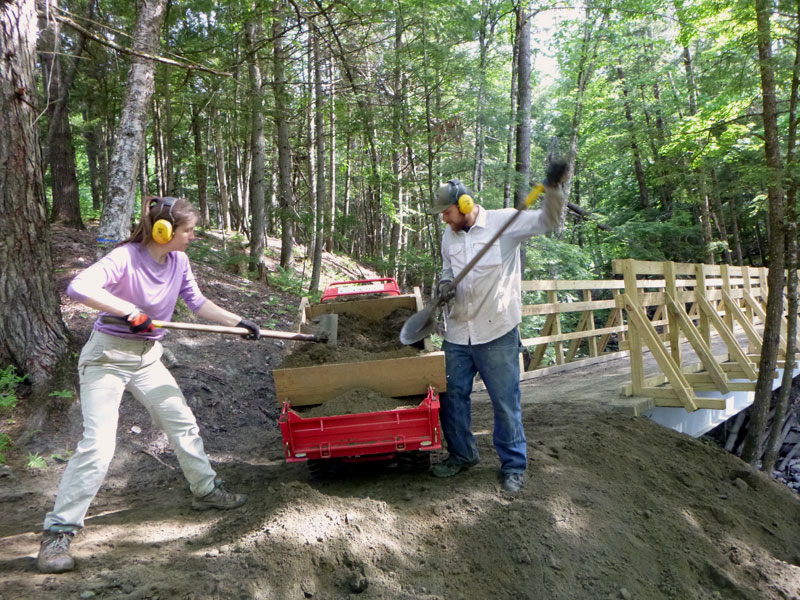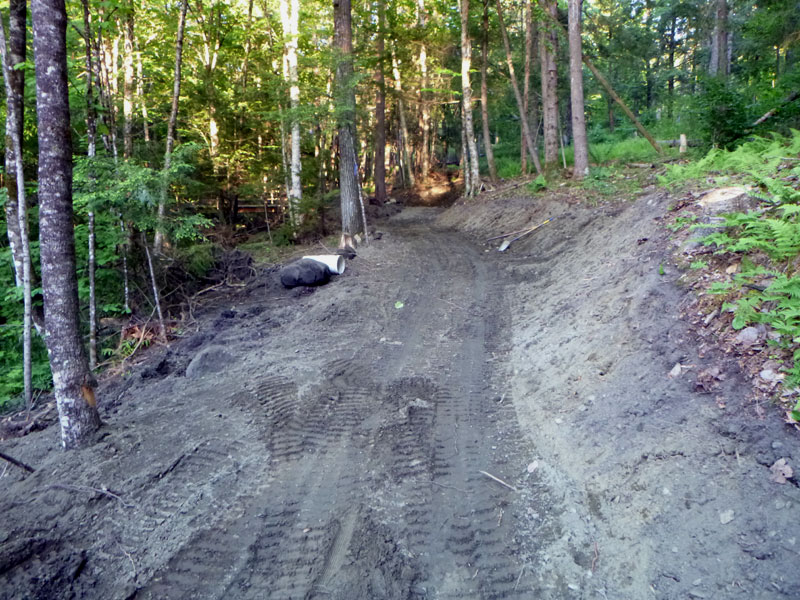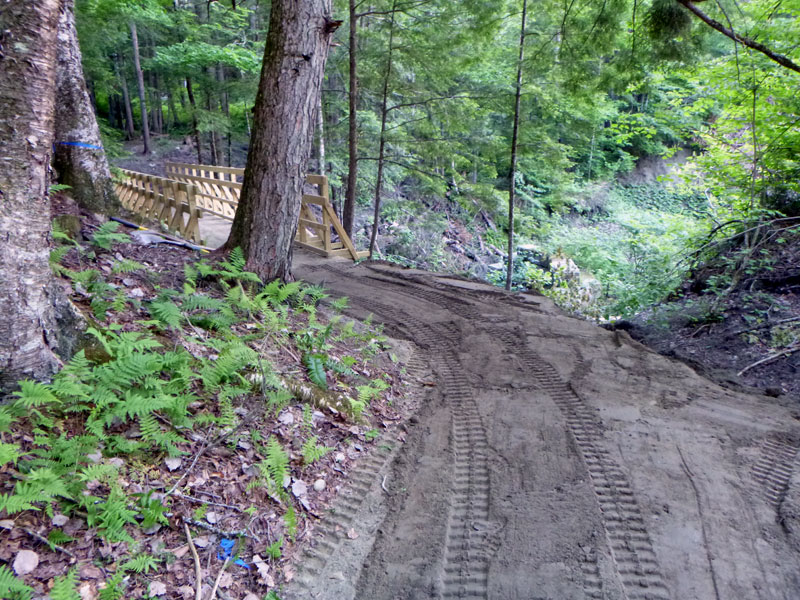 June 9, 2021
Welcome to Kara, who has started a summer of work on the Cross Vermont Trail as an Americorps Member, joining Alex who started in May - a real crew now!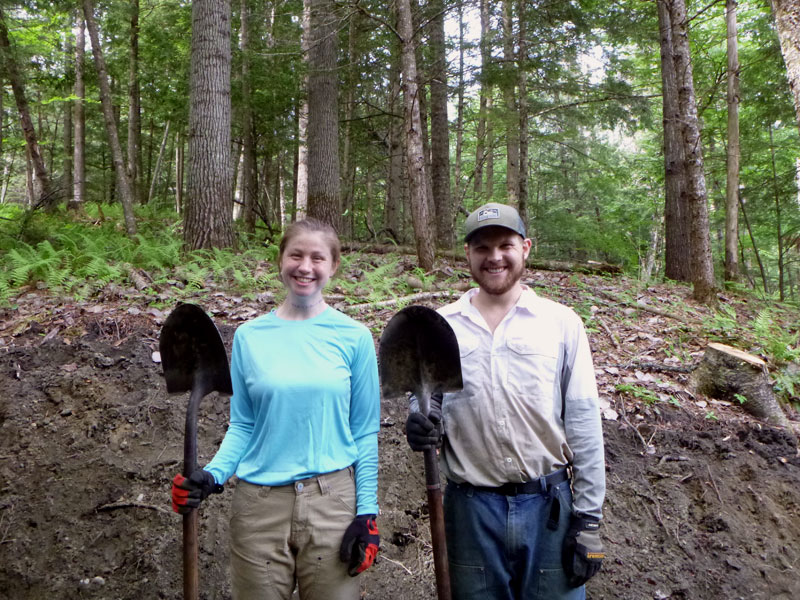 June 3, 2021
National Trails Day this Saturday - we'll be at the Wells River Conservation Trails, getting things cleared up for summer. Meet at Blue Mt Union at 9 AM, and we'll head down to the trail from there. Joining forces with the Newbury Conservation Commission.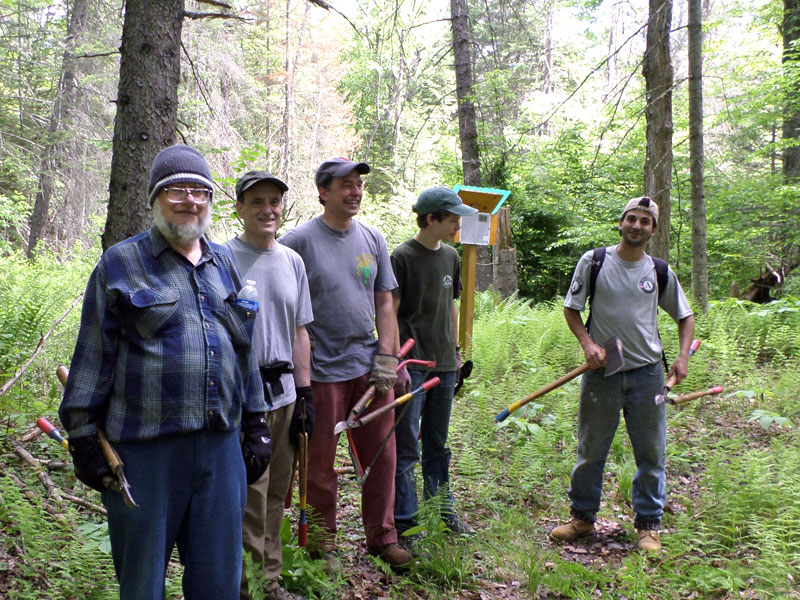 May 26, 2021
Onion River Outdoors is sending a bike mechanic over to the Central Vermont Cycle Tour the morning of June 27. Good news, and big help to make sure everyone gets started strong! (So bring a klunker, this may be its shot.) Registration is open for the "Original Gravel Grinder" and fundraiser to help build more trail.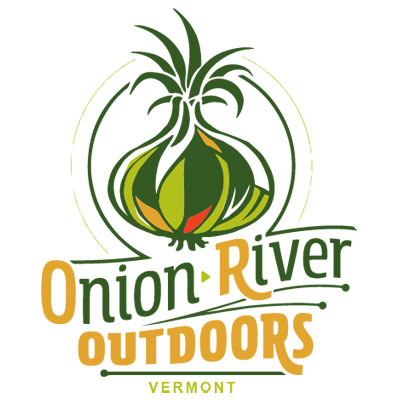 May 21, 2021
Back to work. The Winooski Bridge abutments are under construction now. If you were passing by this week, maybe you saw the concrete trucks backing their way down to the river. The timeline for the actual bridge install has been pushed back to accommodate the schedule of the fabrication firm (the bridge is being pre built out of state, then will be assembled and placed on site by our contractor once delivered to Vermont.) Early August is the new forecast for the day the bridge will fly over the river hanging from the cranes. We'll keep you posted on details as that gets near!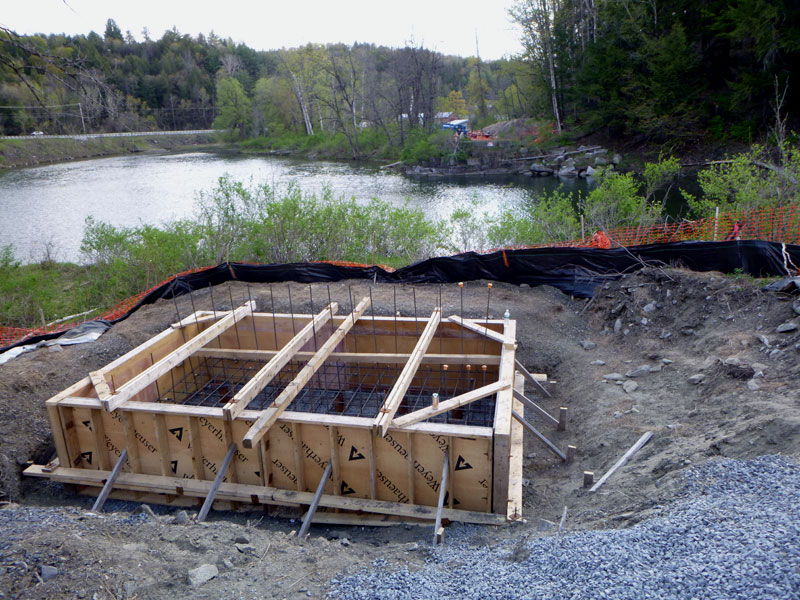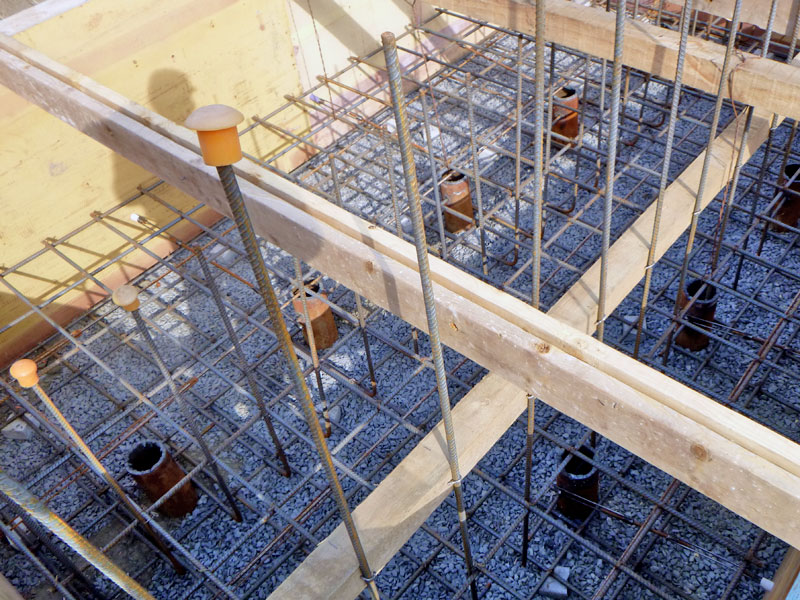 May 15, 2021
The bridge is done. The little bridge, on the bypass of the washout on the rail trail east of Route 14 in East Montpelier. Next up - the "somewhere" for it to be to. We'll be on site next couple weeks finishing off the trail on either side. You can help, drop in anytime during scheduled work days. Give a shout for more information.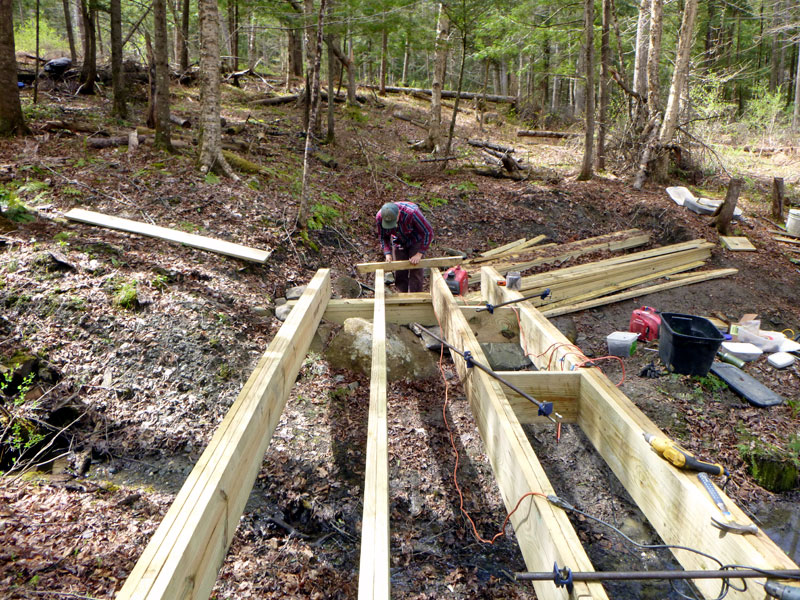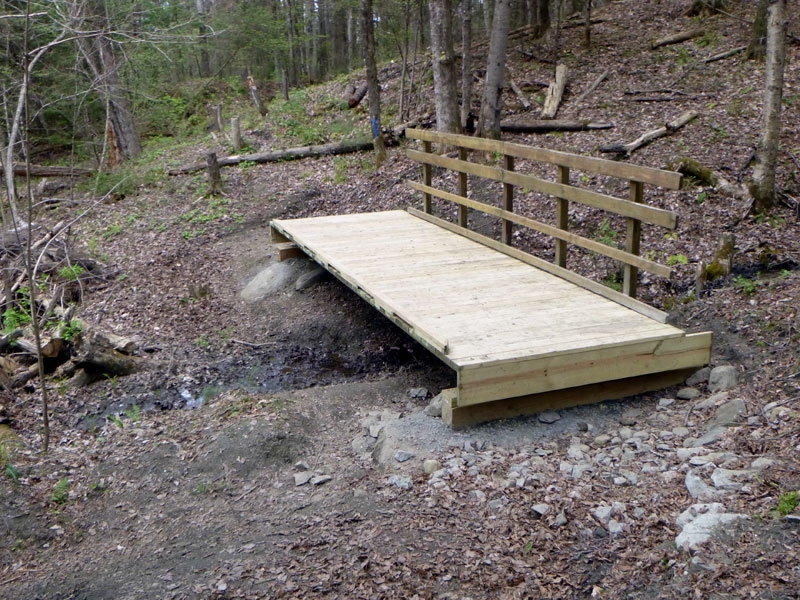 May 9, 2021
Back to work. We're finishing the new bypass trail around "the big washout" on the railbed in East Montpelier, east of Rte 14. And welcome to 2021 CVTA Americorps crew member Alex Jones, first day on the job!
The storm that caused all the damage was May 26, 2011 - we'll get the bypass done at the ten year anniversary. Why so long? Securing an easement from the landowner to allow building the new bypass trail was the biggest part of the job, then the fundraising for all the materials, and last actually making it.
You can help. This is a project volunteers can make a real difference on. We'll be out there the next couple Saturdays, and other days too. Give a shout for more information.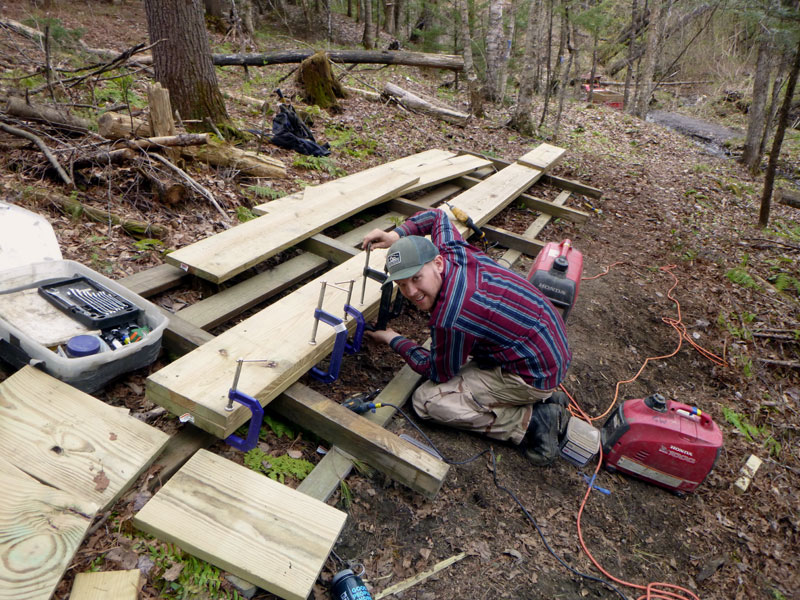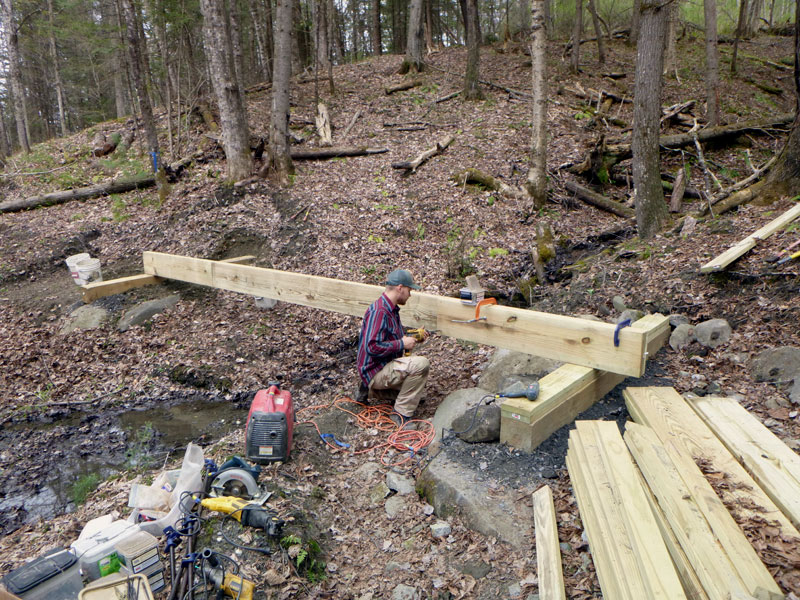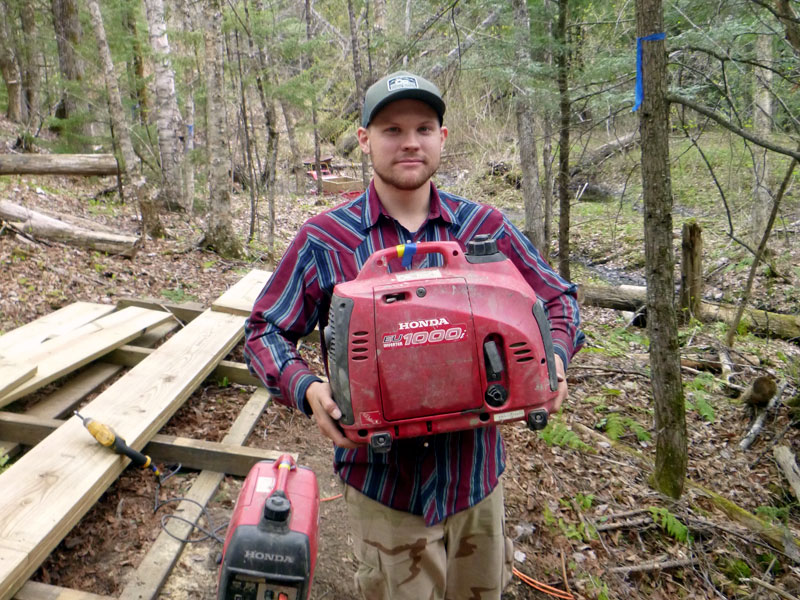 April 28, 2021
Trail from Barre-Montpelier to Groton State Forest - that's the big goal. Continuous and off road. Article about CVTA's work in current edition of Green Mt Club Montpelier Section newsletter "Trail Talk". Also, lots of stuff about backpacking.

April 23, 2021
Marsha Gray celebrates 75th birthday by walking from Bethel Maine to Burlington Vermont!
This April, Marsha reached Oakledge Park on shores of Lake Champlain completing a year long three state journey on the Cross New Hampshire Adventure Trail and the Cross Vermont Trail.
In spring 2020 Marsha started walking the Cross New Hampshire Adventure Trail "as a birthday present to myself." At about five miles per day with the company of family and friends, she finished the route across New Hampshire and into Maine by mid July.
That's when we received a call at the Cross Vermont Trail, asking if we could mail her a copy of our maps - so she could keep her walk going on to Lake Champlain. Last Fall she wrote again saying "I ended this Fall in East Montpelier by starting around Wells River in the late summer and hopefully to start west in the spring. I've seen some beautiful country and wish to finish my journey." And sure enough, we've received the great news that she reached Oakledge Park on April 9, 2021.
She walked all of the trail sections of the Cross Vermont route - but not on the roads saying "I'd much rather be walking through the peaceful woods :)". If we needed any more motivation to keep working hard to build more trail and get the Cross Vermont off of the roads and onto a safe, peaceful path, we've got it now.
Congratulations Marsha!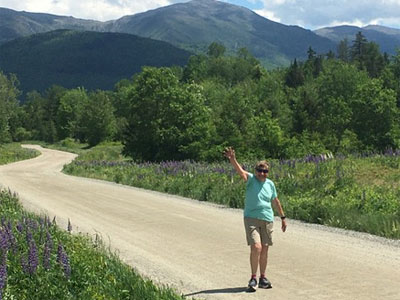 Willem Lange and New Hampshire PBS interviewed Marsha during her hike. You can watch it on their website. It's part of a longer show about the Cross New Hampshire Adventure Trail, and other trails in New Hampshire - it's worth a watch, a great story. I was a little uncertain where things were going when Willem compared us to the Ho Chi Minh trail, but then he pointed out both are "a patchwork of roads and trail" so I guess that makes sense - for now. We've gotta get back to work.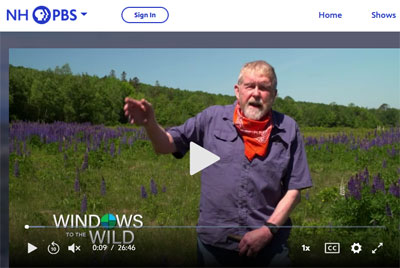 April 1, 2021
Ah, the sixth season, pooper scooper season. Thanks to Montpelier City Parks and folks who gathered to clean up along the Siboinebi Path recently.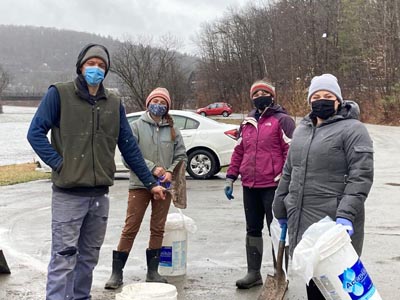 March 29, 2021
A warm thanks to Lawson's Finest Liquids for their Sunshine Fund contribution to our Winooski Bridge Project!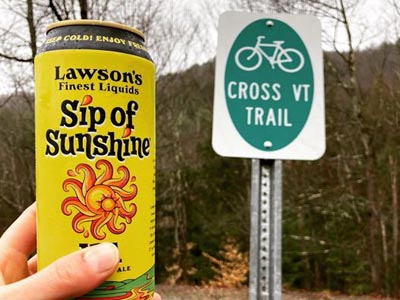 March 2, 2021
Winooski Bridge winter update. Things are quiet at the work site, sleeping under a blanket of snow. Behind the scenes, though, the construction fabricator is working away in order to be ready to deliver the bridge in the spring.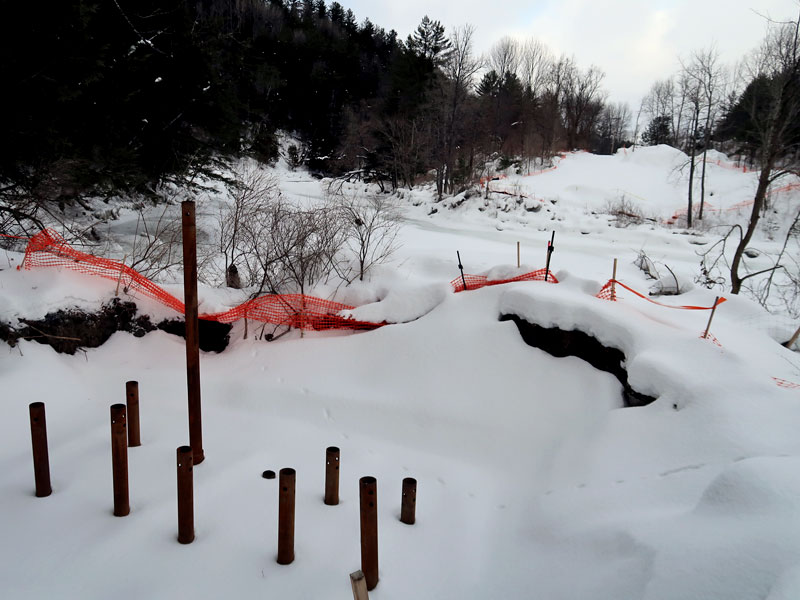 March 1, 2021
(225 years of nothing and then *Boom* - front cover!)
Cross Vermont Trail is on the cover of Richmond's town report this year - highlighting the reconstruction of the Johnnie Brook Bridge we led last summer.
We are not on any town meeting ballots this year. But THANK YOU again for all the positive votes from numerous towns in recent years.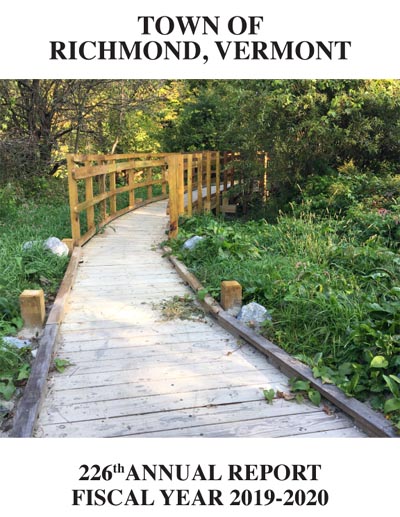 December 16, 2020
Big year, bigger year coming. Read all about it - our annual project and activity update letter (and let's be honest, appeal for donations) is available now. Download the full letter with detailed trail project updates, as PDF.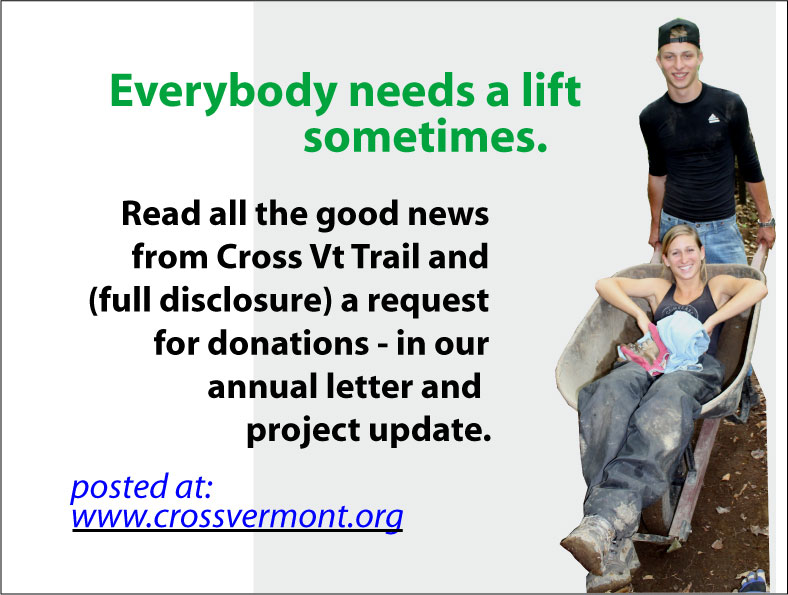 December 5, 2020
Major upgrade this Fall to the rail trail in Groton State Forest nears completion. Many thanks to the folks at Vt Forests, Parks and Recreation who pulled together the resources and made this work happen!

The tally:

Rail trail was completely resurfaced from northern edge of the State Forest near Marshfield Pond through to RT 232, and then again from Boulder Beach Rd through to the Rickers Mill trailhead parking at the south edge of the State Forest.

Between RT 232 and Boulder Beach Rd, spot improvements were carried out, including resetting some heaved culverts.

Also, larger stone was placed to build up and support places where the old railbed had slumped or been worn away - especially northwest of Lanesboro where beaver activity has caused plugged culverts and a variety of small washouts over the years.

Finally, gates are being installed at two more road crossings (Westshore Dr and Lakeside Dr). With these in place, there will be gates to control large vehicle access from RT 232 south to Ricker Pond. The bike/ped bypasses around the gates will be spruced up as well in time for next summer season.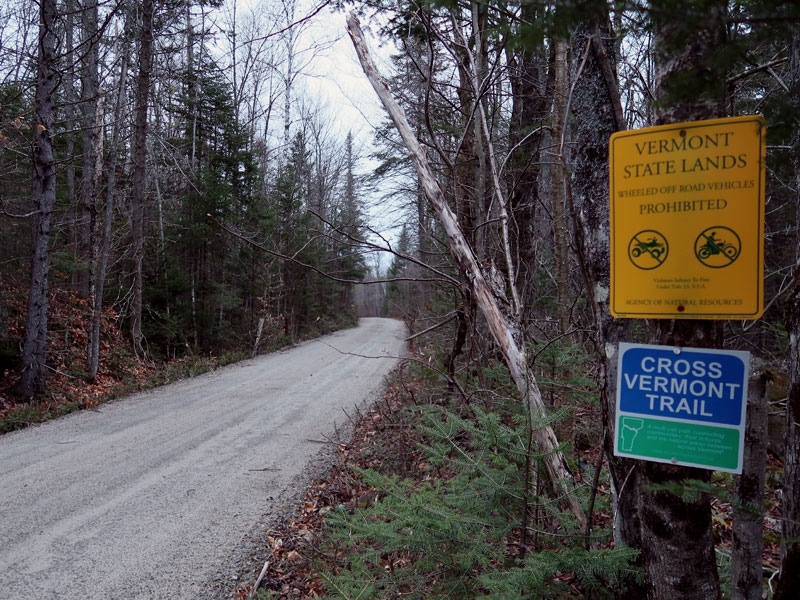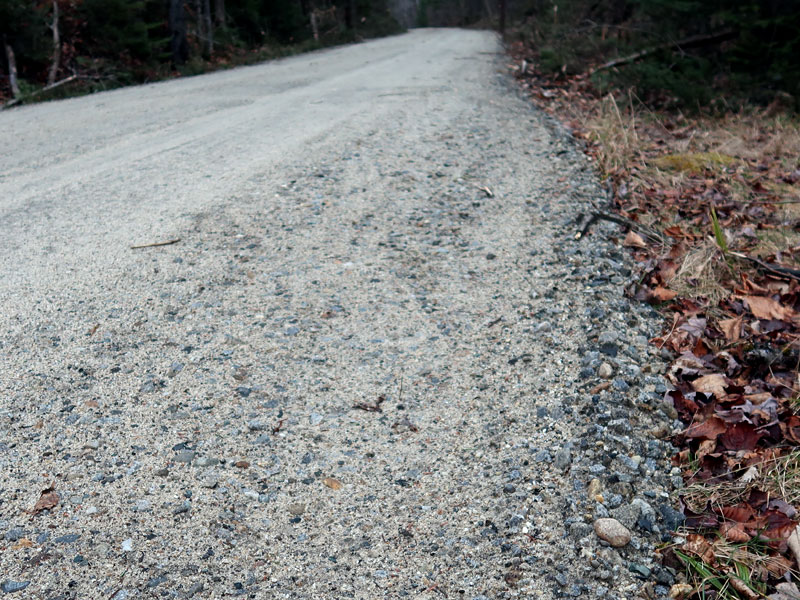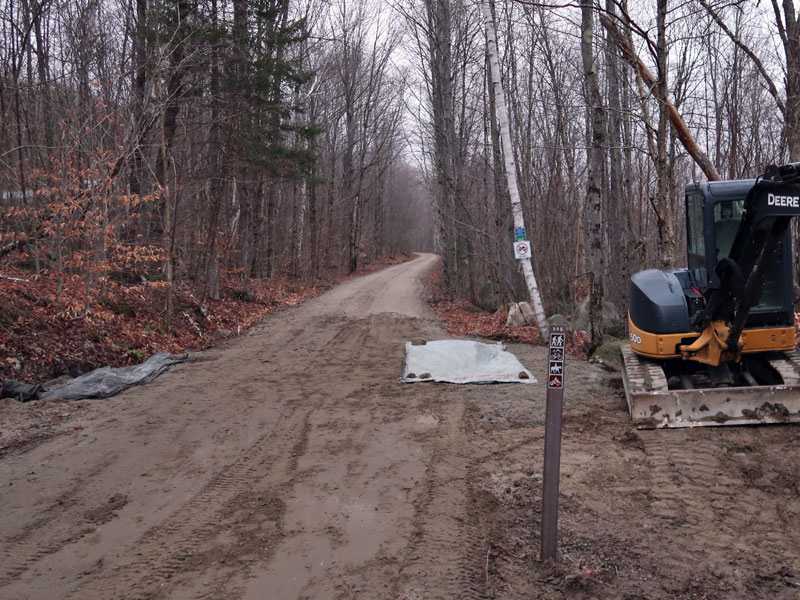 December 4, 2020
Upon these muddy rusty pipes a rainbow arch shall ascend. Winooski Bridge Update: Deep foundation piles are being installed and tested now. Once they are squared up, concrete pedestals can be framed and poured. Racing the weather here, but our contractor reports that there is still a chance the bridge could be delivered and installed in the first part of winter. Or if not that then next spring for sure.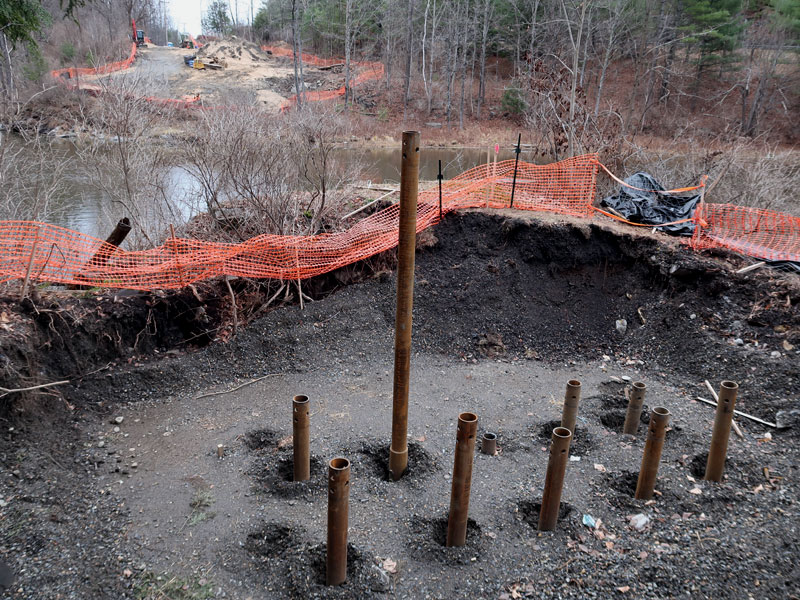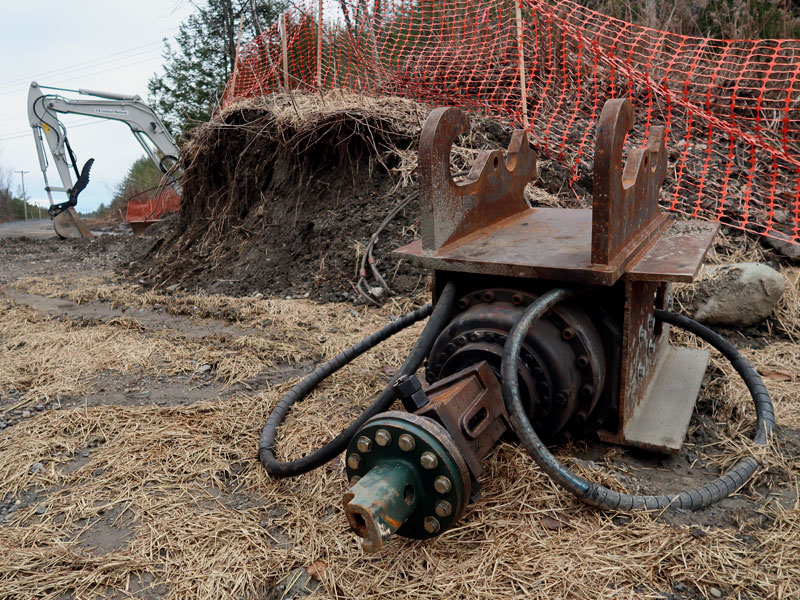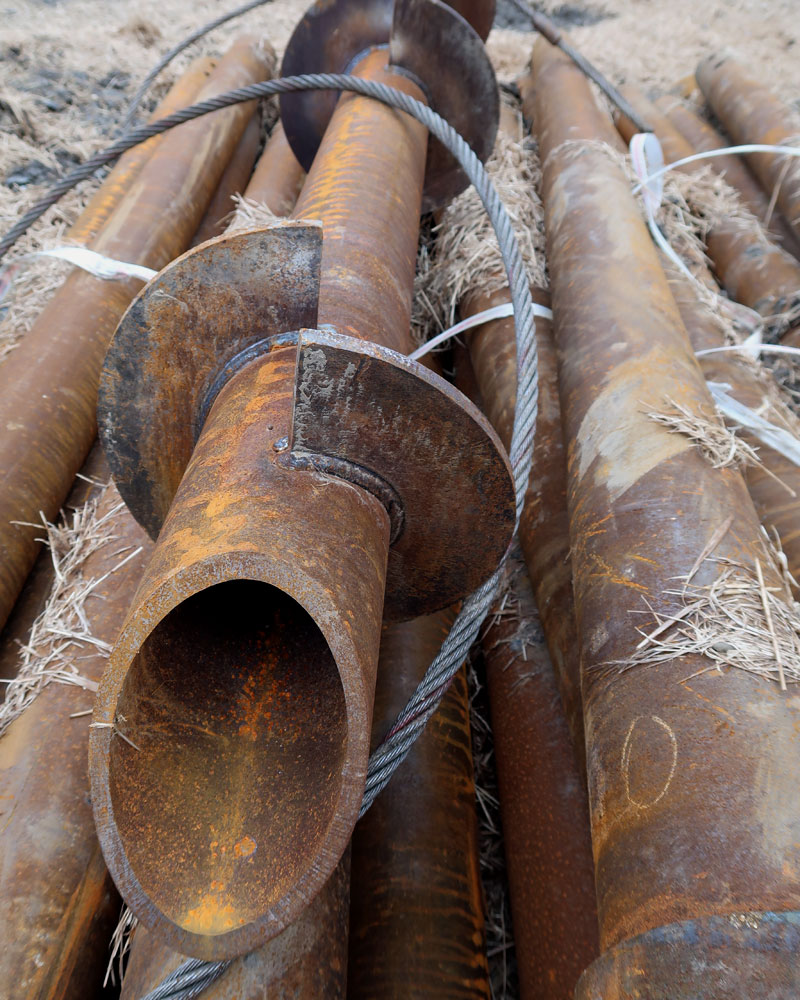 December 3, 2020
And that's a wrap. Tools are hauled out and the site is cleaned up for winter. The new bridge at the big washout in East Montpelier, east of Route 14 on the rail trail, is open, and the bypass trail is also open but still rough, so use caution. We will be back Spring 2021 to complete the trail to finished specs.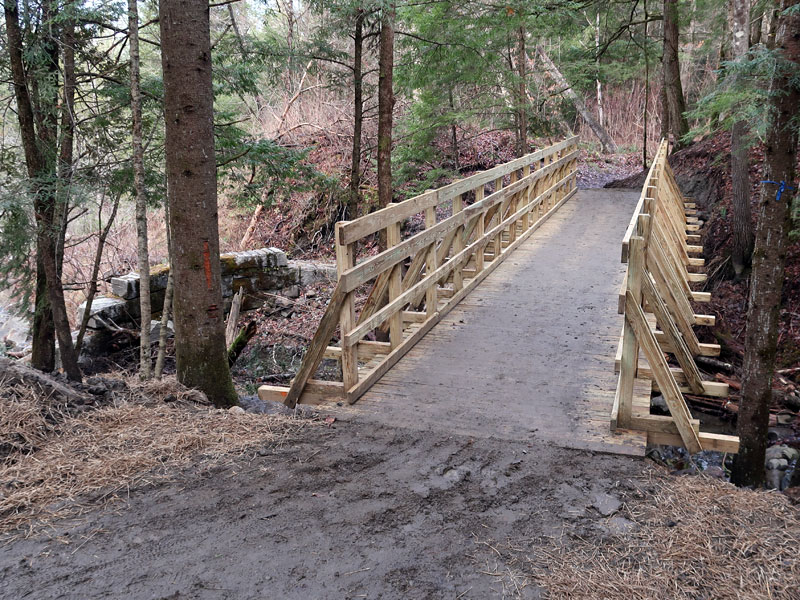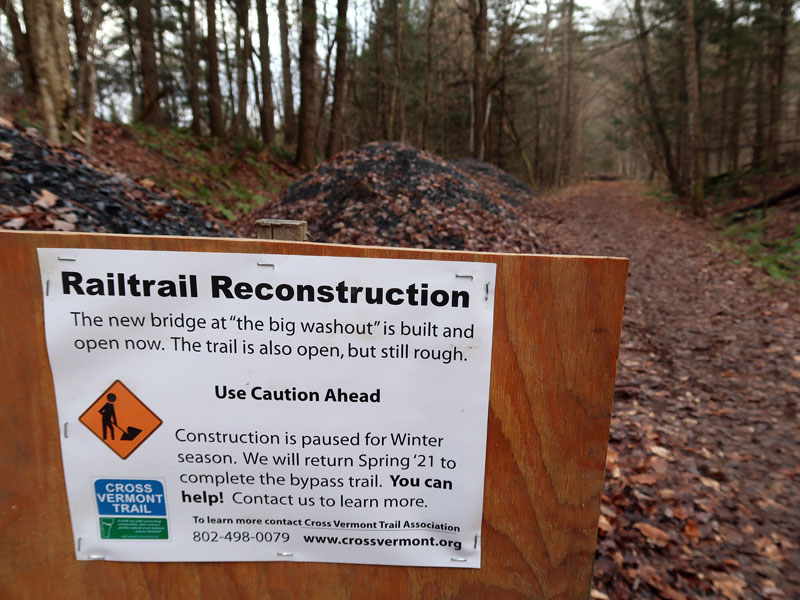 November 30, 2020
Done! The bridge on the bypass at the big washout of the railbed east of Route 14 is done. And more to go - This week we're doing a little more site cleanup to make things useable through the winter, and then will return in the spring to complete the full bypass trail.
This spot is about one mile east of Route 14, in East Montpelier. The original washout happened back during the storms of 2011. A lot of pieces had to get heaved into place to make the project happen, and it is good to see it all coming together now.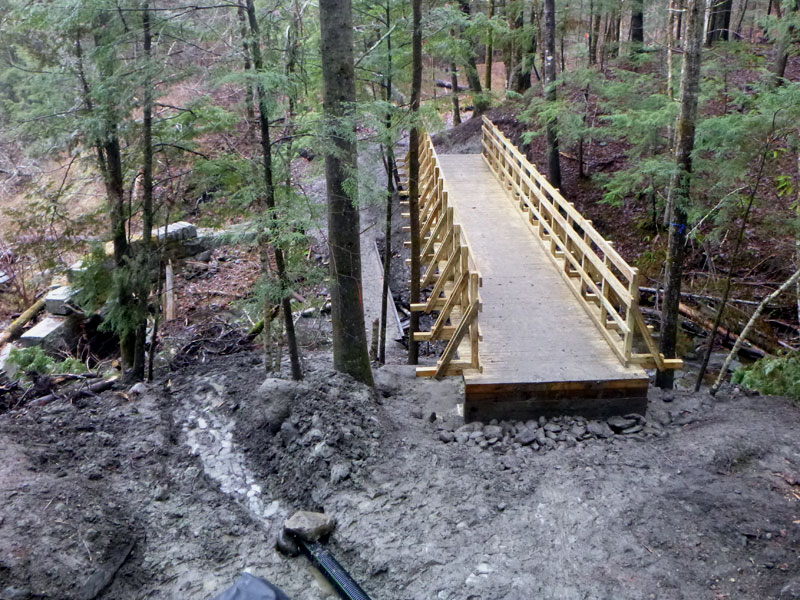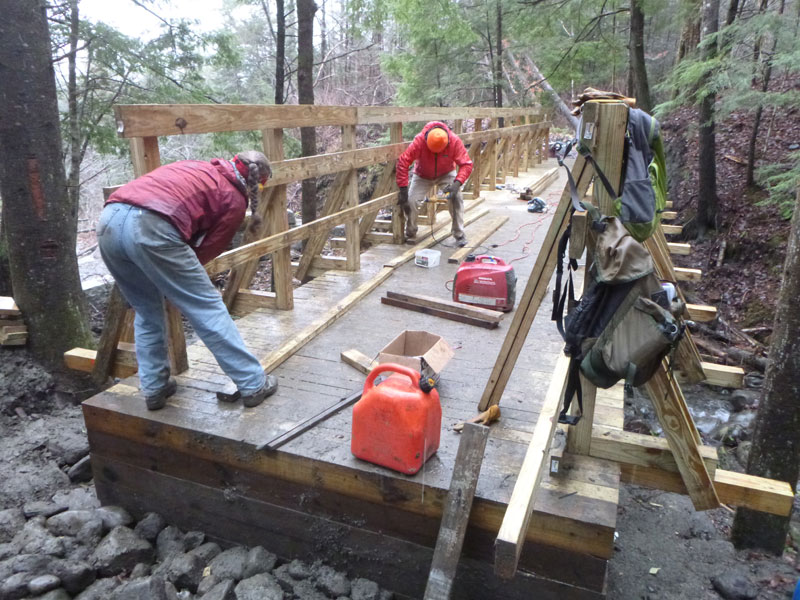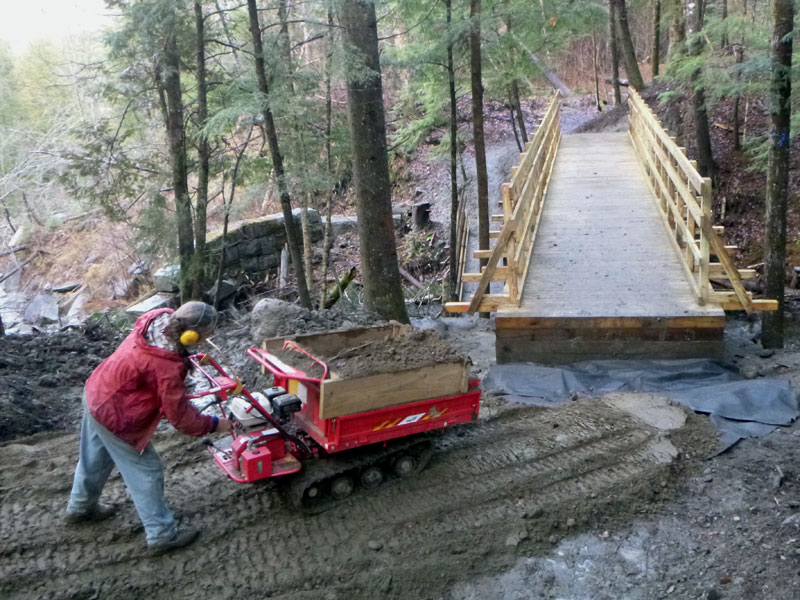 November 21, 2020
Getting there.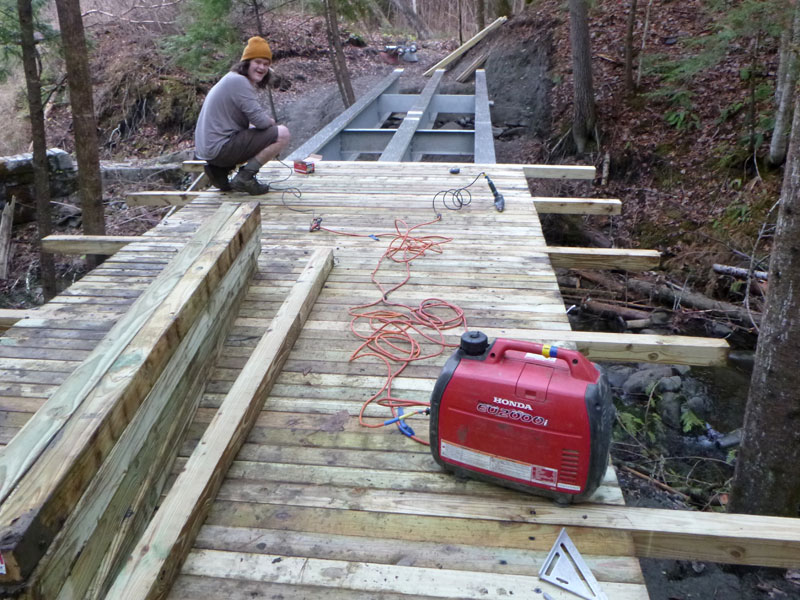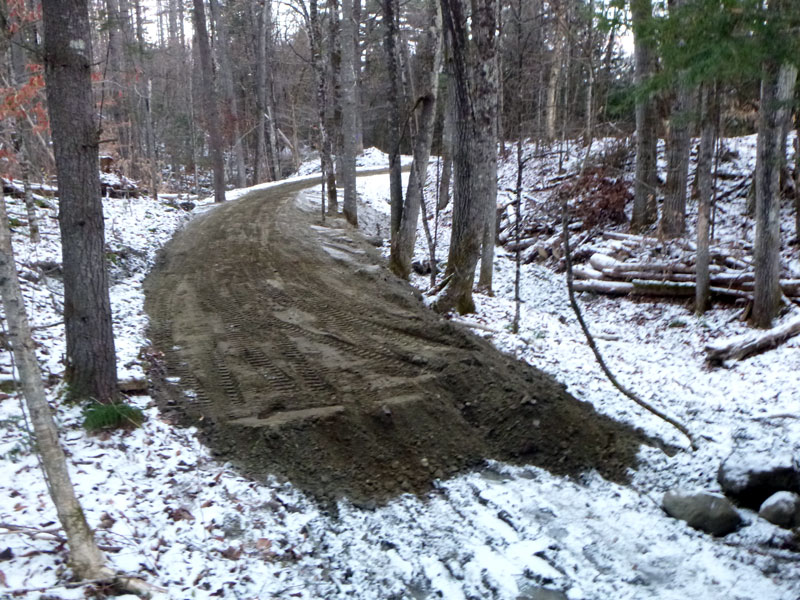 November 14, 2020
Bolted and braced, ready for decking.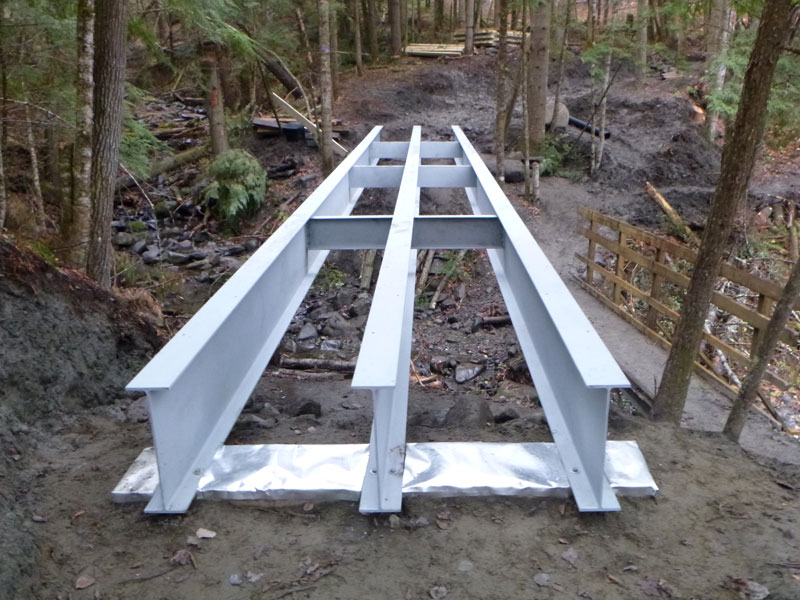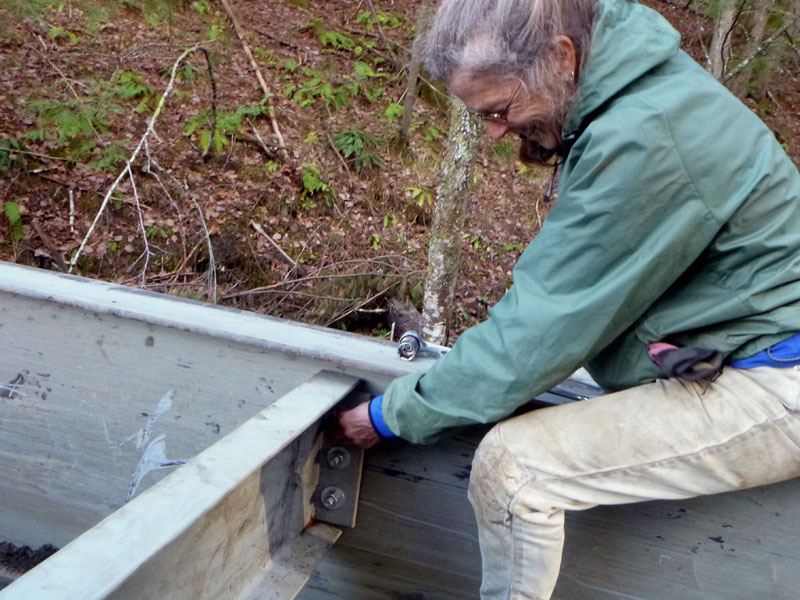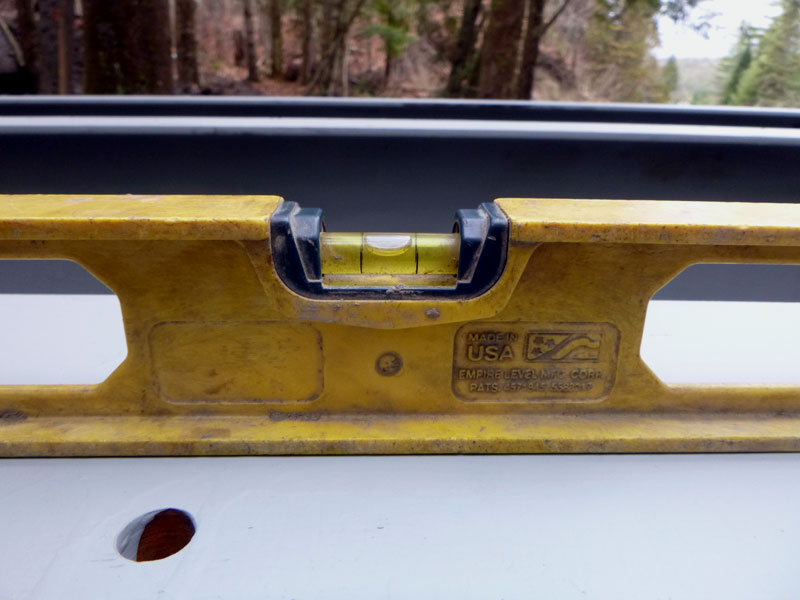 November 8, 2020
Three up, none down.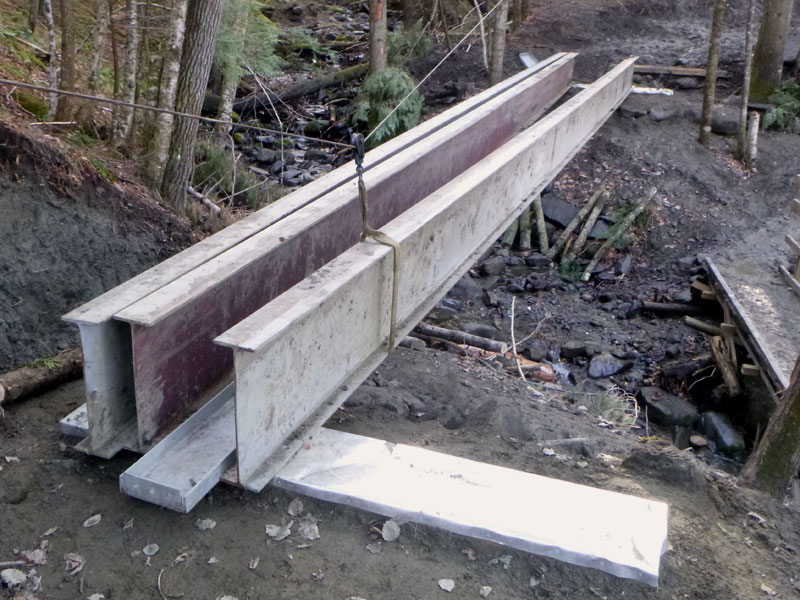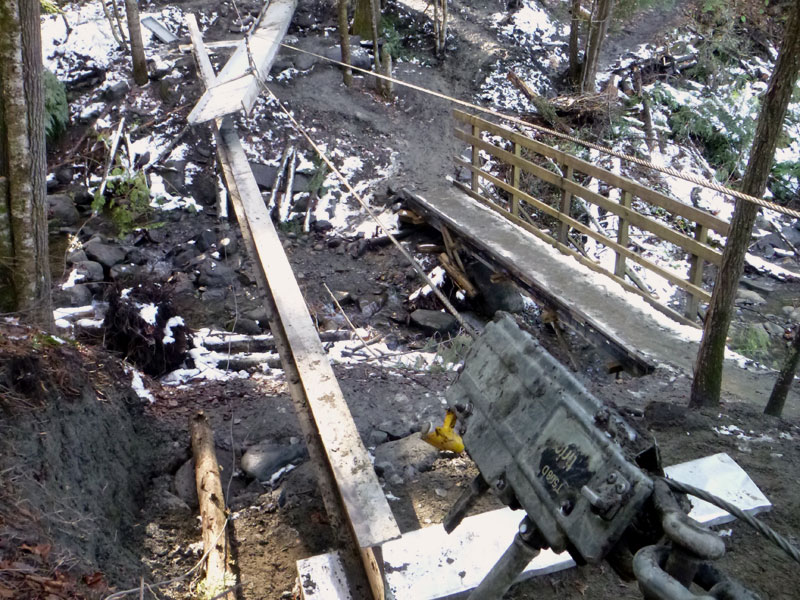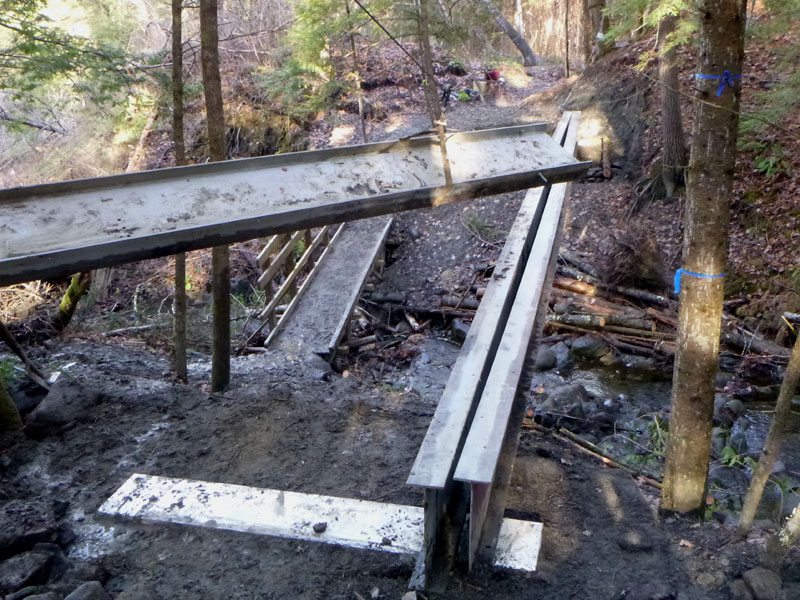 November 2, 2020
At the Winooski Bridge, initial site prep is done, by our contractor CCS Construction. Waiting now for the arrival of specialized subcontractor to install the deep pilings that will support the bridge. Pile driving now anticipated for mid November. Actual bridge install will be some time after that . . . maybe still early Winter, but if not, then Spring for sure.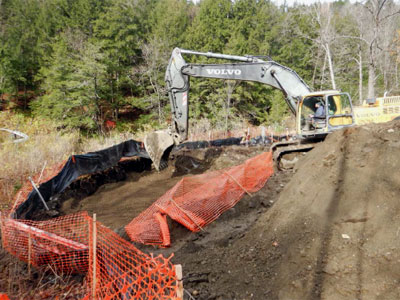 November 2, 2020
One up, two to go. Setting the I-Beams at the new bridge for the bypass around the Big Washout on the railtrail in East Montpelier, east of Route 14. We'll be chipping away until mid-November, give a shout if you are interested in joining in for a few hours at any point. Good chance to practice some winch craft.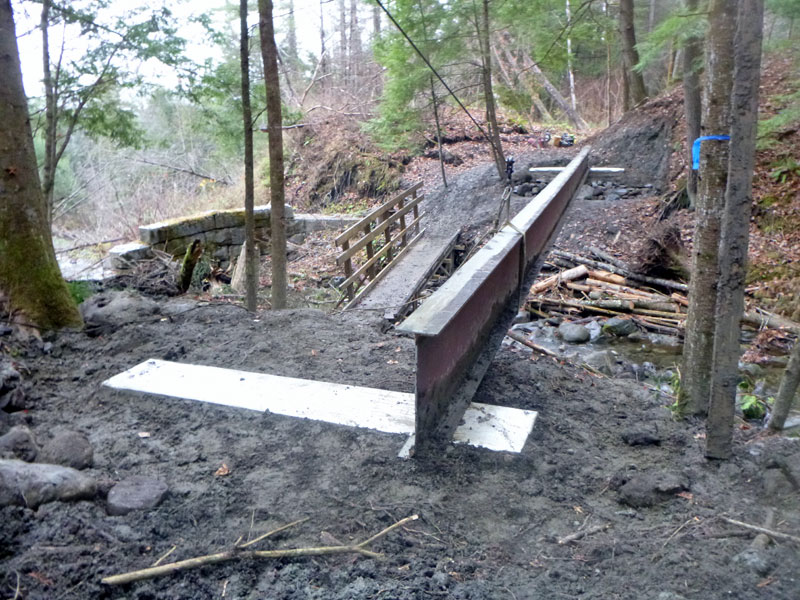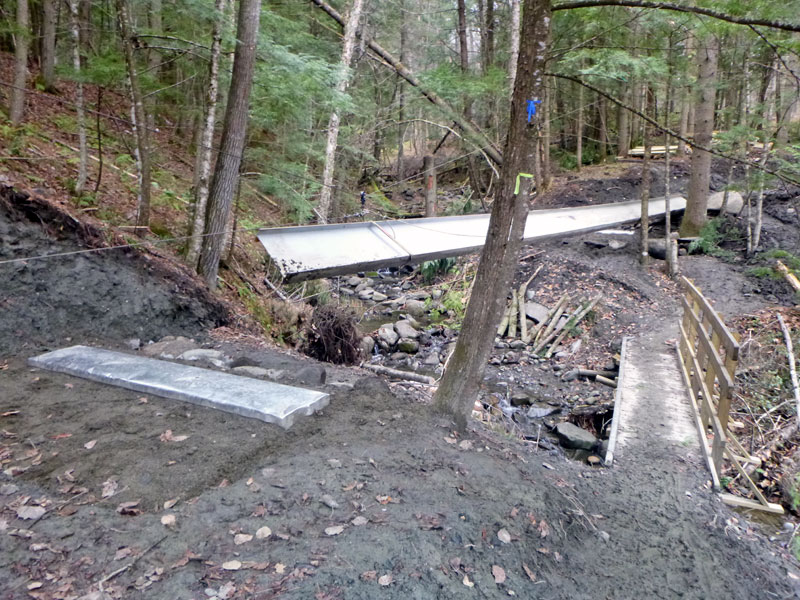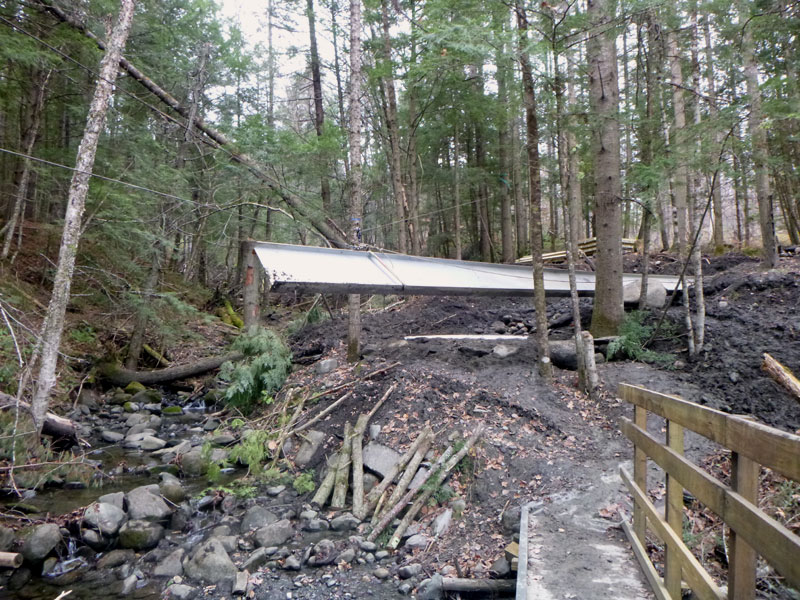 October 26, 2020
The bridge abutments are ready for the I-Beams, at the new bypass trail around the big washout on the railbed east of Route 14. Finishing touches (read: dealing with more boulders and mud) done this past weekend by volunteers from Norwich University, and some local folks too, thanks all! Next up we'll start playing with ways to move the beams - still a bit of time to try some methods out before the seasons turn.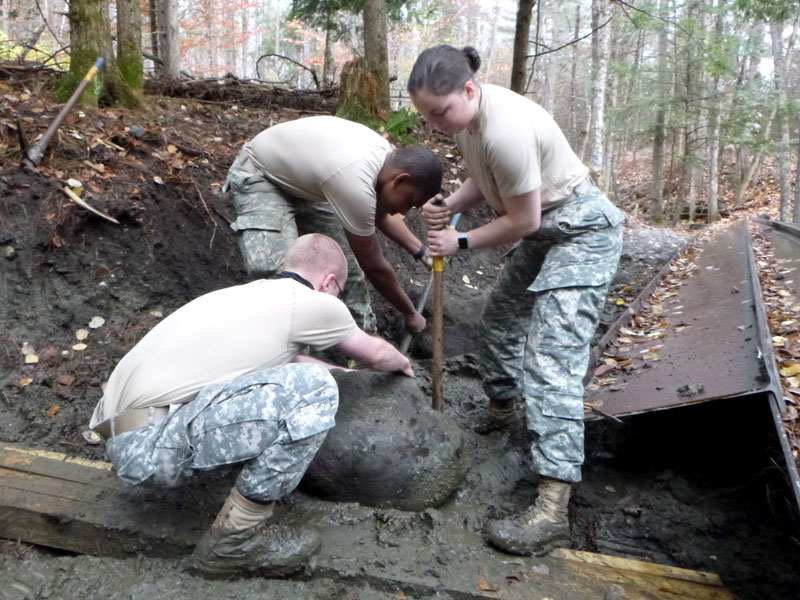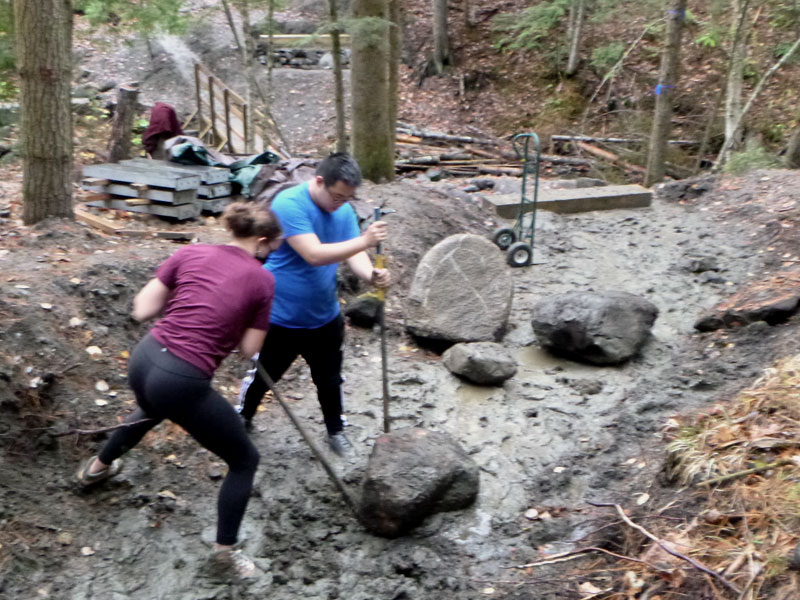 October 22, 2020
We've been measuring twice to level the sills this week at the Big Washout bypass bridge, on the railbed east of Route 14. It's all done up in decimal feet, rest assured; so if you come out to volunteer we guarantee no dealing with fractions, just straight ahead trail building.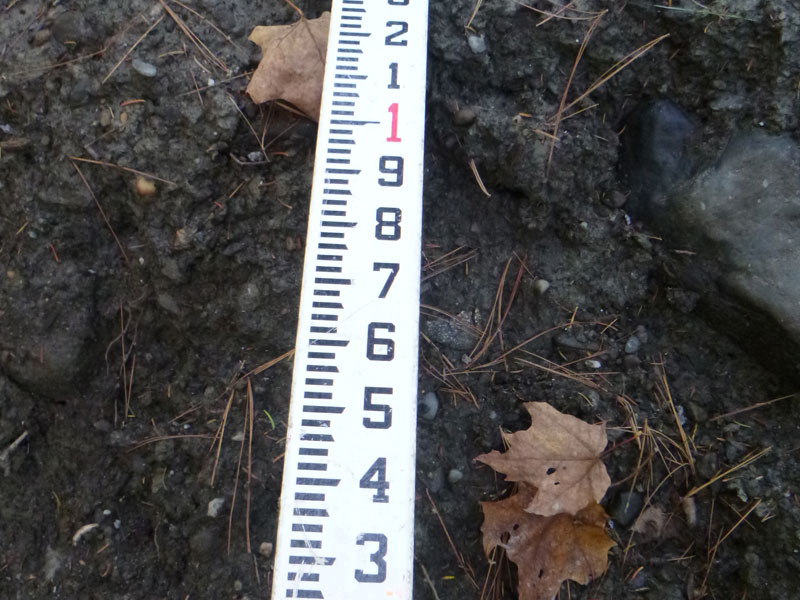 October 5, 2020
Big yellow machines are on site for the Winooski Bridge project; getting underway in earnest.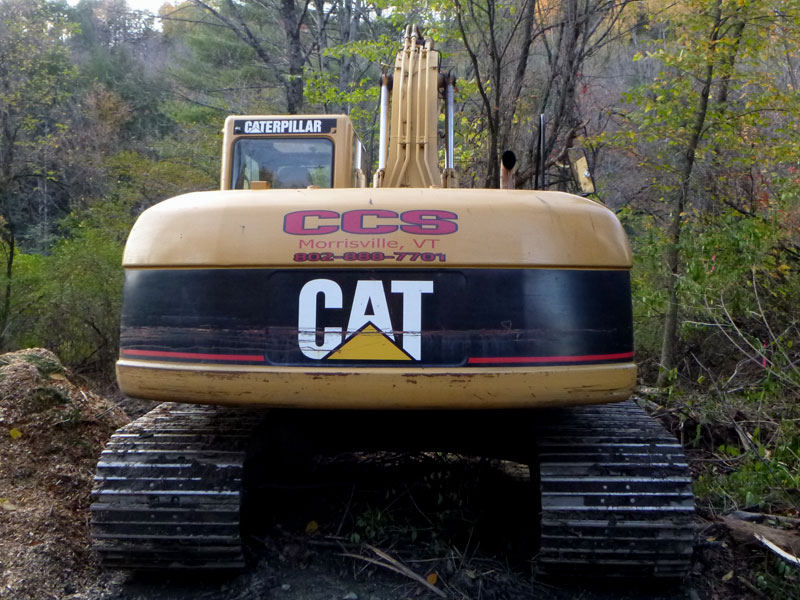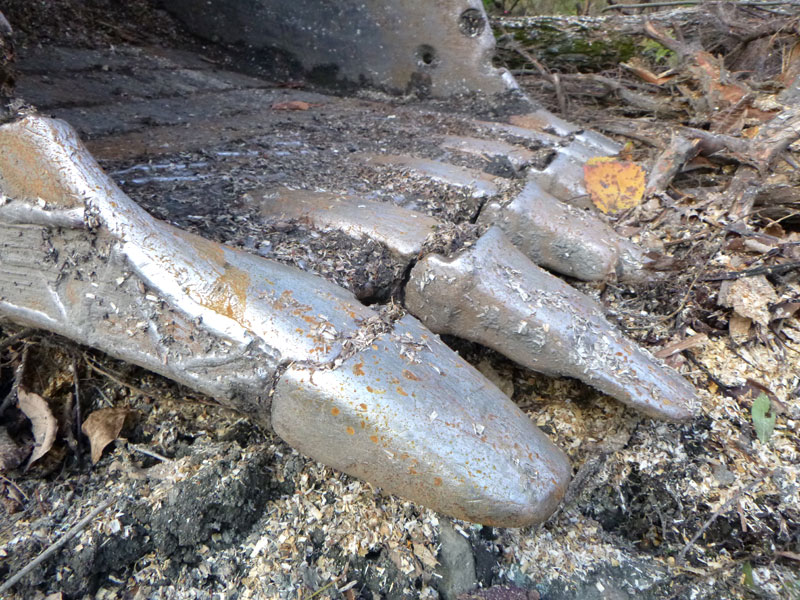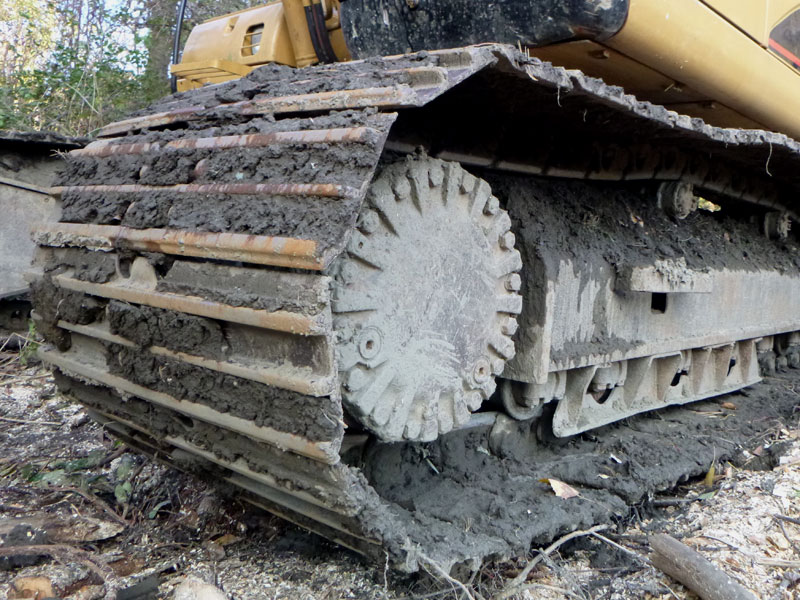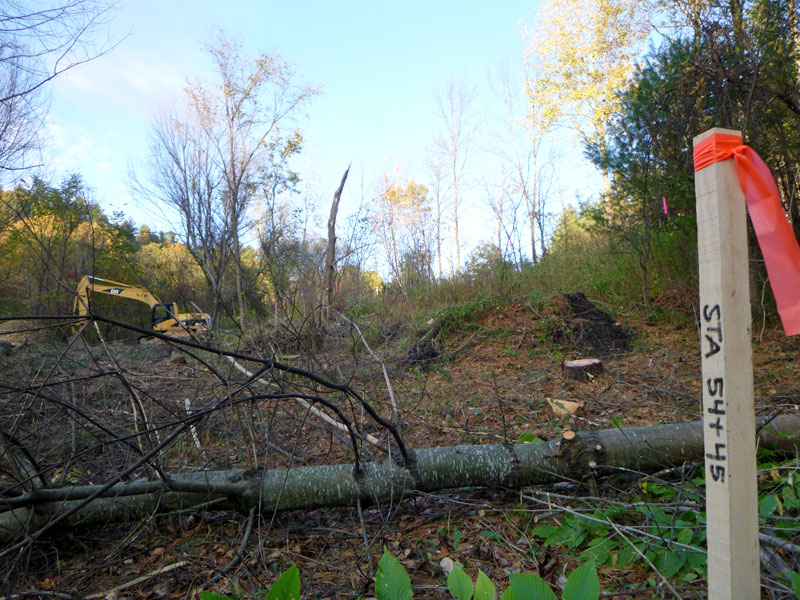 October 2, 2020
Trail in Wells River, east of Blue Mt Union, is reopened. Thanks for Vt Dept Forests, Parks and Recreation for pulling all this together! The railbed is rebuilt around the concrete bridge (where a washout occured earlier this year), and furthermore the trail between the bridge and the intersection with Route 302 (going towards the village of Wells River) has been newly surfaced and built up, plus the parking and trailhead are completely updated - much better access from Rte 302 now both to the trail and to the river.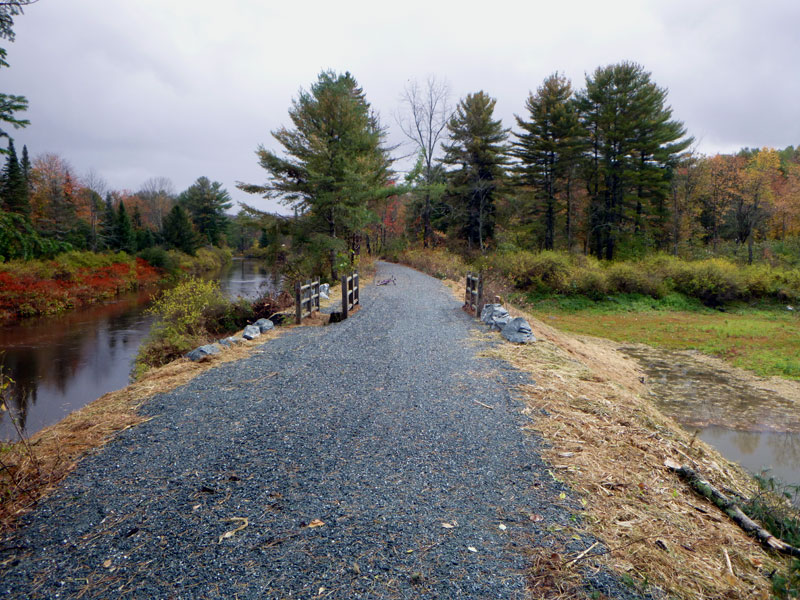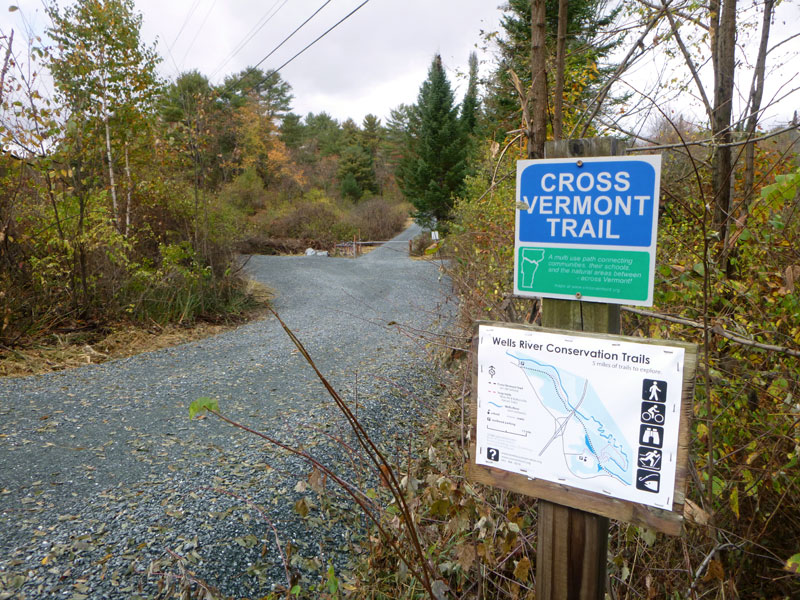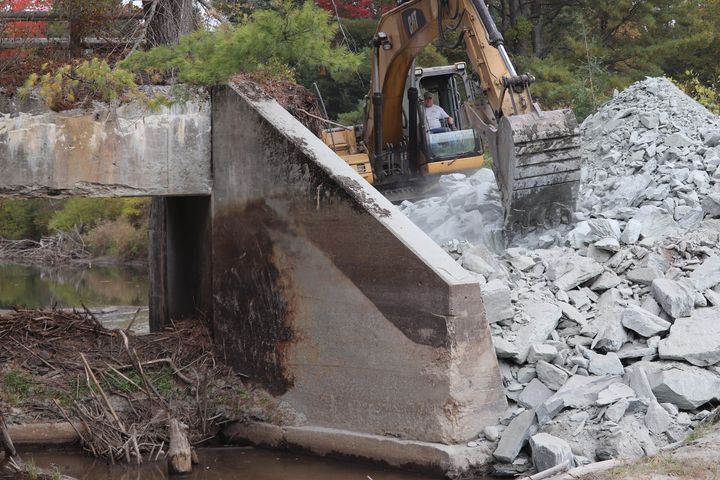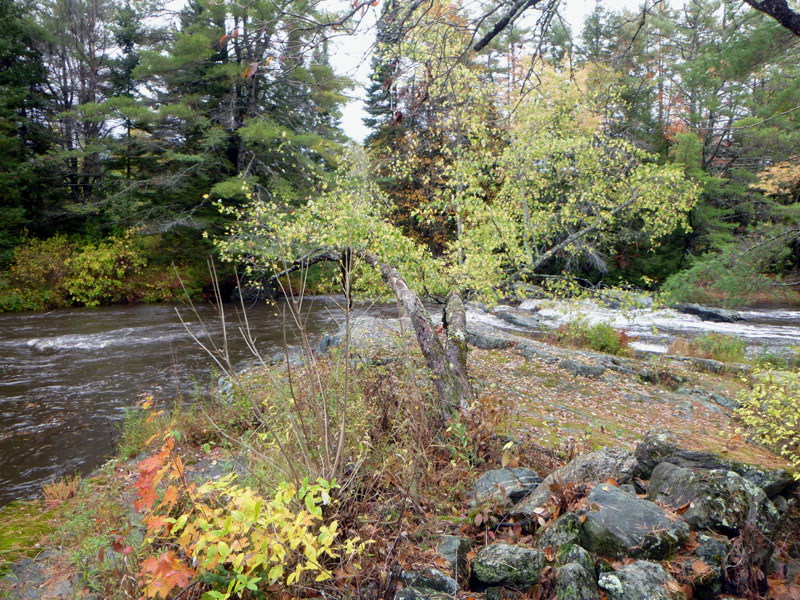 September 30, 2020
In addition to The Big Blowout on the railbed in East Montpelier that happened in 2011, at the same time also happened The Big Slump (or slough?, anyway) - the slump was mostly filled in shortly after the original storm, but the final tread and grade were a still jinky and slippery compared to rest of the railbed. While we had equipment on hand to work on the blowout, we also hauled in the surepack crushed stone to complete the full refurbish of the big slump. Finished that spot earlier this week, all things in time! And speaking of which, you can still help with the repair of the big washout. We'll be out there again this Saturday 10/3 and periodically thoughout October - call/email CVTA for details or if there are other days you might be able to join in.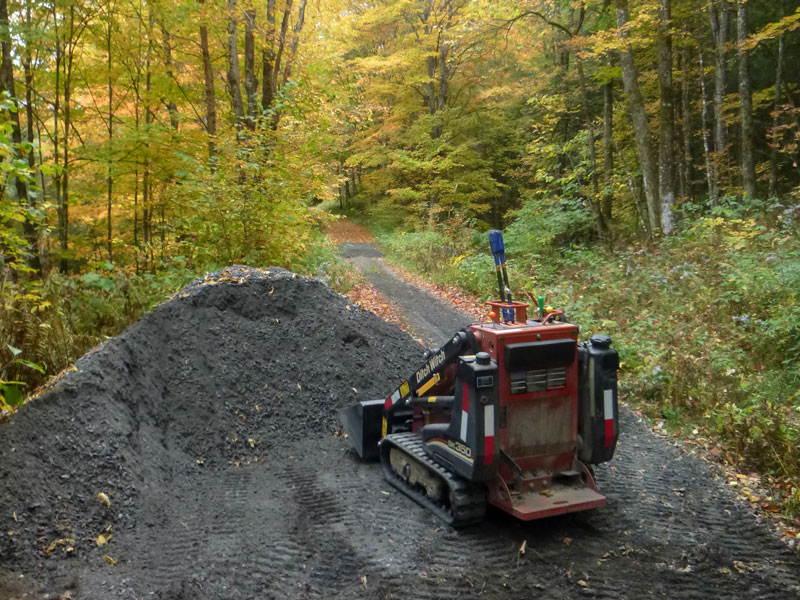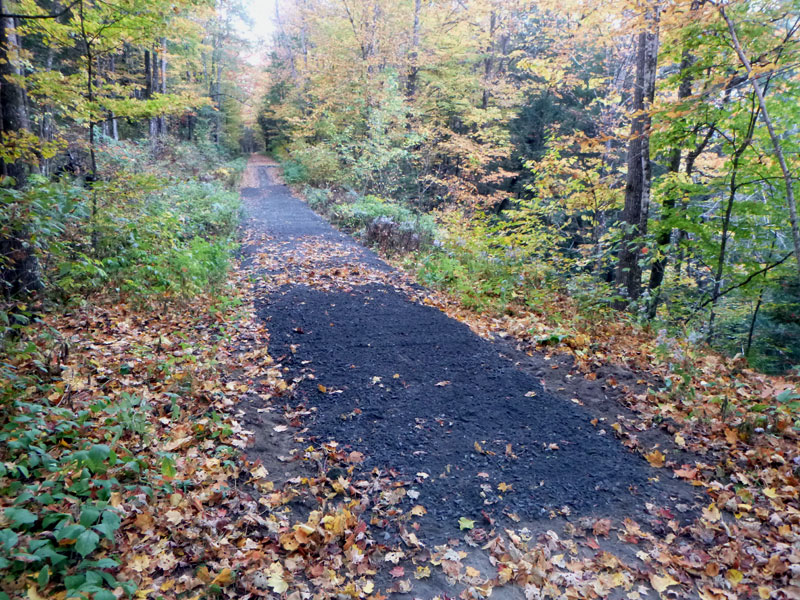 September 24, 2020
We've been hauling in the material for the new bridge to bypass The Big Washout on the railbed east of Route 14 in East Montpelier. You can help, we'll be out there next two Saturdays 9/26 and 10/3 - call/email CVTA for details or if there are other days you might be able to join in.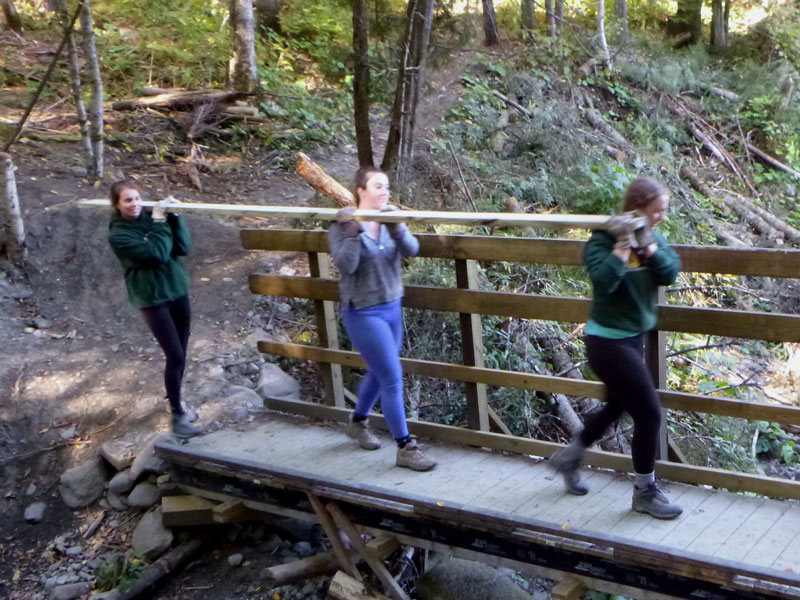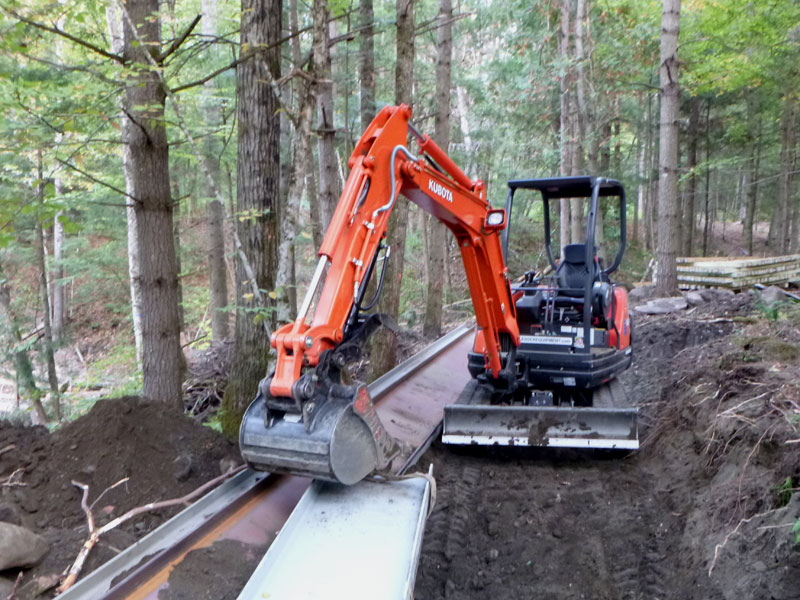 September 18, 2020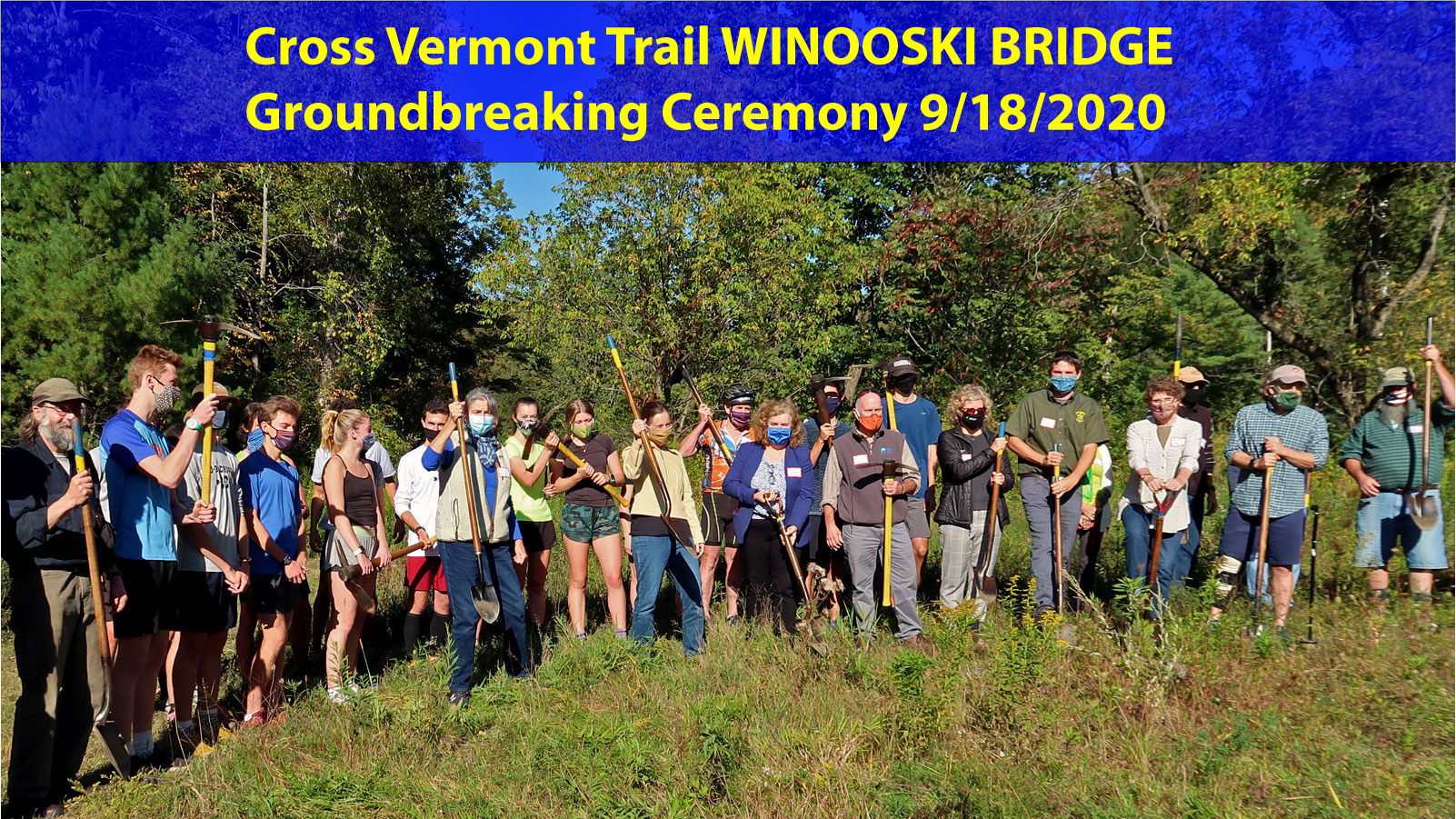 BREAKING GROUND FOR THE WINOOSKI BRIDGE - YOU MADE IT HAPPEN!
We're Building the Bridge!
CVTA is thrilled to announce the groundbreaking for the Winooski Bridge.
Last fall we celebrated with the City of Montpelier as they cut a ribbon to open the newly completed Siboinebi Path extension to Gallison Hill Road. The world has since changed and access to outdoor recreation is more important than ever. CVTA is proud at this time to say construction has begun on the next step in realizing the vision of a safe and scenic multi-use path traversing the capital region.
It was a good day at the groundbreaking — to see so many people who have supported and pulled for this project gather together at one time and share their feelings on all we have put into getting to this point — from the folks who gave the first enthusiastic "great idea" 's twenty five years ago, to all the people who have helped us in our fundraising campaign over the past five years, to the U-32 cross country team whose current members weren't even born when the planning for all this started, but who will be running on these trails for decades to come.
A SINCERE THANKS
On behalf of Cross Vermont Trail Association, we would like to sincerely thank all our donors and supporters for being a part of something that will benefit many generations to come!
This keystone project was an initial focusing element and goal of our organization. Two decades in the making, it has involved securing easements with landowners, navigating several permitting processes, steel price hikes, patience and perseverance, and your generous support.
We owe great thanks to Senator Bernie Sanders' Office and State partners at VTrans for the Federal Highway Administration Funds that were a cornerstone to this effort, but raising the local match for a well over a million dollar project was no small feat for our organization. We could not have done it without those who showed up and contributed to our kick-off, the house party hosts, the cycle tour riders, the municipal champions, and those who gave every needed $10, and those who made the large donations that got us across the threshold needed to BUILD THE BRIDGE! We love to see it in writing.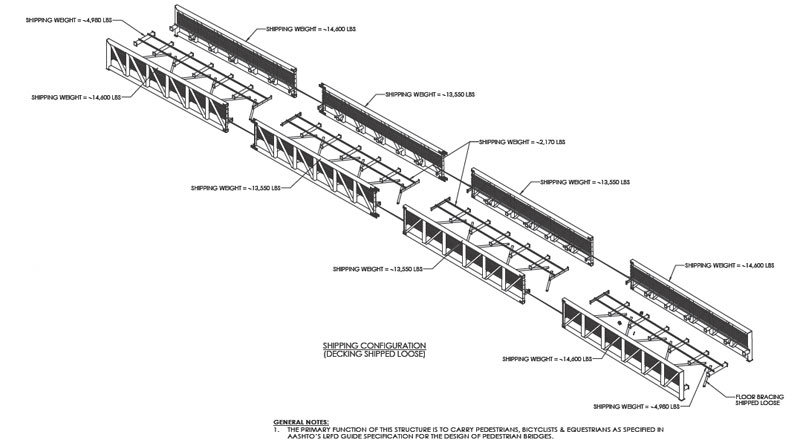 The bridge is 200 feet of steel and wooden decking, but it feels like so much more than that. The bridge means a longer, more scenic ride from the City upstream in the beautiful river valley, a safe alternative to busy Route 2 for walkers and cyclists, new trail connections to the U-32 campus, a new view and access point to the mighty Winooski and an added amenity to bolster the growing outdoor recreation economy in the region.
It's been decades in the making. We're so grateful to all the landowners, donors, state partners and all-around project champions in the Cross Vermont Trail community that have worked so hard and persevered to bring this project to fruition.
The bridge is the centerpiece of a larger CVTA project that will continue rolling out over the next three years ultimately linking from Montpelier across East Montpelier to where the rail trail picks up east of Rte 14. With the means to cross the river secured, CVTA is confident of completing the remaining project phases and getting the full trail open. The bridge was the hard part! Now we are laser focused on going forward to the next exciting milestones.
Construction by CCS Crane Services out of Morrisville has begun. You'll see more and more activity on site this Fall and the bridge may be in place over the river as early as November (!) with any remaining finish work on the bridge site being done Spring 2021.
~ CVTA Board of Directors
September 16, 2020
The Genie model variable reach forklift, that's how. "How are you going to get those 50 foot I beams off the back of the tractor-trailer and a mile into the woods?" And while we had it on hand, brought in all the lumber and gravel too. It's a twitchy machine to thread down the narrow spots on the rail bed, wheels like a shopping cart they basically can spin all the way around - but only got stuck twice, and popped right back out with one wish to spare.
You can help build the new long term bypass around the Big Washout on the rail bed in East Montpelier, east of Route 14. We'll be out there next three Saturdays 9/19/, 9/26, 10/3 - call/email CVTA fo details or if there are other days you might be able to join in.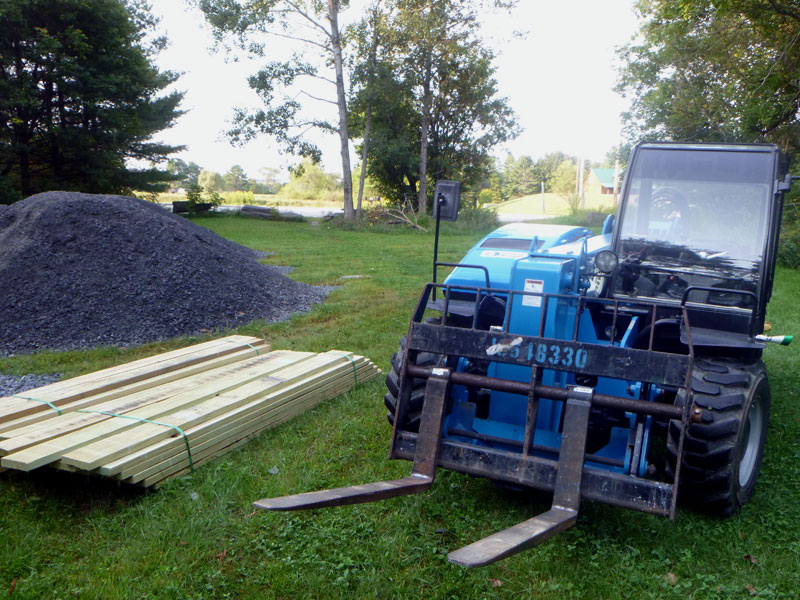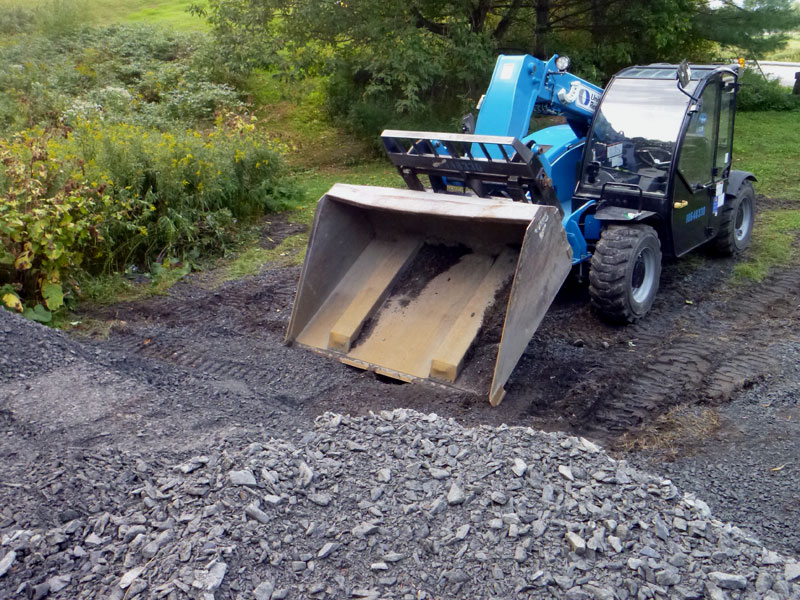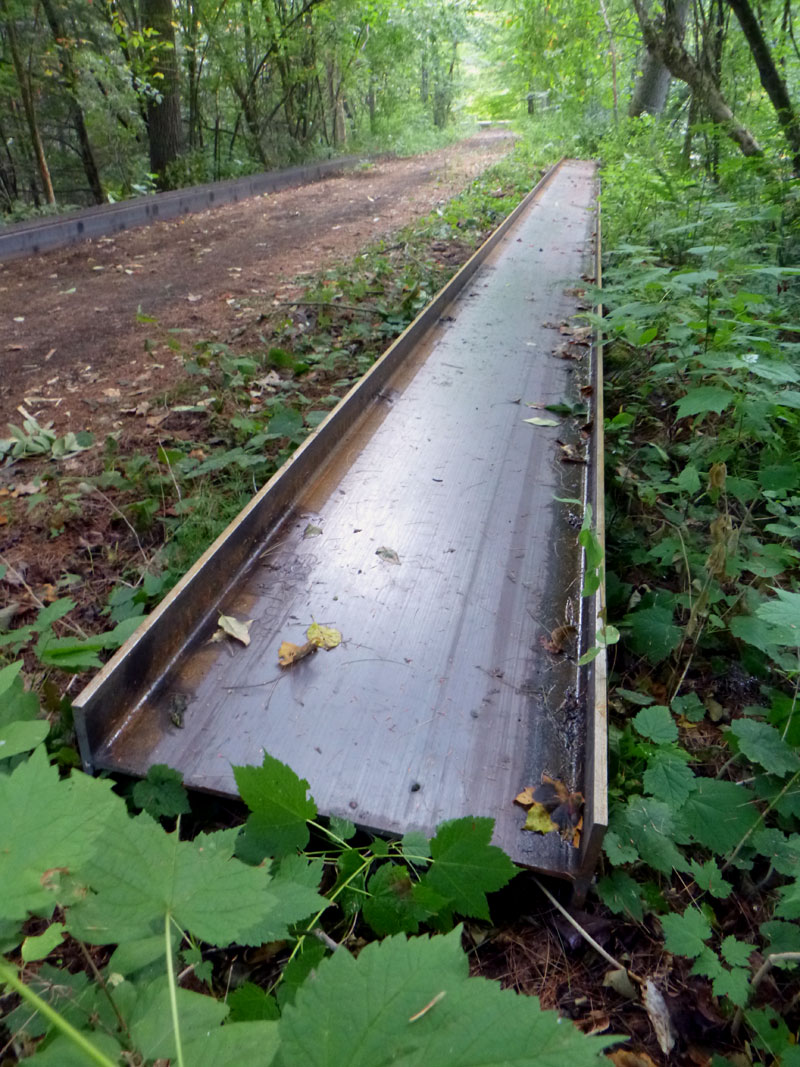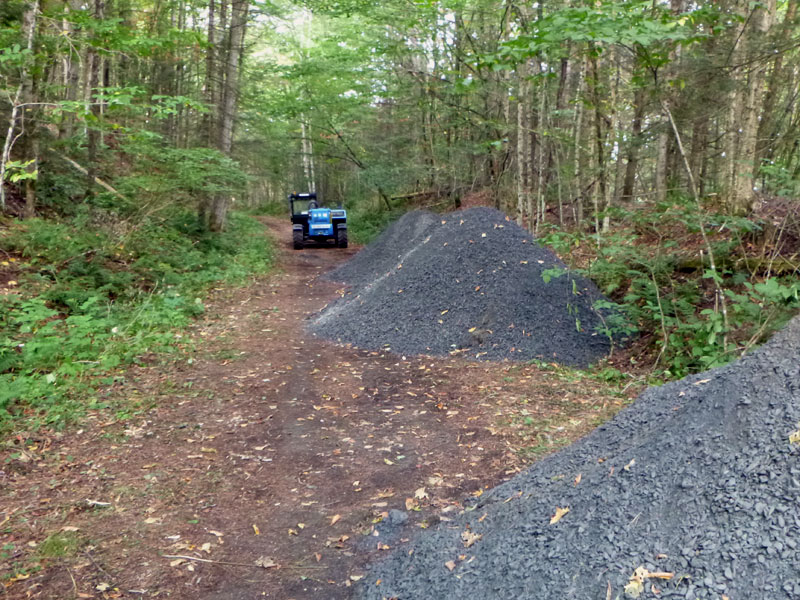 September 14, 2020
Trail condition update - east of Blue Mt Union, where the trail goes out on the old rail bed causeway before coming back onto Route 302 just outside of Wells River village - a storm this summer washed out around a large box culvert which had been blocked up by beavers. Vt Forest Parks and Rec folks have managed to line up emergency funding to hire a contractor and get the trail repaired - the work should be done asap this Fall. (In the meantime, you can still access this area by coming down the Blue Mt Trail behind the school, rather than from the trailhead on 302.)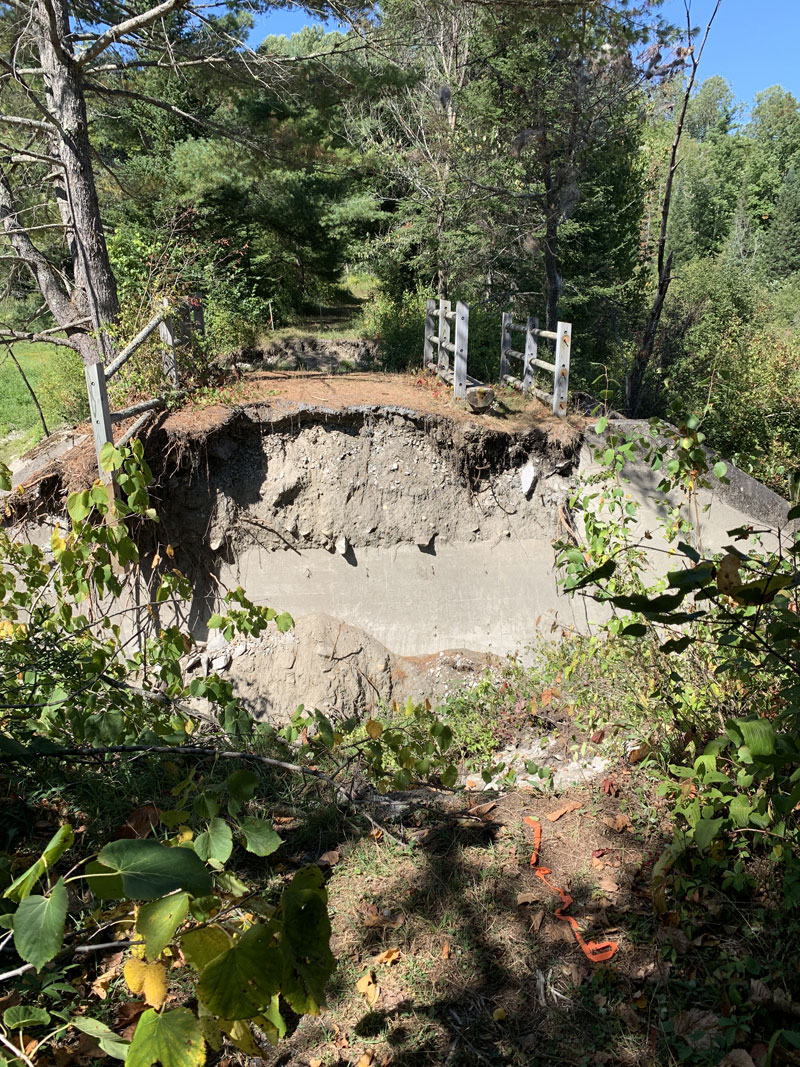 August 28, 2020
Stone by stone, finished high lining for bridge abutments on the rail bed east of Route 14 in East Montpelier. Building the bypass trail to finally put in long term fix of the The Big Washout that happened back in 2011. You can help build this bridge - we'll be out there later in fall, Saturdays 9/19/, 9/26, and 10/3. Drop in any time 9 - 5 and say the code phrase "uhm, hi" to unlock a hard hat and set of tools for your use. Email or call us at CVTA for details, or to ask about other days (there will be ways to help on various days for next several weeks.)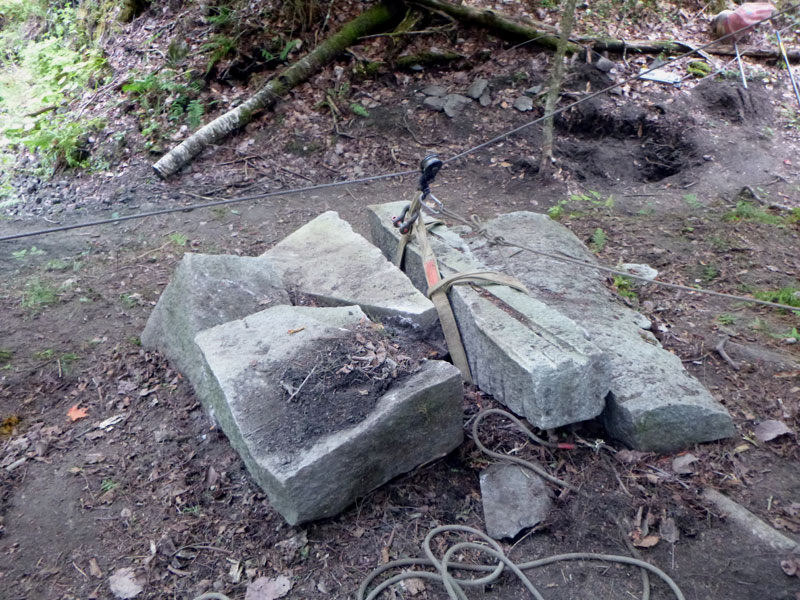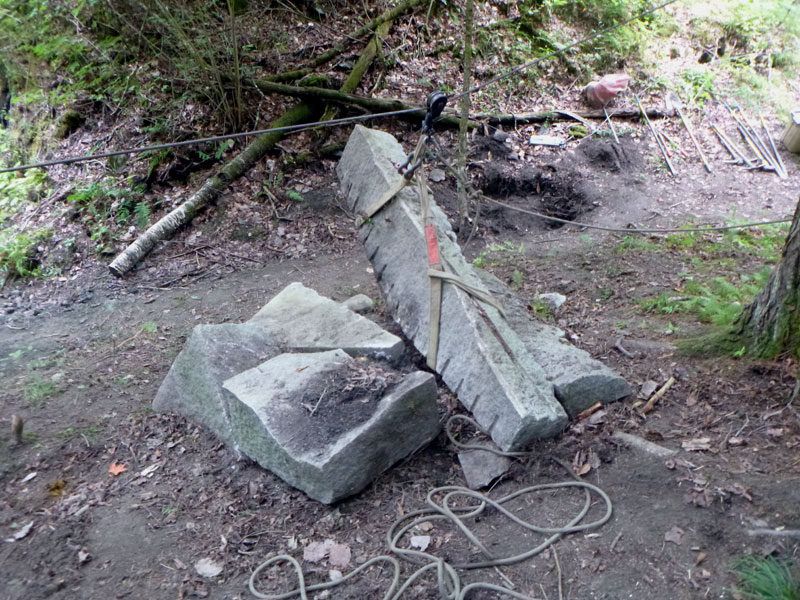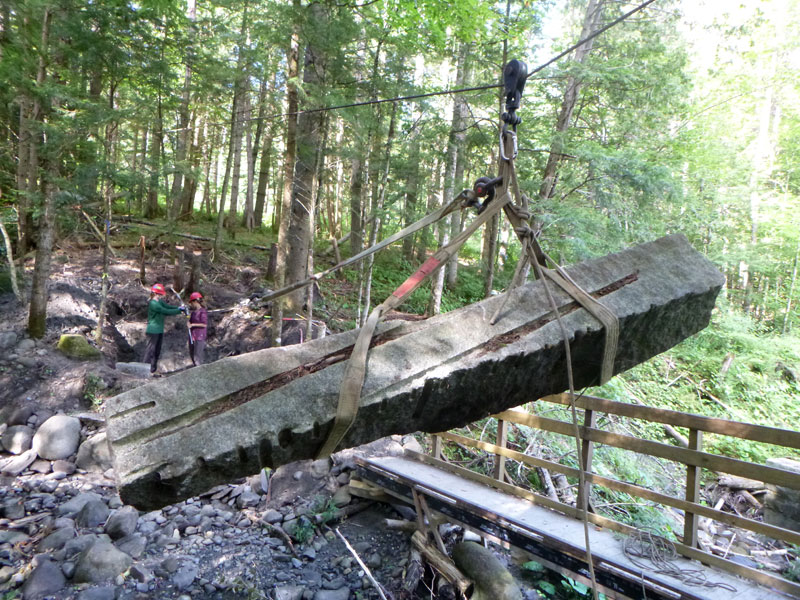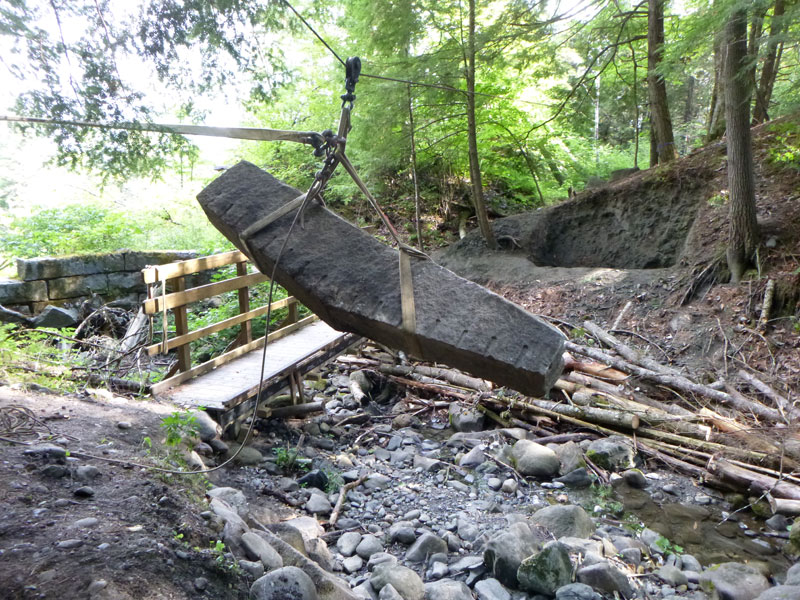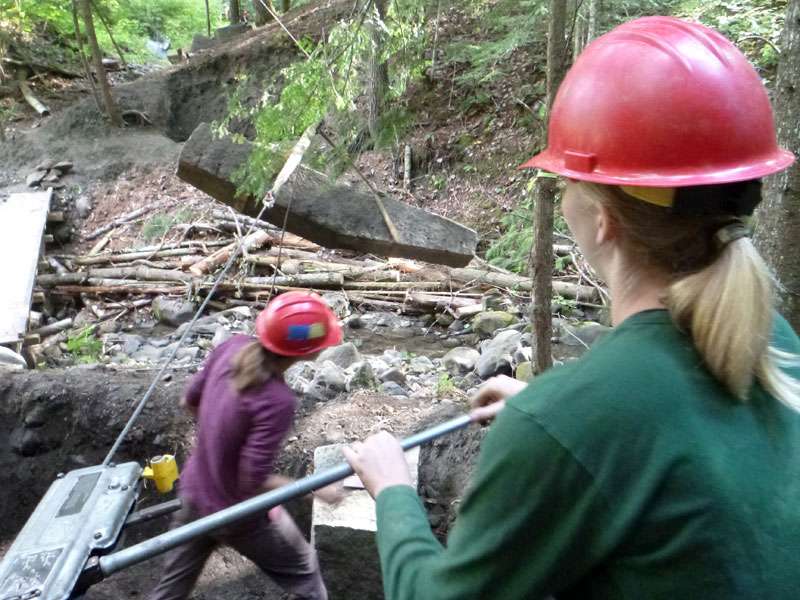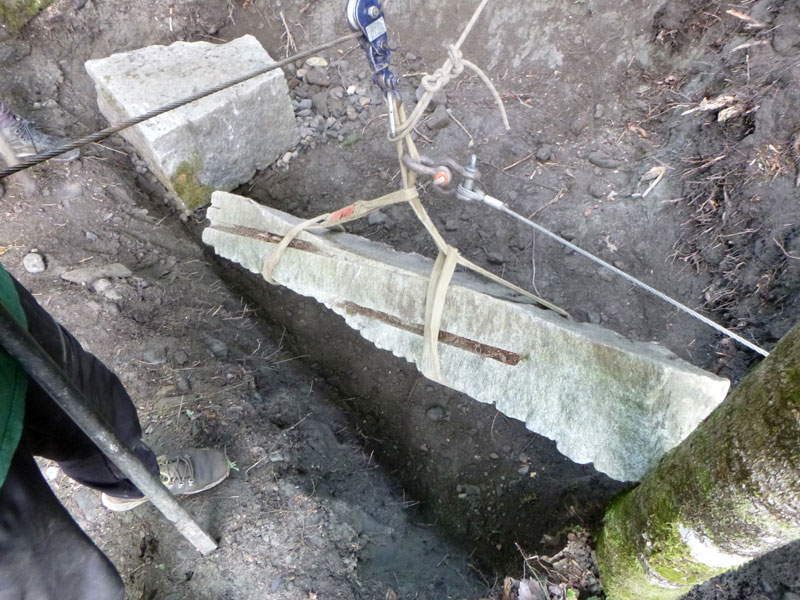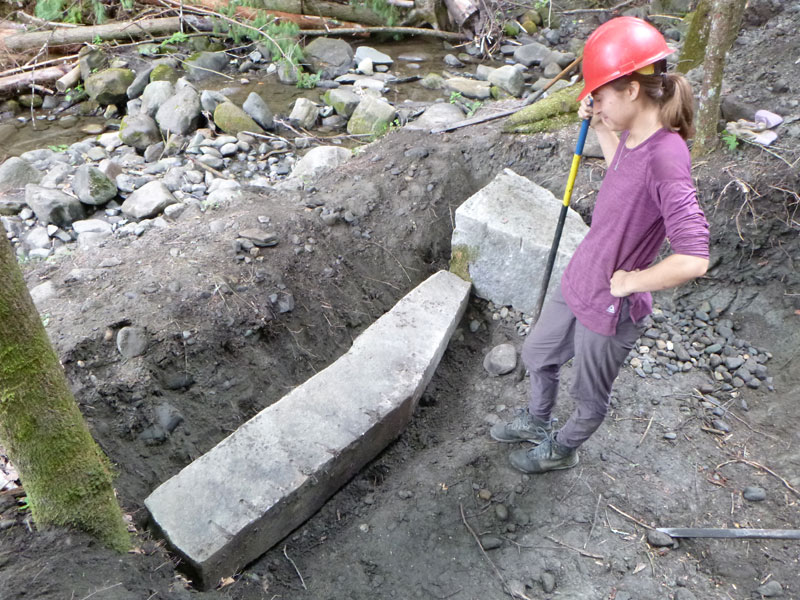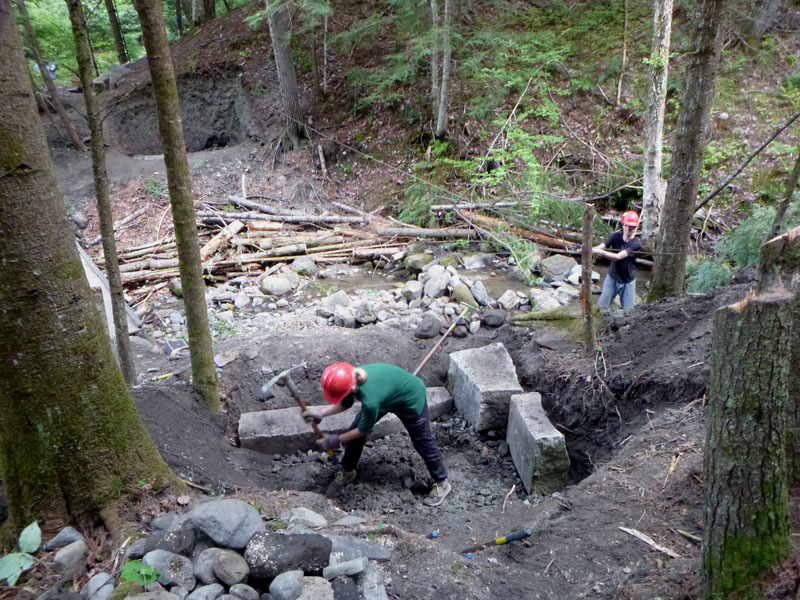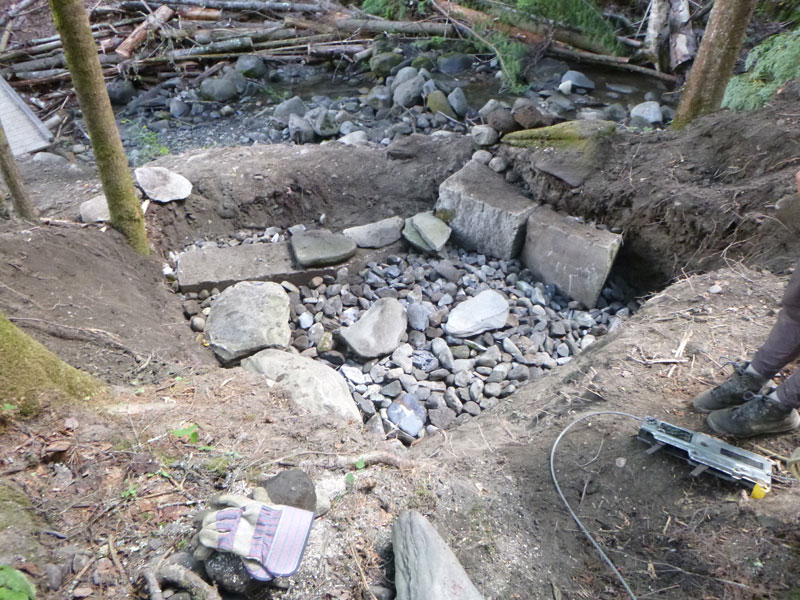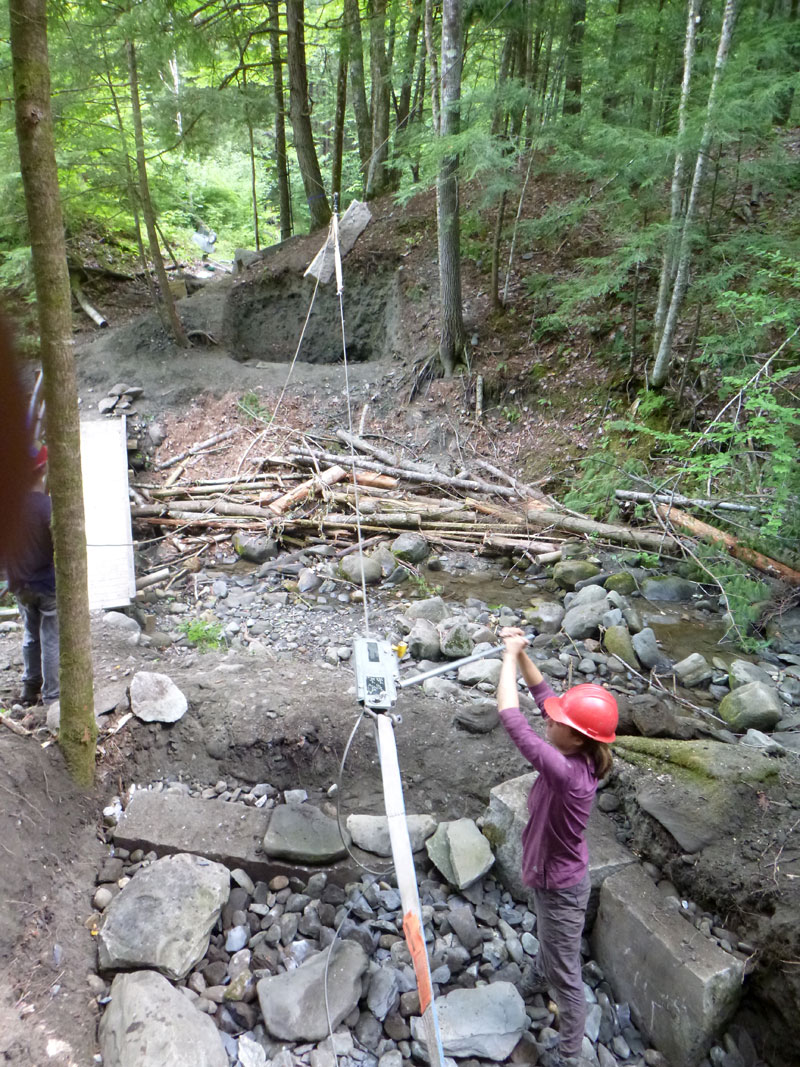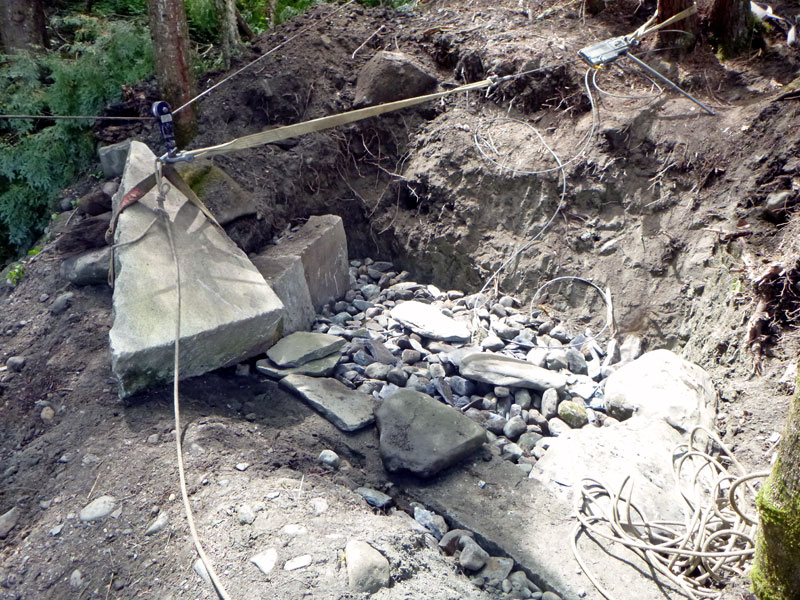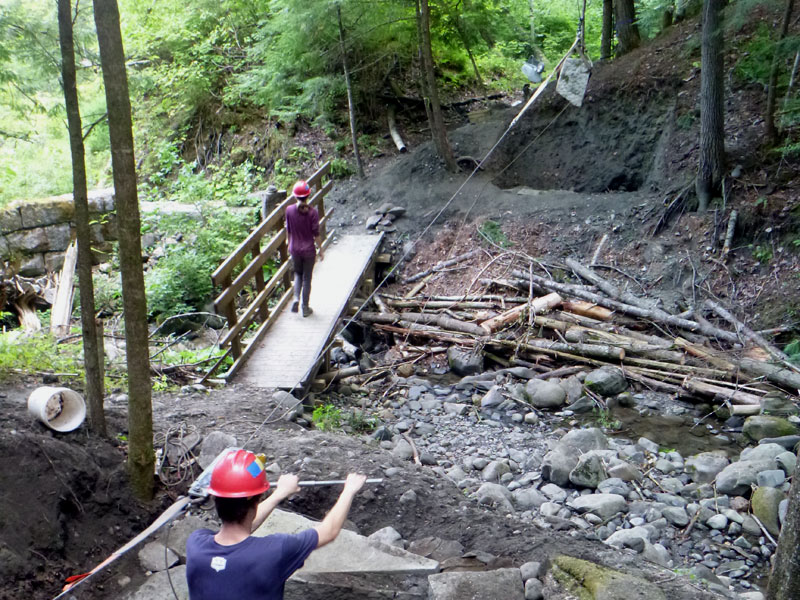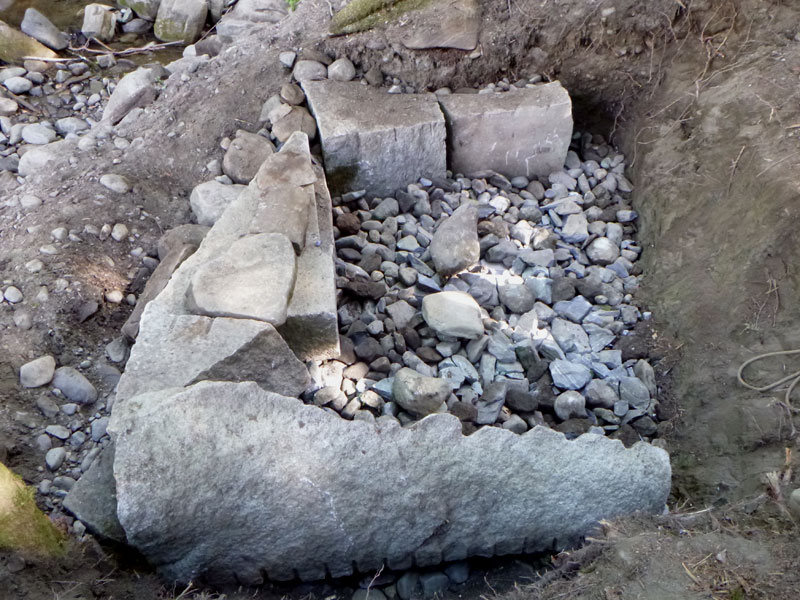 August 21, 2020
The Big Washout on railbed in East Montpelier - we're picking back up to build the new permanent bypass trail. Digging and setting stone for bridge abutments this week. This is about one mile east of Route 14 trailhead. The whole bypass will be done this Fall - more to come!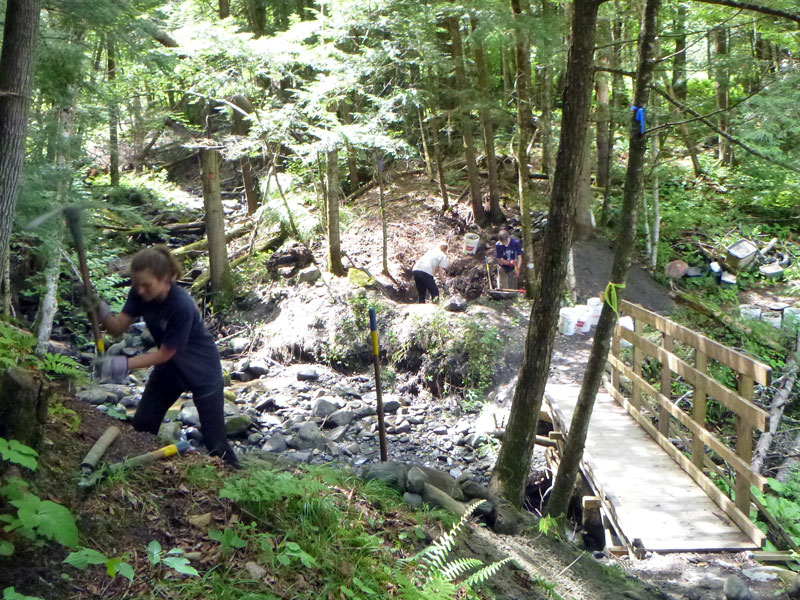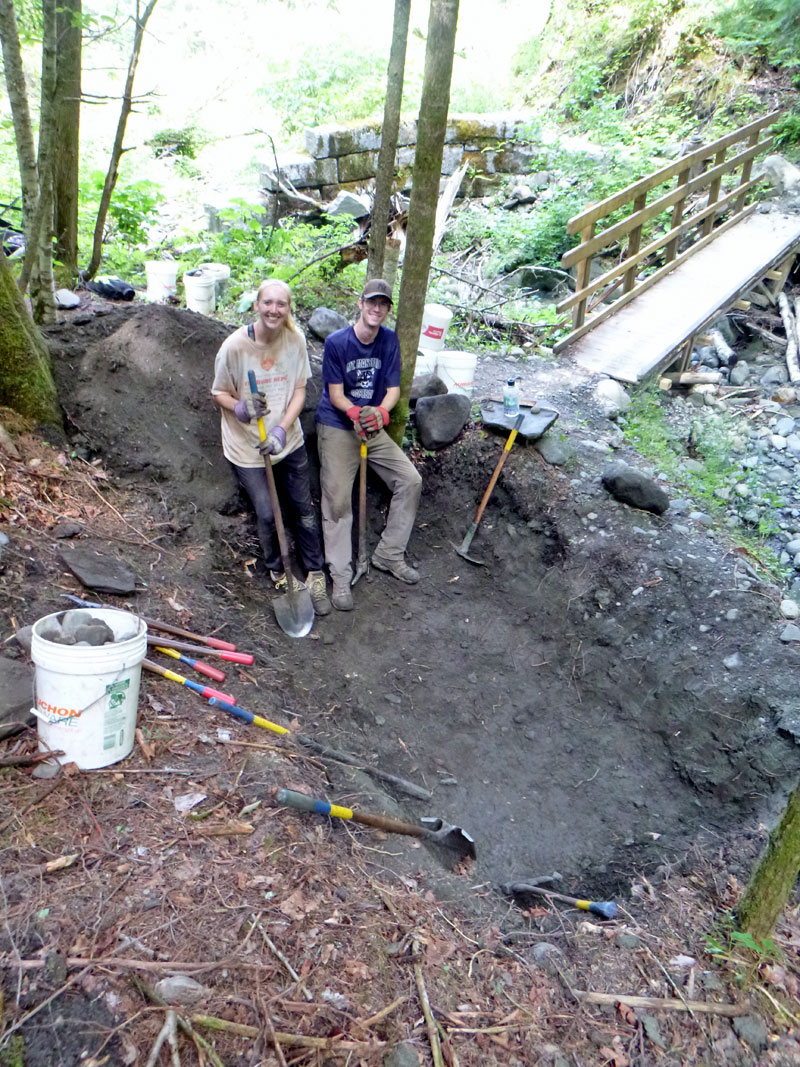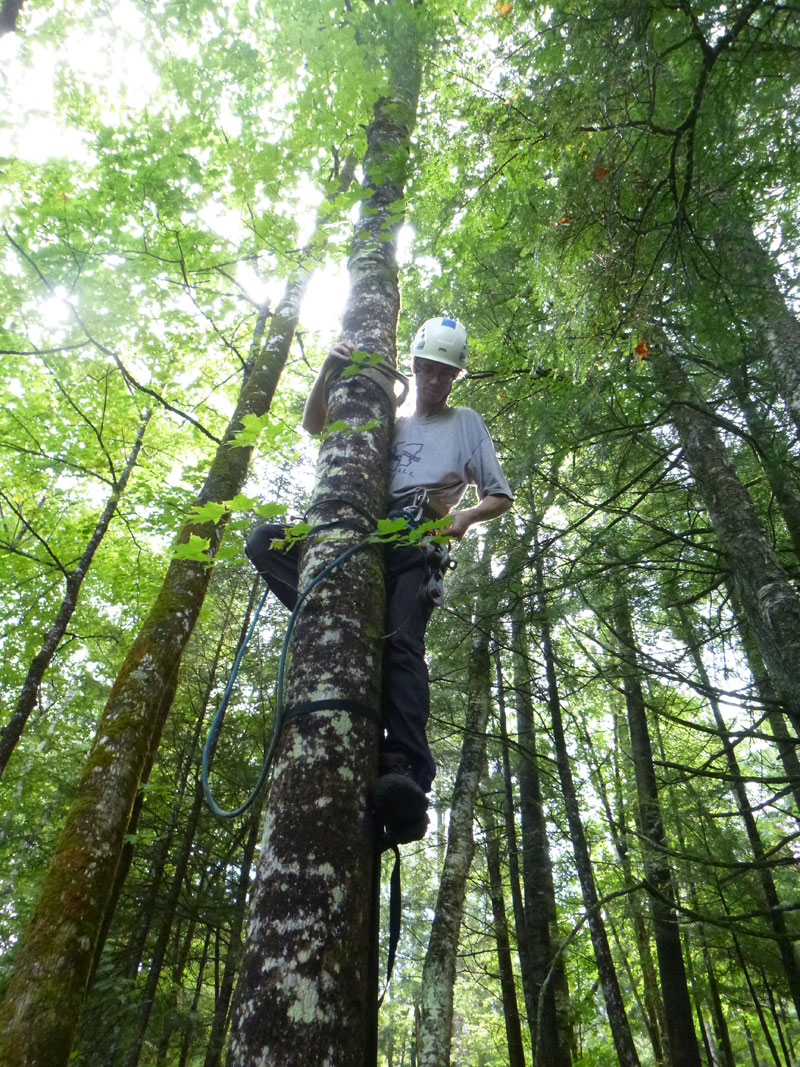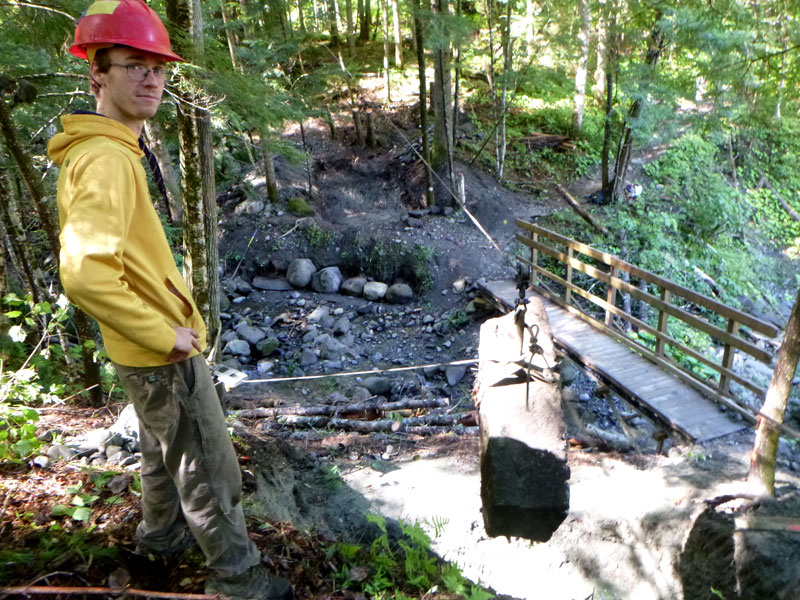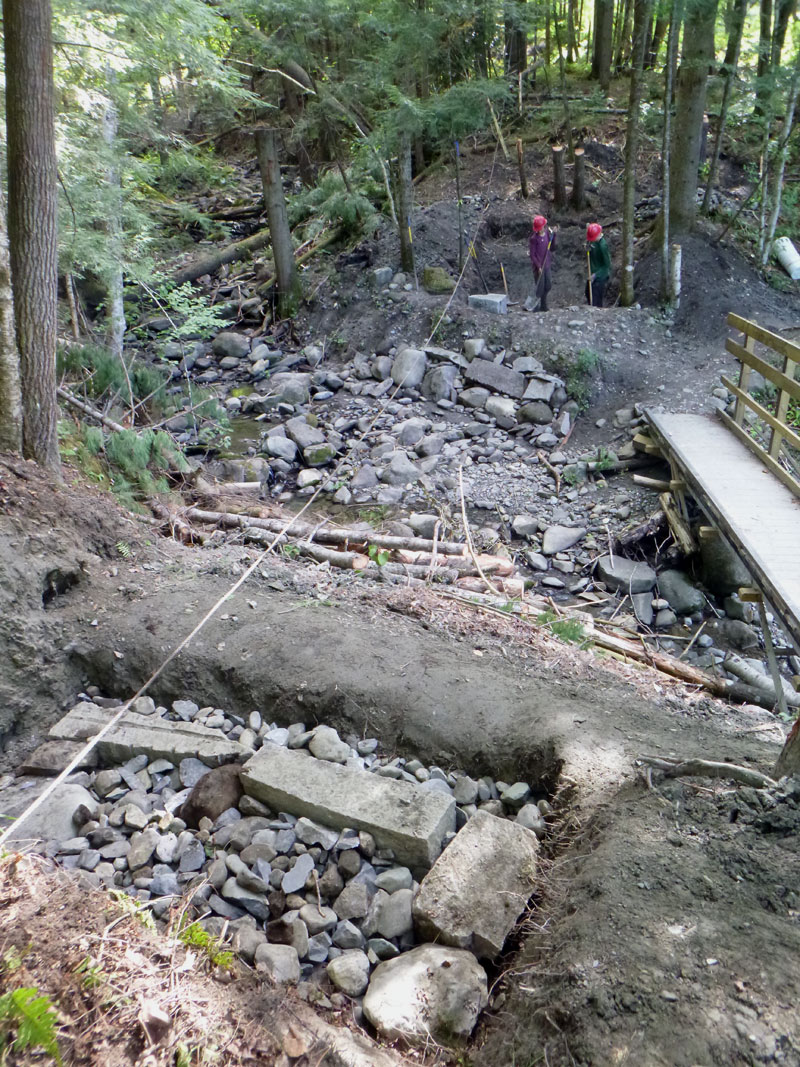 August 7, 2020
Mini ad hoc volunteer crew pitches in on Telephone Line Trail in Groton State Forest. CVTA usually spends the month of August hosting volunteer trail crews with American Hiking Society and Volunteers for Peace. For many years these crews have been working incrementally to upgrade the multi-use trail network in Groton State Forest, to bring the trails more in line with guidelines for general accessibility. Due to Covid-19, the official crew programs were suspended for 2020, but some of the folks who have volunteered regularly over the years got together on their own initiative to do some good work anyway. Thanks all! And before you write in to clarify - yes, the RootSlayer brand serrated edge shovel, as shown in below photos, really does work as advertised, even in the primeval duff of Groton, and yes they are back ordered so ask for yours early.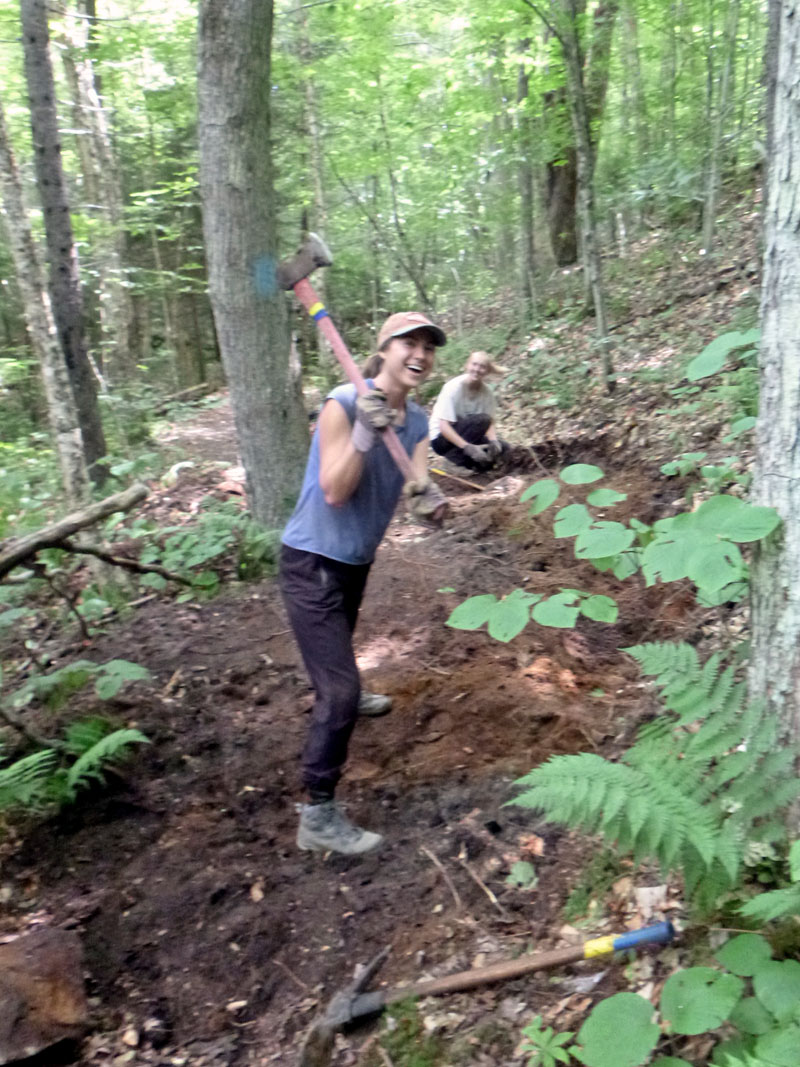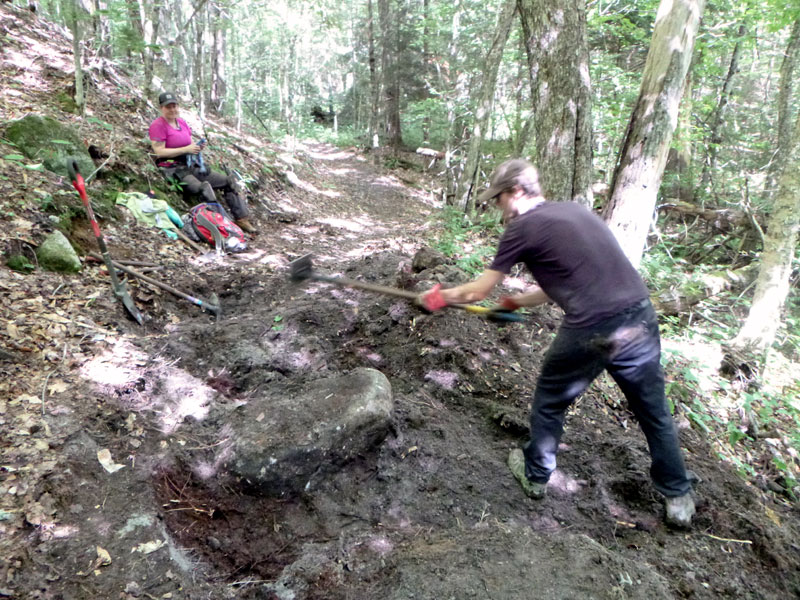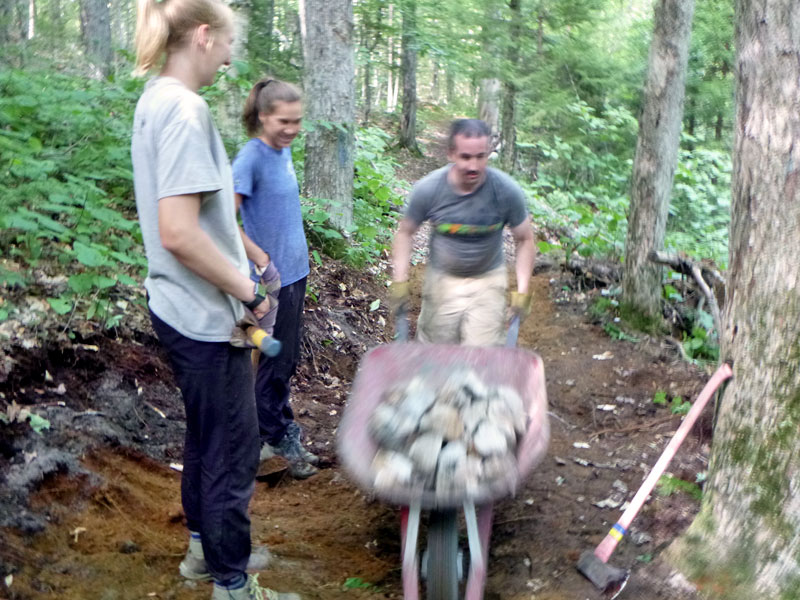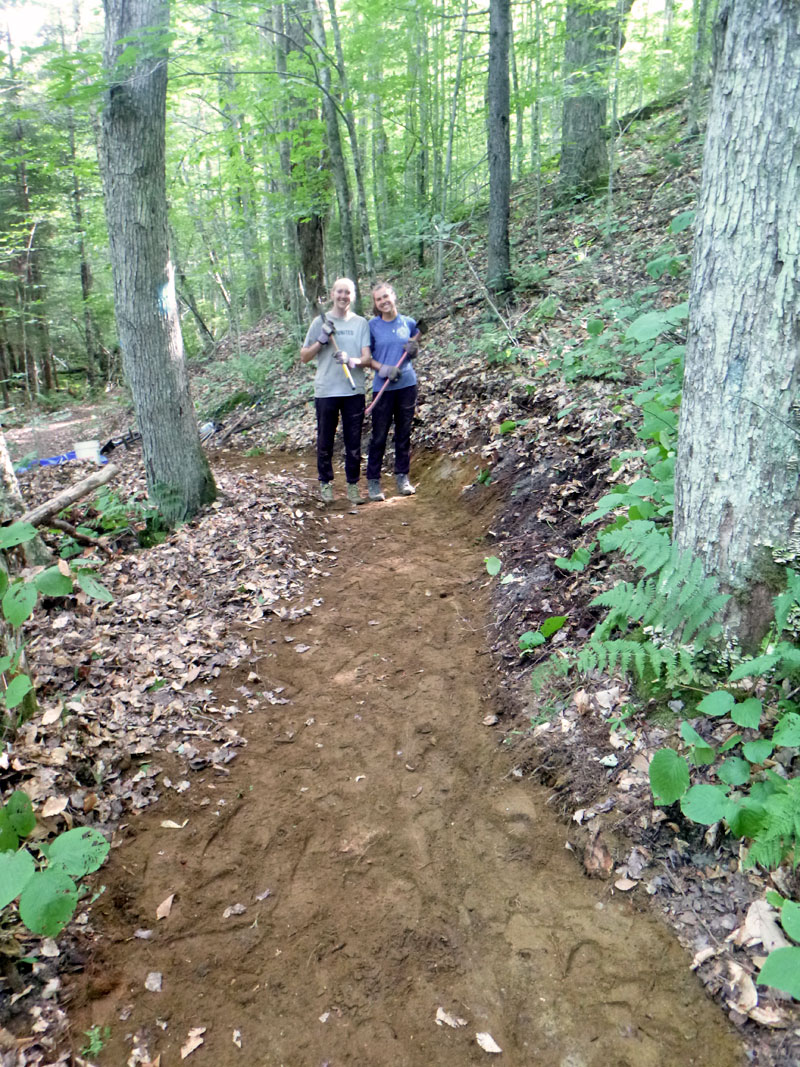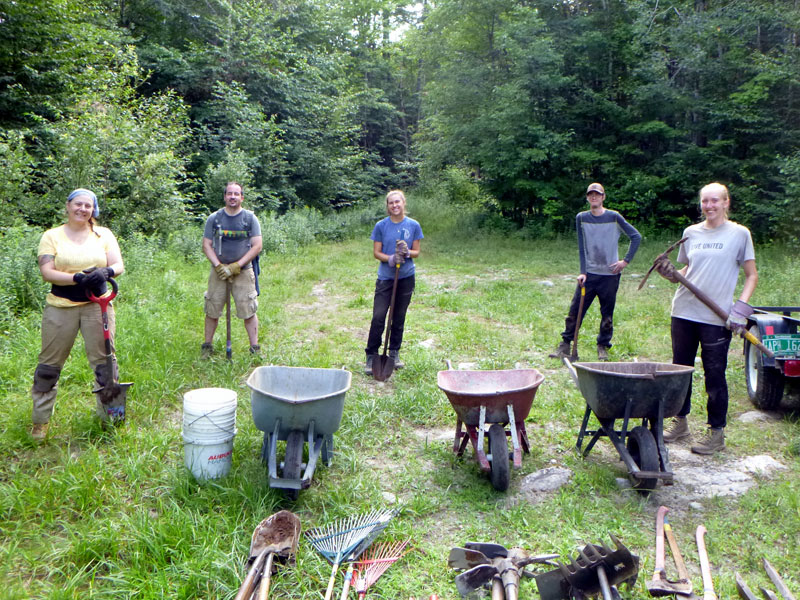 August 2, 2020
More photos of culverts and trees. Earlier this summer CVTA's Vt Housing and Conservation Board Americorps crew was joined by a Vermont Youth Conservation Corps crew and together we cleaned out a culvert that was plugged by the "Halloween Storm" last Fall. It was storm water washing around this plugged culvert that lead to the trail damage on Richmond's Johnnie Brook Trail that we were fixing much of June and July this year. The crew built a substantial new stone headwall for the culvert and also planted many willow fascines to reestablish a vegetated bank along the creek. We are betting on the large stones, but we are rooting for those willows.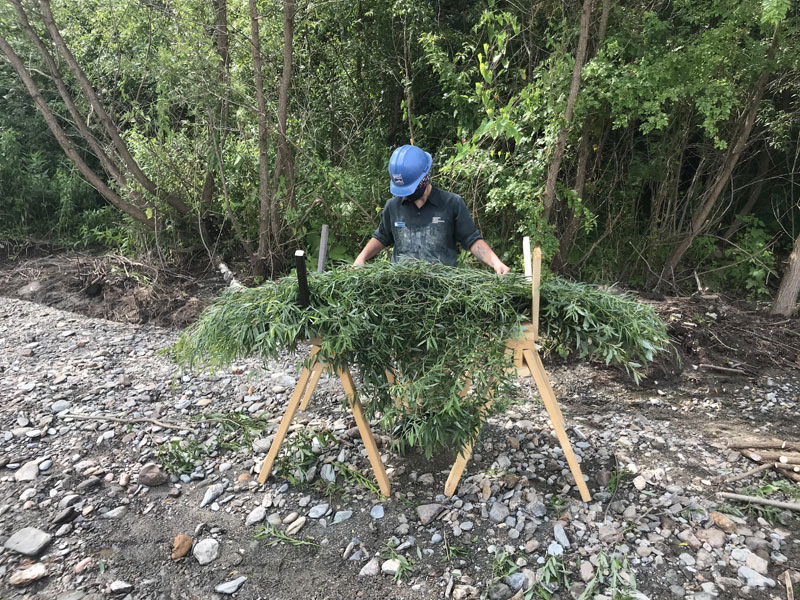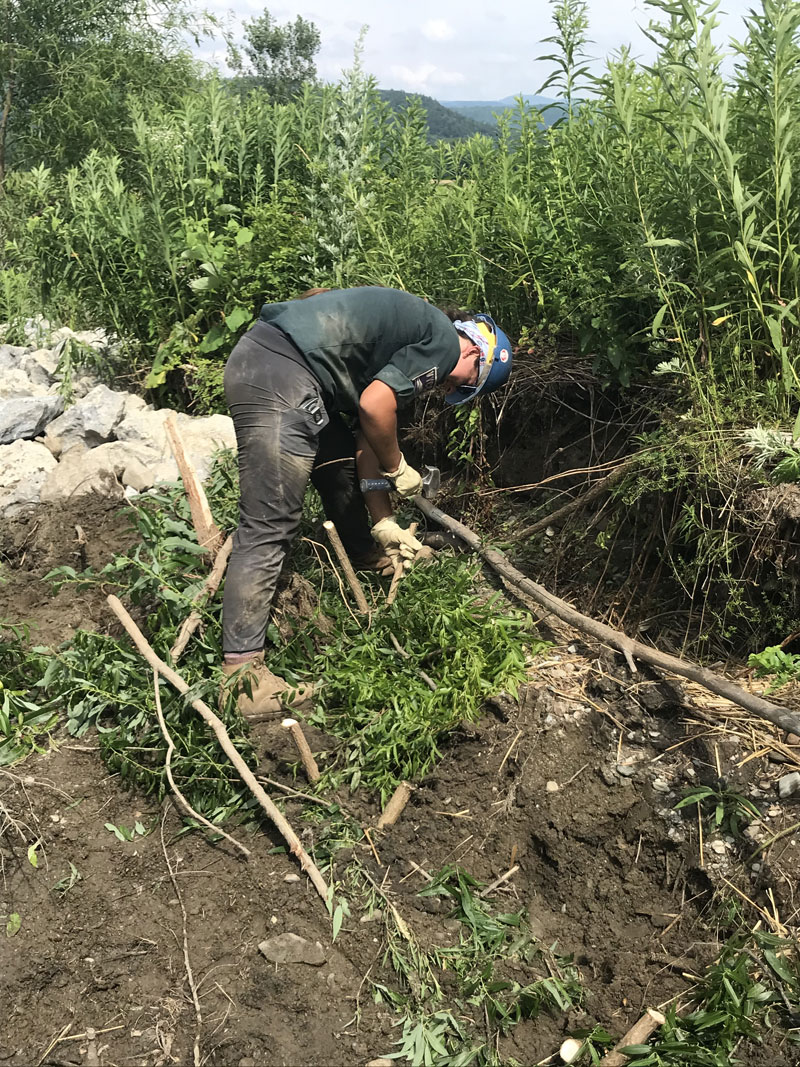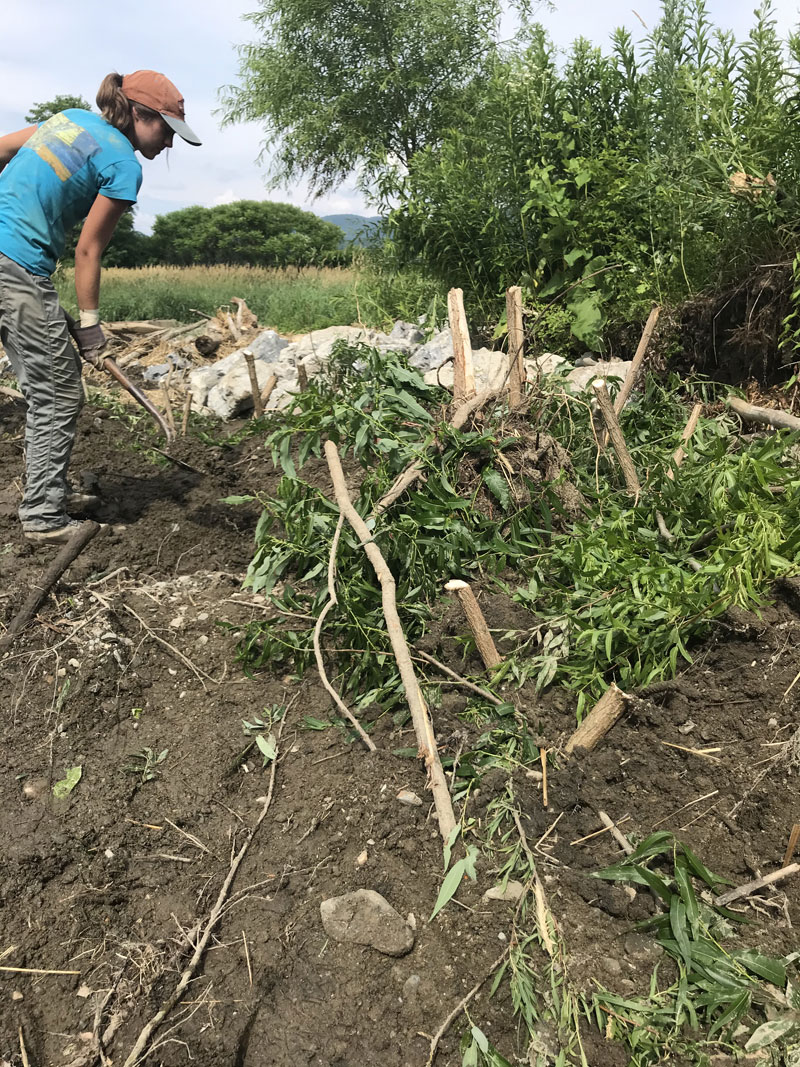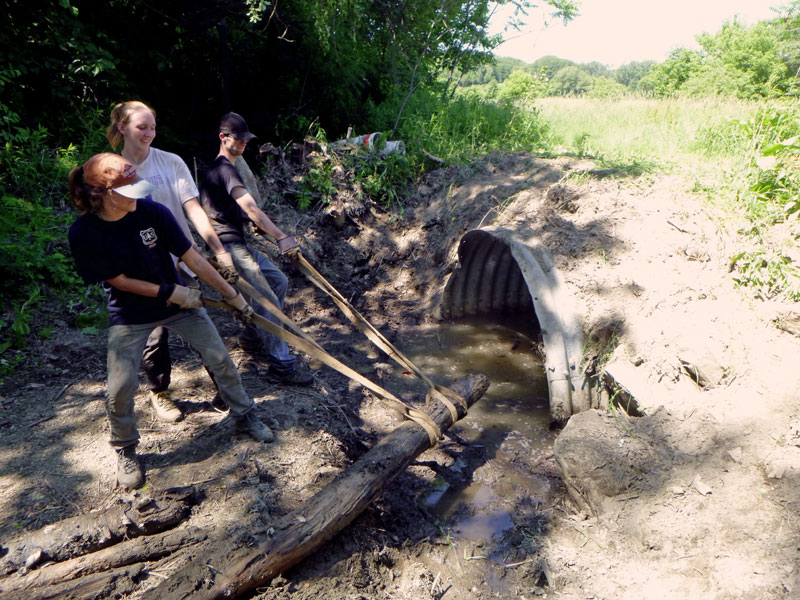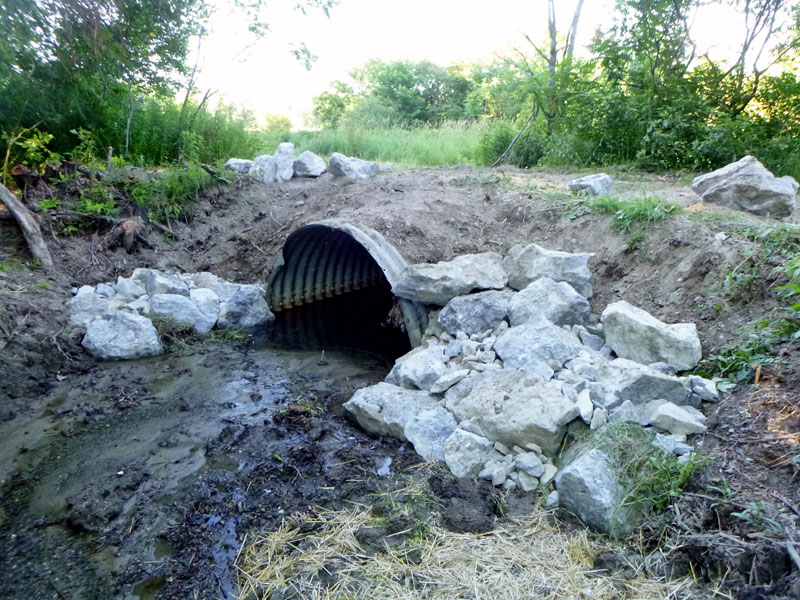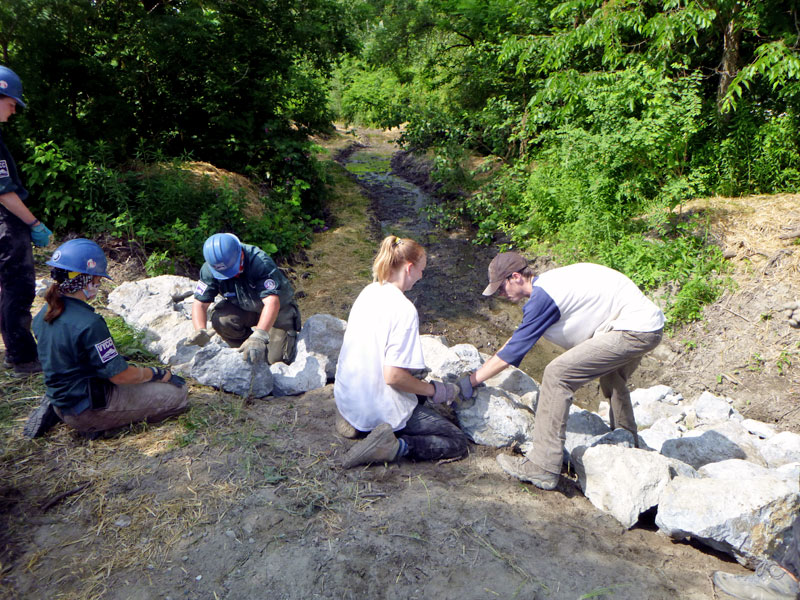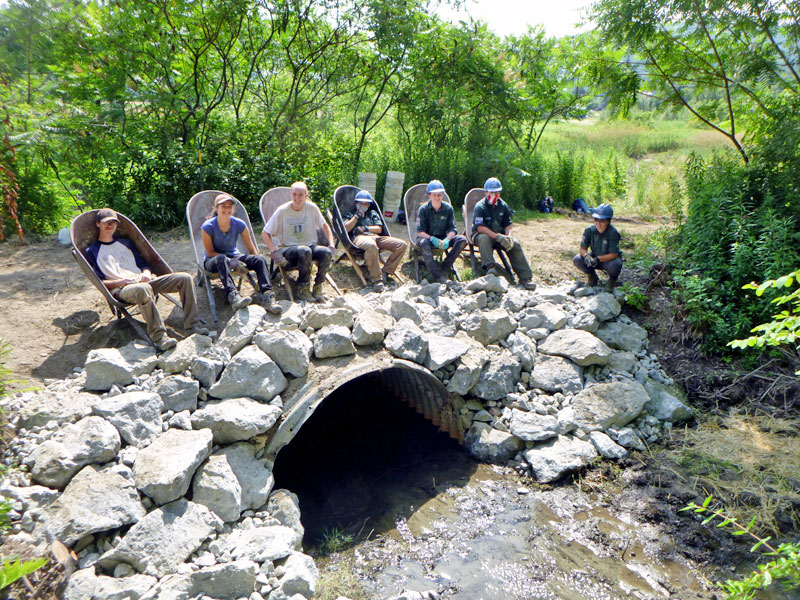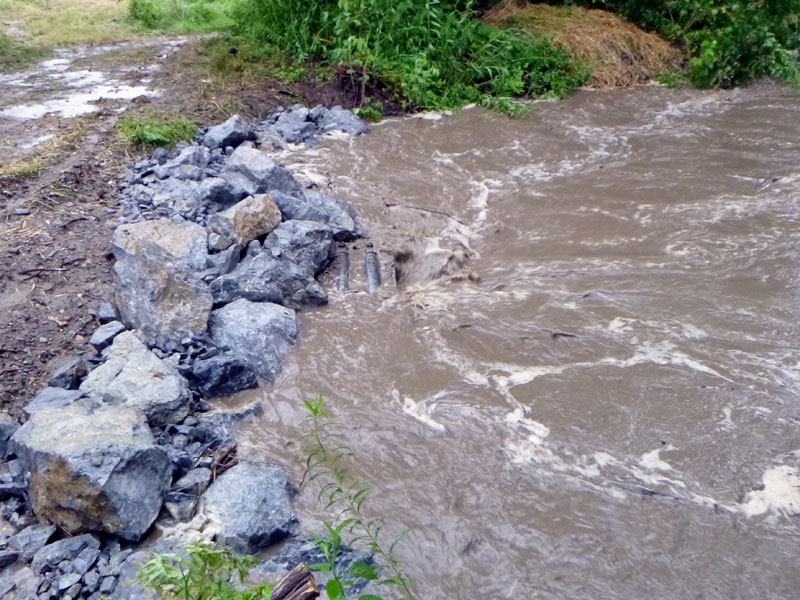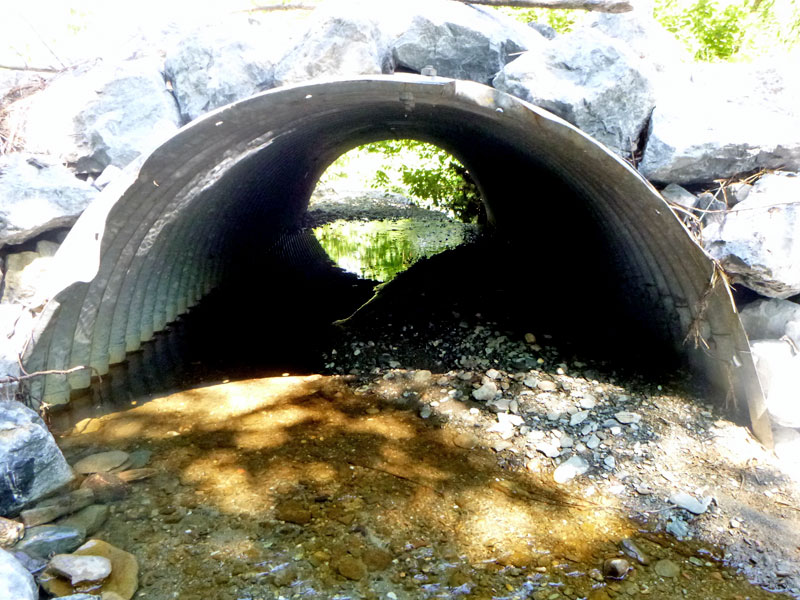 August 2, 2020
Major new trail easement secured in East Montpelier. CVTA has closed on a major new trail easement. With funding from East Montpelier Conservation Fund and the State of Vt we have purchased a trail corridor from Fairmont Farm across their "Haven" Property. This solves what has been one of the biggest hurdles to connecting the new trail to be built along Route 2 in East Montpelier up to Route 14. At the same time, Fairmont also put a conservation easement on the larger farm property west of Route 14, working with the Vermont Land Trust to permanently protect this land for open space and agriculture. It will be at least a couple of years before the new trail is built up and the property is open to the public - but with the easement in hand, the trail is just a matter of elbow grease and time. The trail corridor includes a previously discontinued section of old town road, which can now be refurbished again for public use. Refurbishment of the old station wagon that was apparently the last to drive down the road before it was abandoned may take more than elbow grease, though.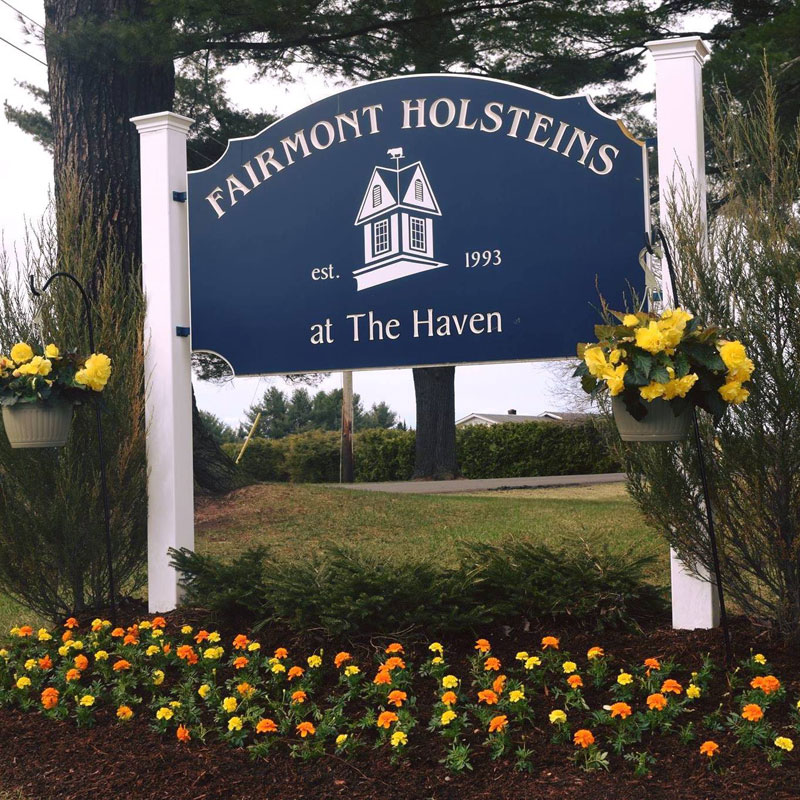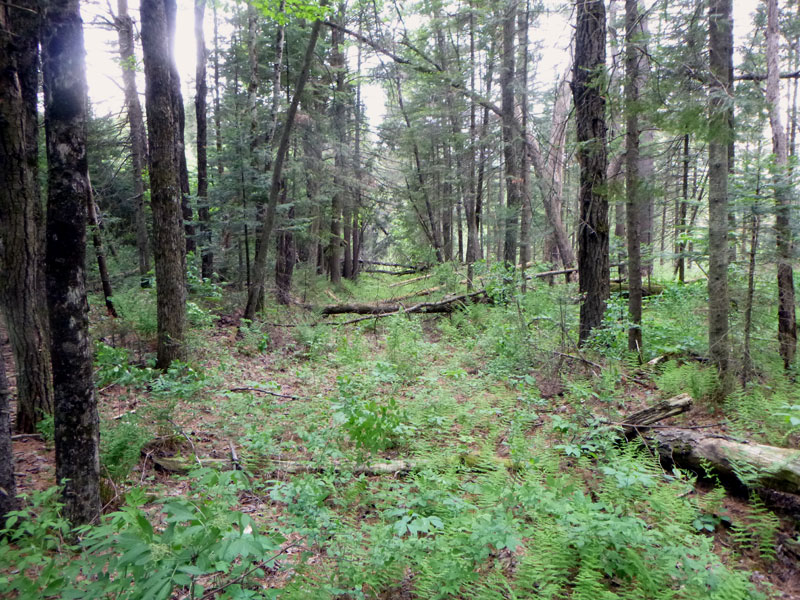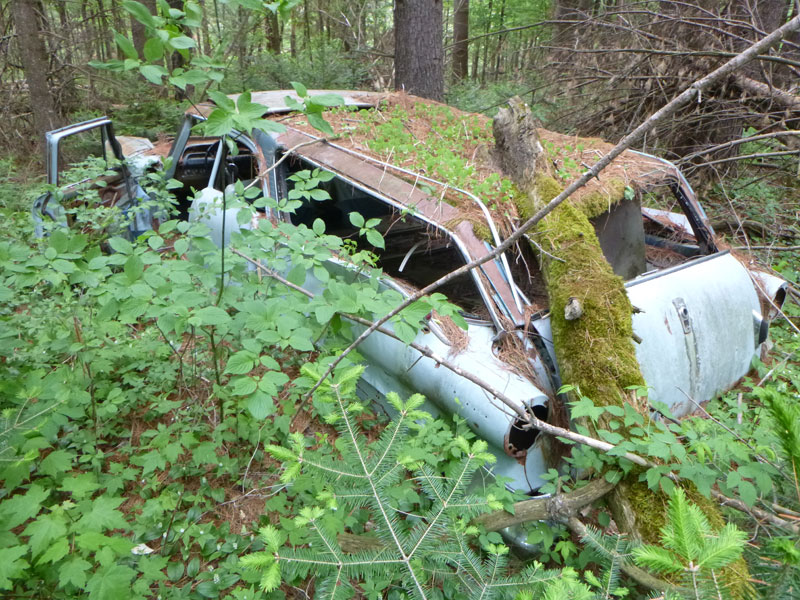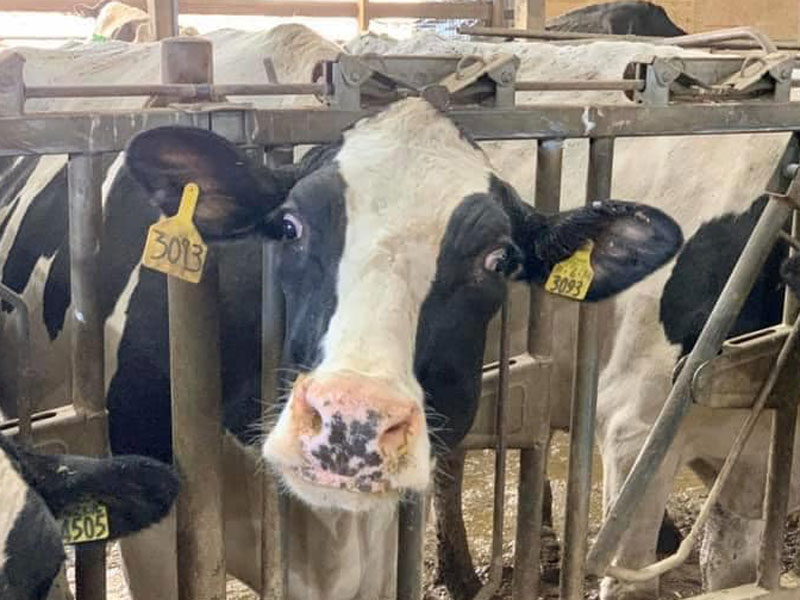 Aug 2, 2020
Completed the reconstruction of boardwalks along Johnnie Brook Trail in Richmond. This section of the Cross Vt Trail was heavily impacted by the "Halloween Storm" last fall, but hopefully now redone in a way that will be accommodating of future storms.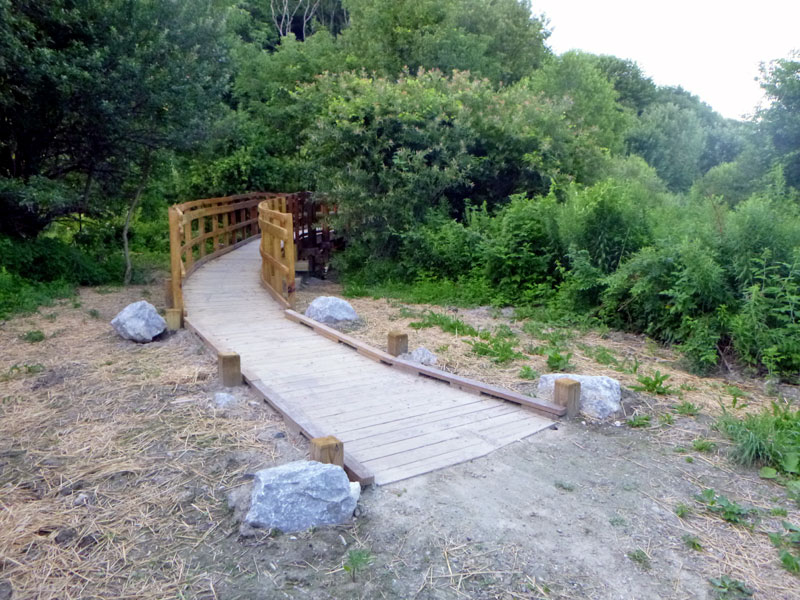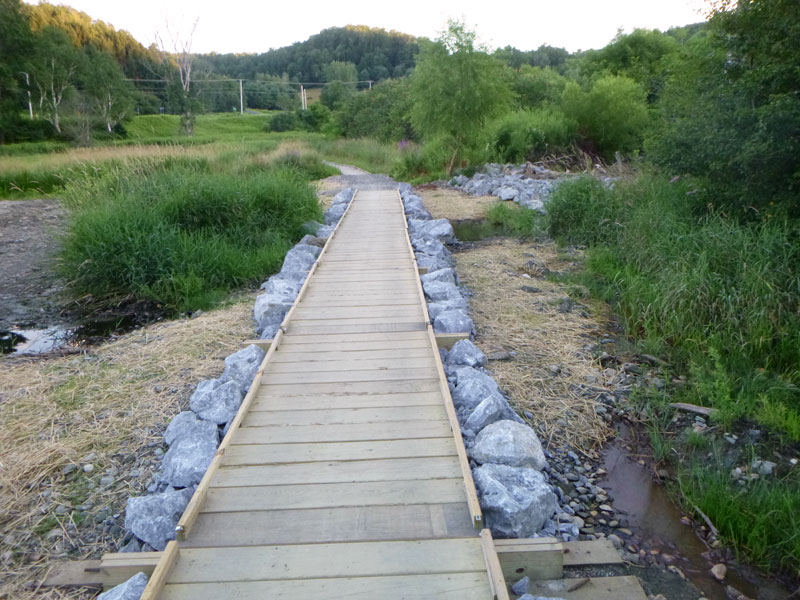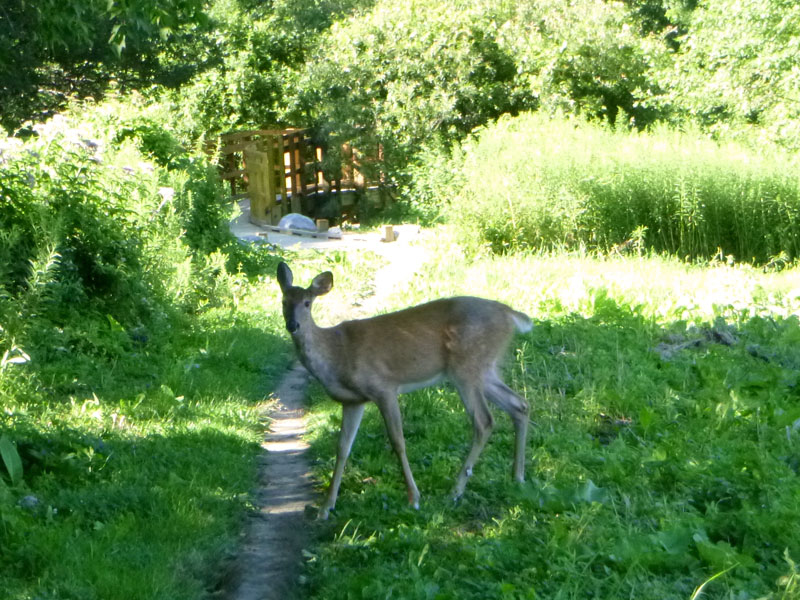 July 19, 2020
Reinforcing with stone the new Johnnie Brook Trail "dogleg boardwalk" in Richmond. Good group of volunteers this weekend made it go fast (yet in a remarkably non macho manner).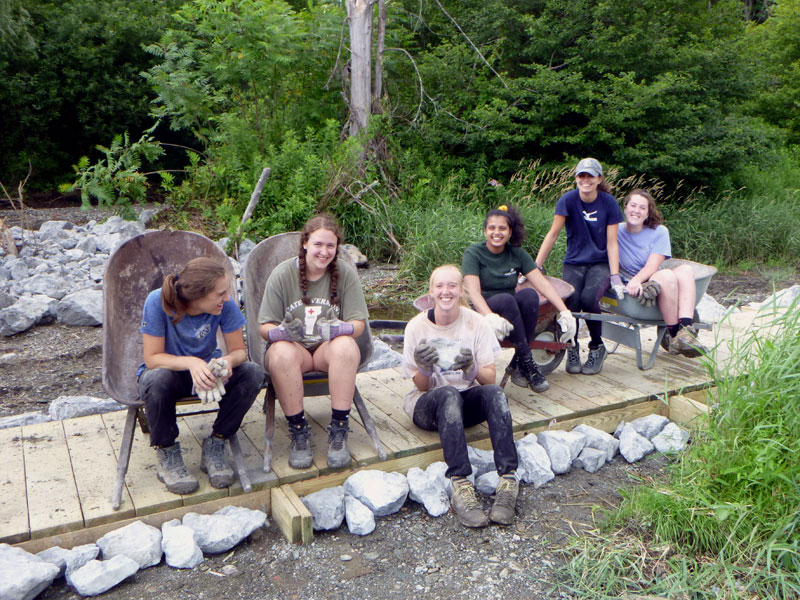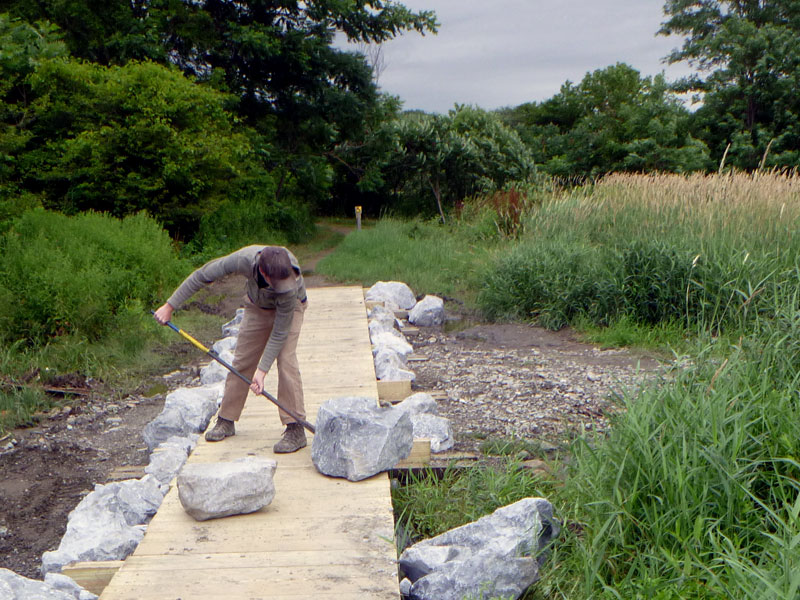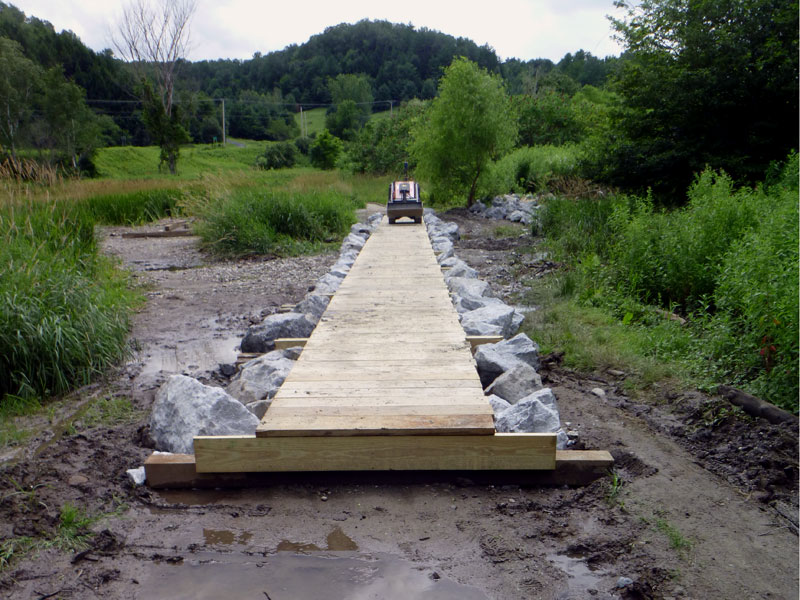 July 5, 2020
CVTA is joining forces with Middlesex Conservation Commission to care for the new 3 Mile Bridge River Conservation Park. This land was purchased by the town after Hurricane Irene so people could move away from flooded homes, and is now conserved as open space and riparian buffer. We're maintaining the front part as a (occasionally) mowed park like area, and in the back we are promoting native riparian forest regrowth. Or . . . is the part by the river the front and the part by the road the back? Hmmm.